Unemployment rates climbed in all U.S. metropolitan areas from last June to this June, the government announced on Wednesday. Some of the jumps were dramatic. And the unemployment rate in 18 areas now surpasses 15 percent. Most of the hardest hit metro areas are in California and Michigan.
Of the 49 metropolitan areas with a population of over 1 million, the Detroit area once again claims the sad prize of highest unemployment, with a rate of 17.1 percent, up from 14.9 percent in May and an 8.1 percent point increase year over year. The Riverside-San Bernardino area came in second, with a rate of 13.7 percent, followed by the Charlotte area at 12.4 percent.
The large area with the lowest unemployment rate in June was Oklahoma City, at 6 percent. Second-lowest was the greater Washington D.C. area, at 6.6 percent.
El Centro, Calif., again recorded the highest unemployment rate of all metro areas, with 27.5 percent out of work.
Here's a map from the Department of Labor's Bureau of Labor Statistics that shows the damage. Areas in dark gray surpassed the national rate of 9.7 percent while areas in light gray were 9.7 or below in June.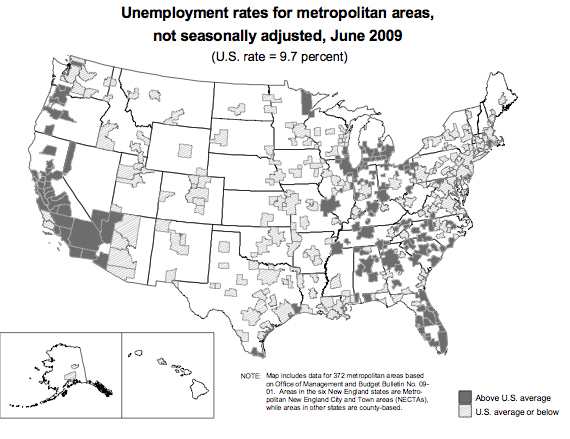 Related
Popular in the Community