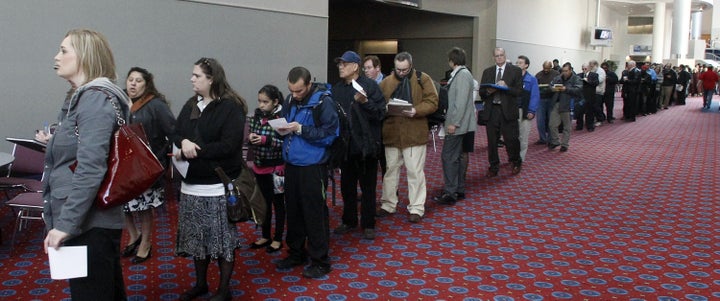 When Sean Davis of Lunenburg, Mass. lost his Census job in October 2010, he figured he'd be able to claim unemployment insurance for 99 weeks. That's how long benefits lasted, according to the state government and every news report about unemployment at the time. Of course, he hoped he'd find a job way before 99 weeks had passed. So far, no luck.
He wouldn't hit the 99 week mark until this summer, but when he called the state unemployment office several days ago to file his weekly insurance claim, he found that the rules have changed and his benefits will be stopping very soon.
"They told me that they were no longer doing the 99 weeks because of the federal government action," Davis, 40, said in an interview.
All across America, unemployment insurance is changing, and in most cases, it's becoming more stingy. More than a dozen states this month will lose eligibility for the second of two federal unemployment programs, subtracting as many as 20 weeks of benefits from the amount previously available to the long-term jobless. The shortened compensation period represents a compromise between congressional Republicans, who wanted even fewer weeks of federal benefits, and Democrats, who wanted to preserve federal programs in their entirety for the rest of the year.
Furthermore, unemployment claimants receiving federal benefits -- which kick in after a worker uses up the standard 26 weeks of state benefits -- now face stricter rules requiring them to keep a paper trail of their job search, thanks to the compromise law Congress enacted in February.
And at the same time federal programs are changing, state lawmakers are making changes of their own. Arizona and South Carolina are currently mulling drug test bills, while Georgia recently slashed the duration of state benefits.
HuffPost readers: Got a story to tell about unemployment? Tell arthur@huffingtonpost.com. Please include your phone number if you're willing to be interviewed.
Worker advocates dislike the changes, but there is one thing they're happy about: new federal support for work-sharing programs, which help businesses reduce hours instead of laying people off. The payroll tax cut legislation Congress passed in February included nearly $500 million for work sharing, which the National Employment Law Project and the Center for Law and Social Policy hailed as a "breakthrough" for the policy, also known as short-time compensation.
"This landmark legislation represents an unprecedented opportunity for states to launch and expand work sharing programs and help fend off layoffs now and in the future," George Wentworth, a NELP senior staff attorney, said in a statement.
Instead of laying off 20 percent of their employees, for example, businesses participating in a work-sharing program could reduce everyone's hours by 20 percent, and workers would receive unemployment insurance dollars for the time they miss on the clock. Twenty-three states and the District of Columbia offer short-time compensation programs, according to CLASP. The new law allows states to receive full federal reimbursement for compensation paid to workers.
For labor groups, the good news about work sharing is partially offset by bad news about shorter benefits in Georgia. Last week the Georgia General Assembly reduced the maximum duration of state benefits from the standard 26 weeks to 20 weeks, or as few as 14 weeks if the state unemployment rate falls to 6.5 percent (currently it's 9.1 percent). The changes will take effect in July. Georgia lawmakers modeled their legislation on benefit-slashing bills passed last year in Michigan and Florida.
Those cuts are a double whammy: Shorter state benefits will also mean shorter federal benefits, since the duration of federal extensions is based on the number of weeks available from states.
And federal benefits are already getting shorter on their own. In the February payroll tax cut deal, Congress preserved all federal unemployment programs for the rest of the year, but a state can't remain eligible for the second of the two programs -- known as Extended Benefits -- unless the state's unemployment rate is at least 10 percent higher than during a corresponding three-month period three years ago. Since unemployment rates across the country have slowly fallen since then, by October the program will have been phased out in the 30 states where it remains in effect. The maximum duration of benefits will fall to 73 weeks by the end of the year.
On April 7, the Extended Benefits program is ending in Kansas, Kentucky, Massachusetts, Missouri, Ohio, Oregon, South Carolina, Tennessee, and Wisconsin (it has already ended in Michigan and Maine). According to a National Employment Law Project analysis of the arcane "trigger" system that determines whether a state is eligible for the program, Extended Benefits will stop on April 21 in Alabama, Delaware, Georgia, Indiana, Maryland, and Washington.
Sean Davis received a letter from the Massachusetts state government last week informing him that the week of April 7 would be the last one for Extended Benefits, "regardless of any remaining EB credit that you might have."
He had expected the benefits to last until summer. He said he's been looking for administrative work similar to what he was doing for the Census, but that most similar positions require a college degree that he doesn't have. He said he previously worked in warehouses.
"It's been a real pain," Davis said of his job search. "It just seems like half the jobs I'm looking for I would qualify for in terms experience want a higher level of education than I have."
Calling all HuffPost superfans!
Sign up for membership to become a founding member and help shape HuffPost's next chapter