WASHINGTON -- A bipartisan group of senators has reached a deal to extend federal long-term unemployment insurance for five months.
The deal, which comes after months of negotiations, would be distributed retroactively to when the benefits expired at the end of December. The cost of the extension, around $10 billion, would be fully offset by an accounting trick known as "pension smoothing," an extension of customs user fees through 2024, and an adjustment to payment procedures for single-employer pension plans.
Senate aides were cautiously optimistic about the bill's prospects. Several variations unemployment insurance legislation have come up for a vote in the past few months, only to fall short of breaking a Republican-led filibuster. Senate Democratic leaders need all of their members and five Republicans to join together to clear that hurdle. A Senate Republican aide told The Huffington Post that five Republicans currently back the new proposal: Sens. Rob Portman (R-Ohio), Dean Heller (R-Nev.), Lisa Murkowski (R-Alaska), Susan Collins (R-Maine) and Mark Kirk (R-Ill.).
Since federal unemployment insurance expired on Dec. 28, an estimated two million Americans have missed out on the benefits. Senate Majority Leader Harry Reid (D-Nev.) had argued in favor of a one-year extension with its costs offsets or a three-month deal with no offsets. But the stalemate encouraged him to find a workaround. The proposal introduced on Thursday was the product of lengthy efforts from Portman, Heller, Collins and Sen. Jack Reed (D-R.I.) to reach an agreement that would placate both parties.
As part of the agreement, structural changes will be made to the unemployment insurance program. For instance, the deal would end benefits for individuals with gross incomes in the preceding year that exceeded $1 million.
A Senate Democratic aide said the bill would likely be considered shortly after the Senate takes its upcoming break, which means a potential vote in late March. If it were to clear the 60-vote threshold, attention would then turn to the House of Representatives. Republicans in that chamber have shown little willingness to consider an extension of their own, even as Democrats have sought to force a vote through a rare parliamentary maneuver known as a discharge petition.
Supporters of unemployment insurance are hopeful that if the Senate passes a bill, the pressure would mount on House Speaker John Boehner (R-Ohio) to at least bring something to the floor. But even if Boehner were to pass the Senate's bill through the House immediately, it would not end the debate over unemployment insurance. Because the benefits would be retroactive, a five-month extension passed at the end of March would only last until the end of May.
Below is a description of the agreement reached in the Senate, as passed along by a Senate Democratic aide:
Legislation seeks to strengthen the U.S. economy while providing vulnerable job seekers and their families with a vital lifeline as they continue to look for work.

• Reauthorizes emergency unemployment insurance (UI) benefits for 5 months and allows for retroactive payments to eligible beneficiaries going back to December 28th.
• The proposal is fully paid-for using a combination of offsets that includes extending "pension smoothing" provisions from the 2012 highway bill (MAP-21), which were set to phase out this year, and extending customs user fees through 2024. The bill also includes an additional offset allowing single-employer pension plans to prepay their flat rate premiums to the Pension Benefit Guaranty Corporation (PBGC).
• Legislation includes a provision that ends federal unemployment insurance payments to any individual whose adjusted gross income in the preceding year was $1 million or more.
• Also includes language to strengthen reemployment and eligibility assessment (REA) and ReEmployment Services (RES) programs. In an effort to help get job seekers back into the workforce, individuals receiving emergency unemployment compensation will be eligible for enhanced, personalized assessments and referrals to reemployment services when they begin their 27th week of UI (Tier I) and 55th week of UI (Tier III).

The bill is cosponsored by Senators Jeff Merkley (D-OR), Susan Collins (R-ME), Cory Booker (D-NJ), Rob Portman (R-OH), Sherrod Brown (D-OH), Lisa Murkowski (R-AK), Dick Durbin (D-IL), and Mark Kirk (R-IL).
Before You Go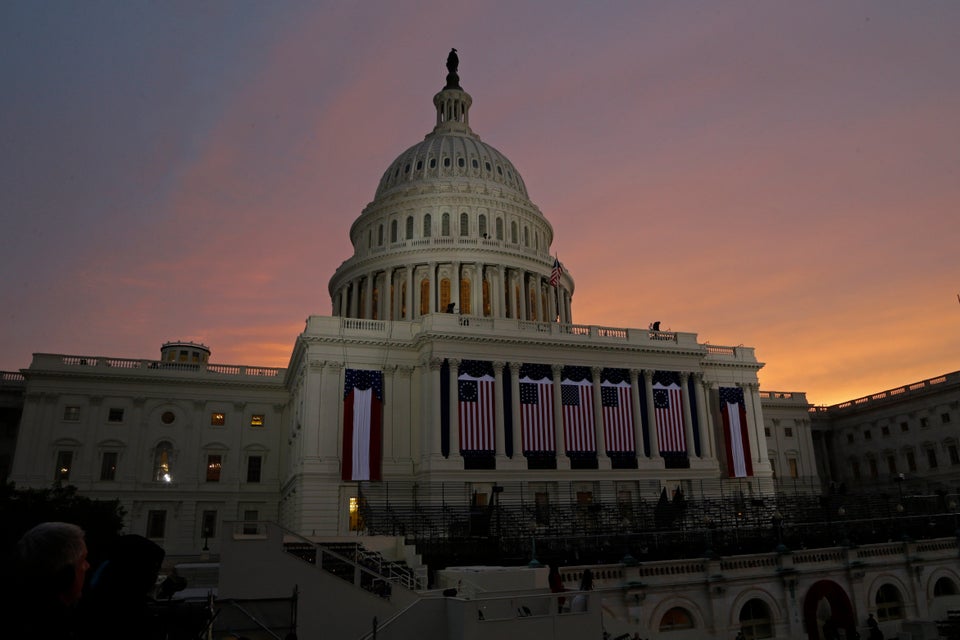 U.S. Capitol Photos
Popular in the Community