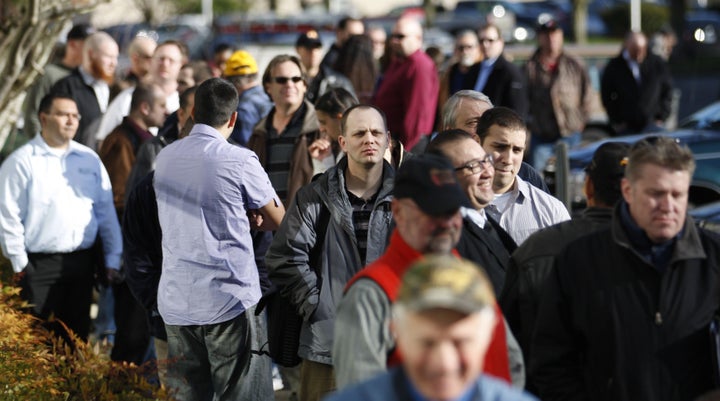 WASHINGTON -- The maximum duration of unemployment insurance would gradually fall from 99 weeks to 73 weeks over the course of the year under the payroll tax deal sought by congressional negotiators, according to an outline of the proposal. And the deal would allow states to drug test those applying for unemployment benefits, according to Democratic and Republican congressional sources.
With no deal at all, the longest time people could claim benefits would abruptly drop to 26 weeks at the end of February when federal unemployment programs are set to expire. One million jobless who have been out of work six months or longer would miss out on benefits in March, according to worker advocacy group the National Employment Law Project.
A GOP aide said the deal would overturn a federal law that prevents states from screening and then drug testing people who apply for unemployment insurance. States would be permitted to screen claimants who lost their jobs because they failed or refused a drug test and people seeking new jobs that generally require drug tests. According to a 2006 survey cited by Republicans, 84 percent of employers required new hires to pass a drug test. Federal law currently does not allow states to deny benefits for reasons other than misconduct, fraud or disqualifying earnings.
"I'm glad that it's in there," Rep. Jack Kingston (R-Ga.) told HuffPost in an interview. Kingston was the first Republican in Congress last year to propose drug testing for those collecting unemployment. "I think that it will be a helpful tool for states."
The proposal would also allow 10 states to use unemployment insurance funds to create programs whereby businesses train unemployment recipients without having to pay them. The programs, based on a scheme called "Georgia Works," had been proposed by the White House last year.
If Congress agrees to this new deal, the maximum duration of benefits would remain 99 weeks through May. Compensation currently lasts that long in 22 states, according to the Center on Budget and Policy Priorities, a liberal-leaning Washington think tank. Nearly 2 million people have been out of work for that amount of time or longer as of January.
The maximum duration of unemployment insurance would ratchet down to 79 weeks after August, and then fall to 73 weeks after December. Republicans wanted benefits chopped down to 59 weeks, while many Democrats said the duration should stay at 99. A Republican aide said only states with jobless rates above 9 percent would be eligible for 73 weeks; jobless people in states with lower rates could receive at most 63 weeks.
The agreement to shorten benefits, if it remains as outlined, would not represent a huge change. When Congress reauthorized federal unemployment insurance in December, it did so in a way that set in motion a gradual reduction to 79 weeks over the course of the year. The shortening has already taken effect in Maine and Michigan, which this month lost eligibility for federal Extended Benefits. Projections show the Extended Benefits program, which provides the final 13 or 20 weeks of benefits for long-term jobless individuals, will already "trigger off" in the remaining 32 states where it is in effect.
The reauthorization of unemployment insurance is part of a broader piece of legislation that includes a continuation of a 2 percentage point Social Security payroll tax cut and a provision to prevent a sharp drop in Medicare reimbursement rates.
This story has been updated to include new information about a Republican proposal for drug testing of unemployment claimants, confirmation by Democratic sources about the details of the plan and a comment from Rep. Jack Kingston.
Popular in the Community