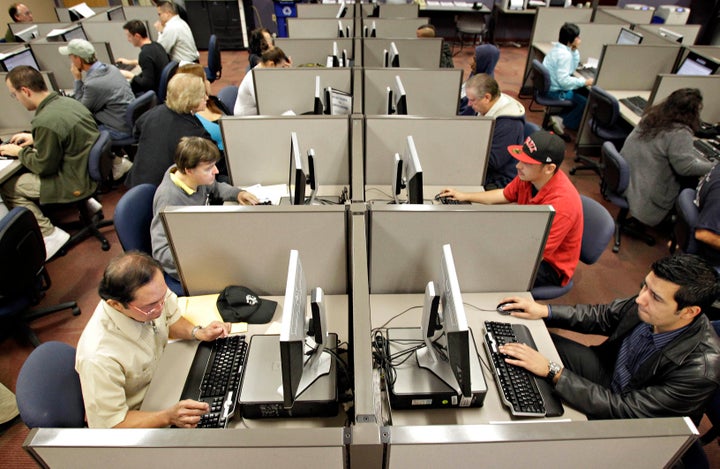 Republicans in Arizona and Oklahoma want to make extra sure that people filing for unemployment insurance are eligible to receive the benefits.
An Oklahoma bill would require people filing for unemployment to sign an affidavit promising they weren't fired for misconduct. A similar bill in Arizona would require claimants to provide documentation proving their eligibility. Both bills have received preliminary approval in their respective legislatures.
The measures seem to be part of a new phase in an ongoing Republican effort to restrict the flow of government money to people who lose their jobs. In the past few years, lawmakers in more than a dozen states and the U.S. Congress have sought to require drug testing for eligibility, and several states -- most recently North Carolina -- have sharply reduced the duration of benefits.
Normally, a person can file for unemployment insurance if they worked for a certain period of time and earned a certain amount of money before being laid off through no fault of their own. The state then investigates the claim and gives the person's former employer an opportunity to challenge it. Worker advocates say the bills in Oklahoma and Arizona put the burden of the state's information-gathering process on the worker and potentially delay the claim -- a practice that may be illegal.
"Some states are looking to deny benefits to workers up front, and they're doing that by creating these extreme barriers to the claims process, which violates federal law," said Maurice Emsellem, policy co-director for the National Employment Law Project, a worker advocacy group.
Regulations listed on the U.S. Department of Labor's website explain why. When a person files an unemployment claim, "It is the responsibility of the agency to take the initiative in the discovery of information," the Labor Department's criteria say. "This responsibility cannot be passed on to the claimant or the employer."
Federal unemployment law is specifically designed to discourage states from getting too creative. If a state changes its jobless compensation system so that it no longer obeys federal rules, then the state's workforce agency can lose administrative funding. Even worse, state businesses can lose out on federal tax credits.
Arizona lawmakers already know how a state law out of conformity with federal law can cost state businesses. The state legislature nearly passed a law requiring every unemployment claimant to pass a drug test in order to receive benefits. Lawmakers backed down after state businesses and the U.S. Labor Department warned that passing the law would result in a tenfold tax hike.
(Congress passed a law last year that will soon give states leeway to drug test unemployment claimants seeking work in occupations that routinely require drug testing. The Labor Department will give states guidance on how to implement the law later this year.)
Supporters of the new measures in Arizona and Oklahoma say they are necessary to prevent fraud.
"We don't need people cheating the system," Oklahoma State Rep. Jon Echols (R) said, according to the Oklahoman. "We've got to fix the fraud issue."
The fraud rate in Oklahoma's unemployment insurance system has averaged less than 1 percent for the past three years -- one of the lower rates in the country, according to the U.S. Labor Department. Slightly less than 27 percent of overpayments occurred before additional information about a claimant's separation from work disqualified that person from receiving benefits.

Calling all HuffPost superfans!
Sign up for membership to become a founding member and help shape HuffPost's next chapter
BEFORE YOU GO
PHOTO GALLERY
The Strongest Conservatives In Congress