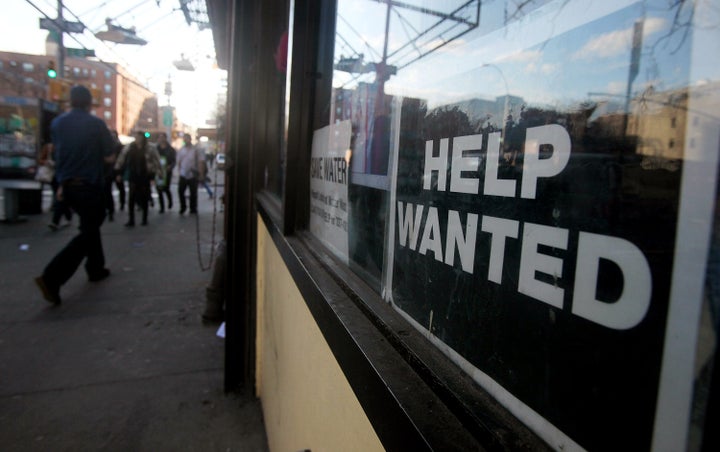 Recently, I was hired by a family friend to remove the walls and flooring of a house he needed to sell. This family friend is as nice as you can get. I got the feeling he normally would have done the work himself, but he knows I'm an actor.
Like most actors and many Americans, I'm unemployed. Right now, the country is running an 8.6 percent unemployment rate. At the same time, the average unemployment rate for actors, according to the Actor's Equity Association, hovers around 90 percent. Whereas being unemployed is a rather new phenomenon for most of the workforce, it is a way of life for actors.
Every day I hear or read about folks looking for work. "With my experience, I just still don't understand why I'm not being picked up quickly by a permanent job someplace," said Ray Meyer recently on a National Public Radio report regarding unemployment. Meyer had a 30-year career in Banking before being laid off in 2008. He has since had a series of temporary assignments. This kind of uncertainty is typical fare for Actors who "endure long periods of unemployment, intense competition for roles, and frequent rejections in auditions," states a report by the United States Department of Labor Bureau of Labor Statistics. According to the same report, with Acting jobs typically lasting from "between 1 day and several months," Actors "must hold other jobs in order to make a living." This is becoming commonplace for many workers, including those who are college graduates.
It is generally accepted that training for an occupation and becoming a contributing member of society is why we attend college. For actors, attending University for a degree in performing has become a practice in absurdity. There is not enough work for most of them to pay the debts they've incurred. Unfortunately, this seems to be becoming a truth for many professions. According to FinAid.org, about two-thirds of all college students graduate with debt, borrowing between $27,000 and $114,000. Increasingly those who can find work often find work in jobs that don't require a college degree. A report from the Center for College Affordability and Productivity states "Total college graduate employment in below college level jobs increased from 953,000 in 1967 to 5.06 million individuals in 1990."
The report goes on to show that this trend has grown exponentially in the current recession, from 16.6 percent of college grads working such jobs in 1998 to 35.3 percent in 2008. Again, for actors this situation is an old hat. In a 2005 New York Times article, Scott L. Steele, the executive director of the University/Resident Theater Association, a consortium of graduate theater programs and professional theaters stated: "We're producing too many people... many of them poorly trained or moved into the field without the connections or relationships necessary to make their transition to a career possible. It's as if medical school were graduating people without giving them internships at a hospital." In the same article, Alan Eisenberg, the executive director of Actors Equity followed a similar train of thought: "These schools are just turning out so many grads for whom there is no work." Such sentiments were echoed throughout: "How do we effectively prepare our students for a career that has no interest in them being part of it?" The idea of paying off the loans for our expensive educations seems like it might take some kind of miracle, especially while working in temporary jobs with low wages. Again, this is sadly becoming true for graduates of higher education in all fields. Certainly, a Master's Degree qualifies one to teach at the College level, but with the above figures and testimony, there's something rather unsettling about taking students money for an education that will not help them find work.
Loaded with college debt, and without steady work, anxiety and depression are becoming prevalent among the ranks of the unemployed. "I am so down," states Jennifer Barfield, an out of work IT professional, also interviewed recently by National Public Radio. "I am just questioning everything from spiritual issues to what's the point of living life if this is all it is." These sentiments are commonly revisited in my conversations with other performing arts professionals, but now hopelessness seems to be a prevailing theme for all of the unemployed. According to the online journal Live Science: "The primary issue the unemployed are dealing with is the loss of identity." Doing a job we have trained for and are good at makes us feel as though we have meaning and purpose in our lives, and as though we are contributing to our society. For many actors, indeed for many artists, the sense that what we have to offer isn't necessary in our society leads to lifestyles dogged by the depression and anxiety that many outside the arts are now experiencing through lack of work.
For all of the suffering unemployment causes, it is amazing how little it takes to reverse some of the effects. Working on the house, it felt great to engage in the work at hand, to know that it would help me to buy Christmas presents, buy groceries and pay bills. Sadly, the job was finished in one day. Short term. Itinerant. Unskilled. This is an old story for many actors, and unfortunately also the story for many of the currently unemployed.
Related
Popular in the Community