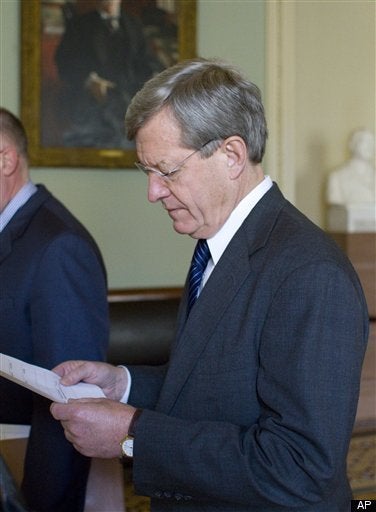 Democratic leaders in the Senate have apparently failed to win enough support to overcome a Republican filibuster of a bill to help the poor, the old and the jobless, despite making a series of cuts to the measure over the past several weeks to appease deficit hawks.
"It looks like we're going to come up short," said a senior Democratic aide on Wednesday evening. "It looks like Republicans are prepared to kill aid to states, an extension of unemployment benefits, and ironically, the Republicans are prepared to kill efforts to close loopholes that allow companies to export jobs overseas."
The legislation, known as the "tax extenders" bill, would reauthorize extended unemployment benefits for people out of work for six months or longer, would protect doctors from a 21 percent pay cut for seeing Medicare patients, and would provide billions in aid to state Medicaid programs.
Come Friday, 1.2 million people will lose access to the extended unemployment benefits, a number that will grow by several hundred thousand every week after that. Fifty million Medicare claims from June are currently in process at the reduced rate, which the AARP says has already caused some of its members to have trouble finding a doctor. And the Center on Budget and Policy Priorities estimates that dropping the $24 billion in aid to states will lead to cuts in services and thousands of layoffs, and that spending cuts to close states' aggregate budget shortfall absent new federal funds in 2011 would lead to 900,000 public- and private-sector layoffs.
Both chambers of Congress had already passed the measure, deficit spending and all, but when it came time to combine the bills in May, conservative Democrats and moderate Republicans lost their previous will to help the economy and forced party leaders to begin the nickel-and-dime process of trimming the bill.
"I've never been involved in anything that's been revised so often and in so many different ways," said Sen. Max Baucus (D-Mont.), who worked with Senate Majority Leader Harry Reid (D-Nev.) to try to win support for the bill.
The House shortened the Medicare physicians' fix, dropped the Medicaid money, and also $7 billion in subsidies for laid off workers to buy health insurance. The Senate cut $25 per week from every unemployment check and shortened the so-called "Doc Fix" even further, to six months, and on Wednesday Dem leaders trimmed another $8 billion by reducing the Medicaid assistance. The bill has shrunk over the past few weeks from $190 billion, to $80 billion, to $55 billion, to just over $30 billion in the current Senate version.
"Sen. Baucus and Sen. Reid did everything they can to try to pick up the handful of votes needed to overcome the Republican filibuster" said the Dem aide. Nebraska Democrat Ben Nelson has said repeatedly he would not vote for the measure unless its cost was completely offset, so Reid and Baucus focused on moderate Maine Republicans Susan Collins and Olympia Snowe, who demanded more cuts to the bill, apparently, than the Dem leaders were willing to make.
"Remember, Republicans voted for legislation that both extended unemployment insurance and reduced the deficit," said Don Stewart, a spokesman for Senate Minority Leader Mitch McConnell (R-Ky.). "Democrats, on the other hand, introduced and voted for legislation that increased the deficit. There was bipartisan support for ours, bipartisan opposition for theirs."
The Republican alternative to the tax extenders bill, which Ben Nelson supported, would have extended unemployment benefits and offset the cost with budget cuts so steep it "would essentially shut down much of the federal government for the last two and a half months of this fiscal year," according to the CBPP.
Democrats also softened a provision that would raise taxes on investment fund managers by closing a loophole that allows some of the richest people in the world to pay a lower tax rate than their secretaries. The debate has largely focused on the deficit, however.
The process has been infuriating to employment and labor activists.
"Let Senator McConnell, let Senator Senator Collins, let Senator Brown and every other Republican explain why one of their own constituents doesn't deserve to keep their job, shouldn't be able to send their kid to college, can't put food on their table without maxing out their credit cards," said Lori Lodes of the SEIU. "Rooting against America, Republicans are taking pride in keeping families out of work as their only strategy for winning elections."
The Senate will vote on Thursday afternoon.
Popular in the Community