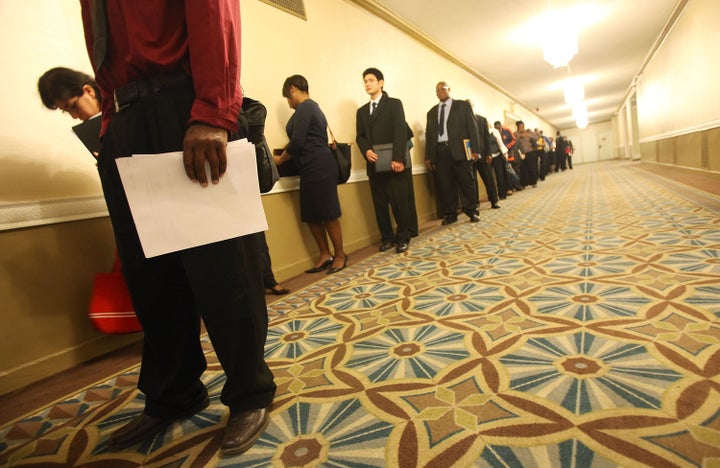 NEW YORK -- A day after the Dow Jones Industrial Average had its worst drop since the financial crisis, fresh data showed a slightly less pessimistic view of the American economy.
In July, 117,000 jobs were added in the economy, and the unemployment rate dropped to 9.1 percent from 9.2 percent. But the drop in the unemployment rate should not be celebrated as a signal of strong growth: It came almost entirely from Americans dropping out of the labor force.
As more Americans simply give up looking for work, the labor force participation rate fell to 63.9 percent in the Bureau of Labor Statistics' latest snapshot of the U.S. labor market, a new low.
"We're continuing to see very weak growth," said Dean Baker, economist and co-director of the Center for Economic and Policy Research. "117,000 new jobs is a really pathetic growth rate. It might be fine if we were at 4.5 percent unemployment, but in the context of 9.1 percent, it's going to take us more than 20 years to get us back to where we used to be."
While July's report inched up job gains from the past two months in revised numbers, May and June job growth still failed to keep up with population gains, stoking fears of a double dip recession for some observers. As Robert Reich, a left-leaning economist and the former U.S. Secretary of Labor, put it in a tweet last night, "If tomorrow's job number is below 125,000, chance of double dip goes up to 50-50."
Two closely watched indicators of employers' future hiring plans were unchanged from June: The average workweek for Americans remained 34.3 hours, and temporary hiring stayed flat. Job gains came in health care, retail trade, manufacturing and mining, while government employment continued to decline.
Despite the positive headline number, economists note that since the beginning of the year -- really, since the official end of the recession -- new hiring has barely kept up with population growth. And for the last three months, companies have been strategically cutting their workforce in increasing numbers; in July, the number of mass layoffs surged to a 16 month high.
Meanwhile growth in manufacturing -- once the beacon of the economic recovery -- has stalled out. And the U.S. had shockingly slow economic growth in the second quarter, according to initial numbers released by the Commerce Department last week.
The one positive sign amid all this gloom is that corporate profits remain at record highs, higher even than in the days before the financial crisis. But as the months of the supposed economic recovery stretch on, it has become increasingly clear that this may not soon translate into jobs for the 6.2 million Americans out of a job for at least 6 months -- or the 8.4 million Americans employed part-time but still seeking full-time work.
"There's one corner of the economy in which the most recent numbers have been great, but unfortunately those are just the people who own the nation's businesses," said Gary Burtless, an economist at the Brookings Institute.
"The fact is, corporate profits have not been generating gains for workers," Burtless continued. "Neither the people who managed to find work or hung on to their jobs, or the people who are still looking: All of those groups have missed out on that prosperity which is mostly in boardrooms and among shareholders."
Economists point to a gloomy cycle which suggests little on the horizon to alter the jobs picture painted today by the labor market: As wages stay stagnant and new positions remain scarce, consumers hold onto their savings, further crippling an economy that runs on consumer spending. In June, consumer confidence fell to the lowest point in two months.
One thing that economists say might buoy the job market would be an influx of federally funded stimulus money. But after last weekend's debt deal, observers see new government spending as an increasingly unlikely scenario.
In a recent address, President Obama said that he plans to now "pivot to jobs." Sound familiar? In his very first address to Congress in February of 2009, the President promised an agenda focused on job creation, a claim he has repeated many times since then.
And yet, in many economists' view, there has been essentially no job recovery at all.
"There is no need for a double dip since we haven't had a recovery yet," said Lawrence Katz, a professor of economics at Harvard University. "The labor market has shown no recovery at all since the supposed end of the recession."
Watch HuffPost's compilation flashback reel of Obama's "pivot to jobs" below:
This report has been updated to include a tweet from former Labor Secretary Robert Reich.
Related
Popular in the Community