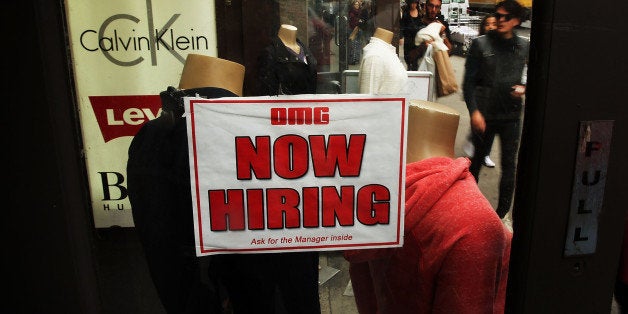 WASHINGTON -- The U.S. economy added 252,000 jobs in December and the unemployment rate fell two-tenths of a percentage point to 5.6 percent, the government announced Friday.
The news is the latest suggestion that the Great Recession and its long-lasting aftermath have finally released their death grip on the economy. HuffPost caught up with several people who fell victim to the early waves of layoffs five years ago to find out if their situations have improved. For the most part, they had.
Howard Friedenberg of Fremont, California, lost his job as a computer company's communications specialist in November 2009, just after the unemployment rate had peaked at 10 percent. He remained out of work for more than a year before getting so desperate he joined forces with other Bay Area professionals to put their faces on billboards and a website: www.WeAllNeedJobs.com.
"Although we are talented, experienced professionals, getting attention of Bay Area employers hasn't been easy," their billboard said. "So here we are, on a poster."
It worked, sort of. Friedenberg said at the time that the billboards gave him confidence. On Thursday, he said he got a contract position within six months of putting them up and a full-time job the following year. He believed most of the people who joined him on the billboard also got jobs, though he hasn't been in touch with them recently.
"It was a great talking point in interviews," Friedenberg said.
The Labor Department's annual "displaced workers" reports have shown that an increasing proportion of people who were laid off have become re-employed each year. Of the millions who lost jobs between 2011 and 2013, nearly two-thirds were working again by January 2014. The proportion of displaced workers who remained unemployed fell 4 percentage points from the previous survey, to 24 percent.
Marie Roth told HuffPost in December 2010 that she had lost her property management job the previous year and worried she'd soon be facing foreclosure. At the time, Congress was deciding whether to reauthorize long-term unemployment insurance, and Roth followed the story closely, fearing her house hung in the balance. She was "trying not to freak out" at the time.
Lawmakers eventually came to an agreement, and this week Roth said she got a job before her benefits ran out -- but the job paid less than the benefits did. She said she wound up losing the house, in Hemet, California, in 2012.
Roth, 44, said she has had a series of property management jobs and recently landed a new one in San Diego, where she said she and her daughter are much happier. She said that each job, including the most recent one, was difficult to get. "It still took a very long time, a lot of unanswered resumes."
"People are like a dime a dozen," Roth added. "That's just what I've encountered the past five years."
Kerri, a 57-year-old living near Seattle who asked to have her full name withheld, told HuffPost in 2011 she had become so hopeless during the course of a long unemployment spell that she attempted suicide in the winter of 2009. (Though experts say suicide attempts are rarely precipitated by a single factor, such as job loss, the overall suicide rate does correlate somewhat to economic conditions.)
Now 60, Kerri said things got even worse before they got better. She lost her part-time job and spent six months homeless, sleeping in a shelter at night.
"[The shelter] was a blessing and so I was safe at night, and warm, but they still kicked you out at 6:30 in the morning," Kerri said in an interview this week. "I was basically on the streets during the day and it was not fun. Not good."
Fortunately, Kerri landed an account manager job and got an apartment last year year in Kirkland, Washington. She doesn't credit economic growth for the turnaround so much as her own perseverance and some plain old serendipity. She said she makes only a little more money than she did from the unemployment benefits she received after her last job, but she's in a much better situation overall.

"I can stay in my own place and I can buy food for my dogs and go to a movie now and then," she said.
The economy has changed so much that Friedenberg remains optimistic, even though he got laid off again on Monday.
"I see incredible opportunities that were not there four years ago. There was nothing," he said. "Since Monday I applied for 10 positions, heard back from two, already had a phone call interview. That would have never happened in 2011."
He's not about to put up another billboard, but he won't be shy, either.
"There's no reason not to have visibility when you're looking for a job," Friedenberg said. "There's nothing to be embarrassed about when you're unemployed. You've got to tell everybody."
Popular in the Community