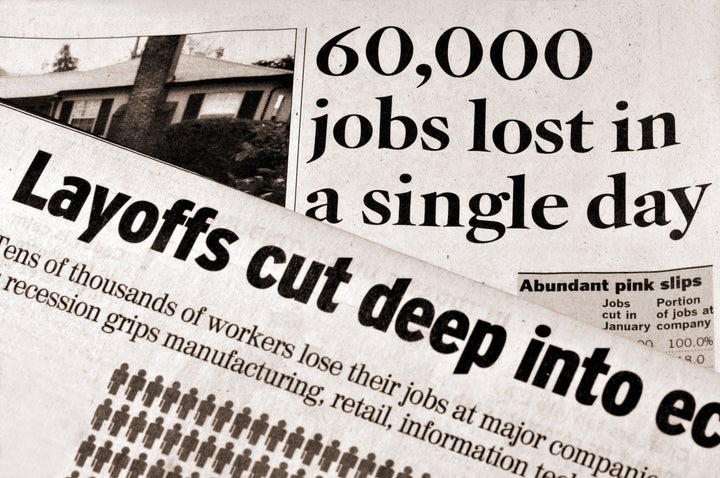 Being over 50 and out of work can be a full-time job filled with disappointments, as the more than one million older long-term unemployed can undoubtedly confirm. No one knows those disappointments better than the Reverend Dr. Jean Coyle, a 67-year-old Virginian who went back to college in midlife to train for a new career and then began the job hunt. She holds five degrees, including a Ph.D. and master's degrees in theological studies and divinity. Having spent years looking for a permanent job, she is a prime example of how even the best educated older Americans can be blocked in their search for work.
Jean is something of a risk taker, having left a tenured academic position to move to Washington in the 1980s to take on new challenges. Although she had given up the security of life-time employment, she was a young woman then and fared well in the job market. But things had changed by the time she concluded she had a religious calling and needed to acquire new skills and credentials to respond to it. She was older, for one thing. Moreover, there aren't that many jobs out there -- less than half a percentage point of all U.S. workers are clergy. For any single religion, of course, the numbers are far smaller. Job openings tend to be relatively few and far between, and seldom close to home. Congregations are often aging and shrinking; churches themselves need costly maintenance. Salaries are anything but excessive.

Selling a home and pulling up stakes when there is no promise of job tenure is a bigger risk in one's fifties than in one's thirties. Good, local opportunities were scarce, however, and what Jean found tended to be short-term. Among other jobs near home, she took a half-time position as a Christian educator for a year. She then worked part-time with no benefits as a Christian educator in two local churches on alternate Sundays, spent a year as a director of Christian education at another church, did full- and part-time pastoral work in a hospice over several years, and was finally asked by a large church to become a full-time associate pastor for congregational care -- a seemingly perfect place to take advantage of her ministerial skills. However, the job did not last. Several positions at the church, including Jean's, were eliminated as the economy took a nosedive in 2007 and donations fell.
Like so many other older job losers, Jean faced few prospects as the recession loomed. She proactively applied for hundreds of jobs, widening her search to other parts of the country, spending money on printing copies of sermons, mailing applications and cassettes of sermons and traveling to interviews when they materialized. She occasionally filled in on Sundays for pastors who were sick or otherwise unavailable, flew out of state monthly as a gender specialist for the national headquarters for her denomination and took a variety of temporary jobs as she saw her savings almost evaporate. Although she had hoped to wait until she was 66 to collect Social Security, she opted for early and permanently reduced benefits because she needed the money.

Constant rejection began to take its toll, but Jean continued to respond to openings even as she boosted her spirits and her contributions to the community through a wide range of volunteer activities. These activities do not pay the bills, but they can help validate a jobseeker's self-worth, which takes a beating when every response to an application -- if there is a response -- is a rejection. Volunteer work can also lead to new skills and job offers.
Luck, persistence, confidence that she was meant for a pastoral role, and who knows what else ultimately paid off many years later. At the age of 67, Reverend Coyle was offered a job as the solo pastor of a small church fairly close to home. The work is only part-time, but at her age, and with her many volunteer commitments that are hard to step back from, it seems to be a perfect fit. She is absolutely thrilled. Against many odds and to her great relief, she has found what she wants -- "substantive work as an older worker."
Not all older jobseekers will experience the successful outcome that Jean Coyle has, even though they have been just as diligent as she in applying for jobs -- sending out hundreds of resumes, attending job fairs, networking with everyone they could think of, all to no avail. The recent employment statistics released by the Bureau of Labor Statistics indicate that jobseekers aged 55 and older had been unemployed for an average of 55.4 weeks in November 2012; this figure has exceeded one year nearly every month since April 2011. More than half were "long-term unemployed," that is, they had been out of work for 27 or more weeks, up from only about 23 percent at the start of the recession. The longer someone is out of work, the harder it is to find a job, in part because some potential employers question why it is that someone has been unable to find anything in so long.
Even these figures may obscure how bleak the situation has been because older workers who lose their jobs are more likely than younger dislocated workers to drop out of the labor force and are thus not counted as unemployed. They are no longer looking for work, further diminishing their chances of finding something. So while November's unemployment rate of 5.8 percent for the aged 55 and older workforce was well below the recent peak of 7.3 percent in August 2010, the decline is not all due to job-finding success as it was for Jean Coyle with her dogged determination to keep on looking.
Calling all HuffPost superfans!
Sign up for membership to become a founding member and help shape HuffPost's next chapter