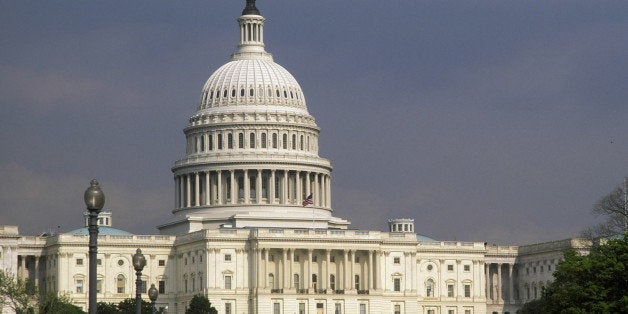 A 46 percent plurality of Americans think the government should provide unemployment assistance to people who have been out of work for more than 6 months, compared to 27 percent who said it should not. Another 27 percent said they weren't sure.
On Dec. 28, benefits will expire for 1.3 million Americans who've been out of work longer than six months. As it tends to do during recessions, in 2008, Congress gave extra weeks of benefits to workers who use up the 26 weeks provided by most states. Democrats say it's too soon to let the benefits expire, but Republican leaders haven't embraced their proposals.
Senate Majority Leader Harry Reid (D-Nev.) said Thursday he'd set the gears in motion for the Senate to vote on a bill to preserve the benefits no later than Jan. 7, after lawmakers return to Washington from their Christmas vacation.
"It will be the first vote when we get back," Reid said.
Reflecting their views on unemployment assistance overall, 47 percent of respondents said that Congress should extend the extra weeks of unemployment benefits, while 31 percent said it's time to let them expire.
Angela Sipes, a 31-year-old unemployed medical assistant, has been receiving federal Emergency Unemployment Compensation since October. On the 28th, those benefits will go away. Sipes thinks it's stupid for Congress to skip town without dealing with the benefits.

"I think it's incredibly irresponsible of them considering the state of the economy and the state of the American workforce right now," she said in a phone interview. "People are struggling."

Sipes lives in Enumclaw, Wash., with her landscaper husband and their two kids. She said they've paid their rent through January, which has made their situation only slightly less stressful. She's applying for jobs like the one she lost, and also retail jobs that pay even less.

"Not having a way to put food on the table for my kids -- it scares me," she said.
The HuffPost/YouGov poll finds Americans are broadly sympathetic with people such as Sipes who struggle to find new jobs during a tough economic period. Fifty percent of respondents said most people out of work 6 months or more are trying hard to find jobs but can't, while 35 percent said most could find jobs if they wanted to.
Nearly half of the respondents' families have experienced long-term joblessness. Forty-six percent of respondents said that they themselves or an immediate family member have been unemployed for more than six months at some point in the past five years, almost as many as the 50 percent who said that they themselves or a family member have not been unemployed for more than six months. (Four percent said they weren't sure).
And among those who said they or a family member have experienced unemployment directly, 58 percent said people who have been jobless more than six months should be covered under unemployment assistance. Only 38 percent who did not have that experience said the same.
But the view that people who have been unemployed more than 6 months are mostly trying hard not to be wasn't universal. Sixty-seven percent of Democrats and 50 percent of independents said that the long-term jobless are mostly trying hard to find jobs but can't, but 56 percent of Republicans said that they could mostly find jobs if they wanted to.
That partisan division is reflected in mixed opinions on extending unemployment benefits to those workers. While Democrats favored giving unemployment benefits to the long-term jobless by a 68 percent to 12 percent margin, Republicans were opposed by a 45 percent to 26 percent margin. Independents were somewhat more likely to be in favor than opposed to extending unemployment benefits, 39 percent to 31 percent.
The HuffPost/YouGov poll was conducted Dec. 16-17 among 1,000 U.S. adults using a sample selected from YouGov's opt-in online panel to match the demographics and other characteristics of the adult U.S. population. Factors considered include age, race, gender, education, employment, income, marital status, number of children, voter registration, time and location of Internet access, interest in politics, religion and church attendance.
The Huffington Post has teamed up with YouGov to conduct daily opinion polls. You can learn more about this project and take part in YouGov's nationally representative opinion polling.
REAL LIFE. REAL NEWS. REAL VOICES.
Help us tell more of the stories that matter from voices that too often remain unheard.
BEFORE YOU GO
PHOTO GALLERY
U.S. State Capitol Buildings