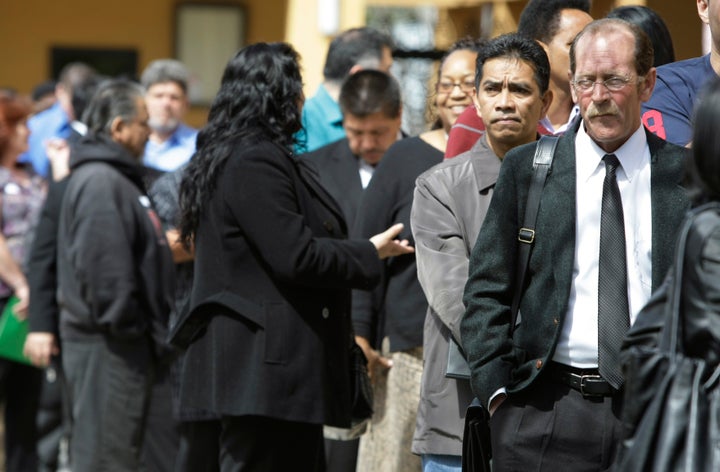 WASHINGTON (By Lucia Mutikani) - U.S. employment increased more than expected in April as private companies created jobs at the fast pace in five years, pointing to underlying strength in the economy, even though the jobless rate rose to 9.0 percent.
Nonfarm payrolls rose 244,000 last month, the most in 11 months, the Labor Department said on Friday. The private sector accounted for all of the job gains last month, with payrolls rising 268,000, the largest rise since February 2006.
The gain in overall payrolls, above economist' expectations for a 186,000 increase, was supportive of views the economic recovery would regain speed this quarter after stumbling in the first three months of the year on high commodity prices.
Data for the previous two months was revised to show 46,000 more jobs were added. Gains in April marked seven straight months of net job creation, but remained too little to make much of dent on the pool of 13.7 million Americans out of work.
The unemployment rate backed away from a two-year low of 8.8 percent. It is derived from a separate survey of households which showed a decline in employment and a moderate rise in the size of the labor force.
The unemployment rate had dropped a full percentage point since November and the latest rise will strengthen the Federal Reserve's resolve to stick to its ultra-easy monetary policy stance.
The Fed last month signaled it was in no hurry to start withdrawing its massive stimulus for the economy, even as other major central banks around the world have begun to raise interest rates.
High gasoline and food prices clipped U.S. economic growth in first quarter. The economy grew at a 1.8 percent annual rate after expanding at a 3.1 percent clip in the final three months of last year.
The economy has recovered only a fraction of the more than 8 million jobs lost in the 2007-2009 recession. Job growth of between 250,000 and 300,000 a month is needed to make significant strides in reducing unemployment.
Details of the April employment report were generally upbeat with the exception of government employment, which contracted for a sixth straight month in April, shedding 24,000. The bulk of gains in payrolls last month were in the private services sector, which added 224,000 after 194,000 jobs March.
Employment in the goods-producing industries increased 44,000, with construction payrolls climbing by 5,000 and manufacturing hiring gaining 29,000.
The employment report also showed the average workweek unchanged at 34.3 hours for a third straight month and no sign of wage inflation, with average hourly earnings rising a mere 3 cents.
(Reporting by Lucia Mutikani; Editing by Neil Stempleman)
Popular in the Community