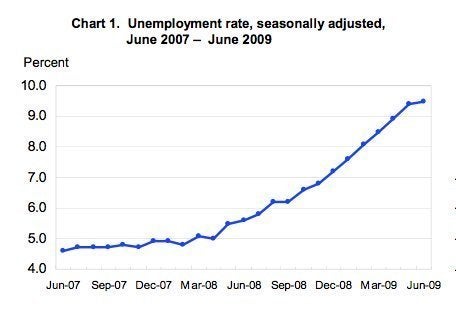 The U.S. economy lost 467,000 jobs in June as the national unemployment rate rose to 9.5 percent, the government announced on Thursday morning. While that's only one-tenth of a percentage point from May, the current rate is the highest rate in 26 years.
Heidi Shierholz, an economist with the Economic Policy Institute, said that the loss of 6.5 million jobs since the start of the recession combined with the growth of the workforce means that the gains of the previous business cycle have been completely blown away.
"This is the only recession since the Great Depression to wipe out all jobs growth from the previous business cycle, a devastating benchmark for the workers of this country and a testament to both the enormity of the current crisis and to the extreme weakness of jobs growth from 2000-2007," said Shierholz in a statement.
The ranks of the long-term unemployed -- people out of work for 27 weeks or more -- grew by 433,000 in June to a total of 4.4 million. Three in 10 of the unemployed are now long-term unemployed. The collapse of the housing industry contributes to their plight.
"We know right now because of the housing crisis that people can't move to find another job," Shierholz said. "People that in previous recessions may have been able to relocate to find another job can't now."
The Huffington Post has been profiling people who've been out of work for long periods of time. Marvin Bohn of Ohio hasn't worked for a year and has been paying for his meds out-of-pocket. Steve Dittmann of Kansas said of the unemployed life, "I feel like I'm on the other side of a Plexiglass wall looking in."
A broader measure of labor underutilization that accounts for people who've stopped looking for work hit 16.5% in June, a 0.1 percentage point increase.
"In June, there were large decreases in manufacturing, construction, and professional and business services," said Bureau of Labor Statistics Commissioner Keith Hall in a statement. "Together, these three sectors have accounted for nearly three-quarters of the jobs lost since the recession began.
Many economists have predicted that even when the recession is technically over with the economy beginning to expand, there will be a "jobless recovery" as unemployment hovers in the double-digits.
HuffPost readers: Have you joined the ranks of the long-term unemployed? Tell us about it -- email arthur@huffingtonpost.com.
Related
Popular in the Community