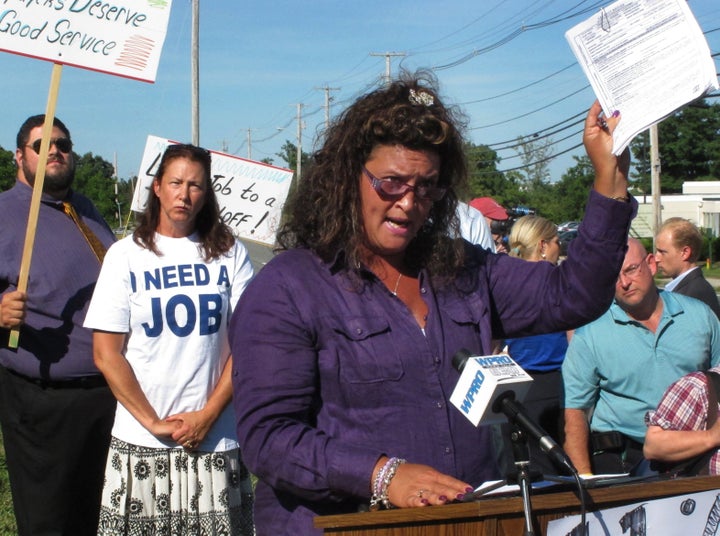 Jim Gibbons of Green Oak Township, Mich., hopes he has a job next month. He works for the Michigan Unemployment Insurance Agency, which just pink-slipped 177 temporary workers and plans to dismiss as many as 225 more.
"We were told about 12 noon this last Monday by our department manager and it just hit every one of us like a ton of bricks," he said. The next day at the office, he said, "It was like we were in a funeral home. Solemn, quiet, very little banter."
Gibbons, 61, said he only landed the job two years ago after a six-month unemployment spell. He assumes that his lack of seniority at the unemployment office means he'll be canned. A former auto mechanic and a member of the UAW Local 6000, Gibbons had hoped to retire from Ford, but he'd do any type of work rather than be unemployed.
"A job is better than no job," Gibbons said.
The layoffs at Michigan's workforce agency come not because the economy's bad, but because it's supposedly getting better: The state's unemployment rate has fallen to 8.6 percent, down from 10.6 percent just one year ago. The agency says fewer Michiganders are filing for unemployment, so it needs fewer workers to process the claims.
"In June 2009, the number of claims peaked at 537,000," department spokeswoman Chawn Greene-Farmer said in an email. "As of July 30, 2012, the UIA provided unemployment services to 187,000 claimants."
At the same time, Gibbons is caught up in a familiar recessionary tale of government layoffs. As the private sector has added jobs since the recession technically ended halfway through 2009, state and local governments have bogged down the recovery by continuing to shed workers in an effort to close budget deficits. The public sector is down by more than half a million workers since 2009, and government jobs declined by 9,000 from June to July.
Another reason for fewer unemployment claims is that the federal government is providing fewer weeks of benefits than it used to. Republicans and Democrats struck a deal earlier this year to gradually wind down federal programs that, combined with state benefits, previously gave jobless workers up to 99 weeks of aid. And lawmakers in several state legislatures -- including Michigan's -- have pared back the 26 weeks of state-funded benefits traditionally available.
Michigan's not the only state where unemployment workers are following teachers, firefighters and police officers out the door. In California, a declining caseload led the state's Employment Development Department to reduce its unemployment insurance staff from 2,577 in January 2011 to 2,178 last June (though the agency said 100 workers were redirected to jobs in other EDD branches, and that the others "left through attrition -- retirements, leaving for other jobs").
"Fewer people applying for benefits, more people exhausting all their benefits -- both contributed to the decline in workload," department spokesman Patrick Joyce said in an email.
And Rhode Island's Department of Labor and Training laid off 65 people last week because it used up a funding boost from the 2009 stimulus bill.
"The vast majority of those positions were originally funded with American Recovery and Reinvestment dollars. Those dollars went away," department spokeswoman Laura Hart said. "We were able to keep those positions for an additional year through smart fiscal management, but we would need an additional $4.6 million in federal dollars to keep those people in their existing jobs for another 12 months."
For two years, Jonathan Jacobs of Providence handled unemployment insurance claims at the agency.
"Now we're on the unemployment insurance line. It is an ironic situation," Jacobs, 34, said in an interview. "I am still applying for jobs anywhere and everywhere, because I do have a wife and 6-month-old daughter, so I need to be thinking about things like health care."
Jacobs said the agency's service will suffer as a result of the layoffs. At 10.9 percent, Rhode Island's unemployment rate is the second-highest in the nation, behind only Nevada.
"In an ideal situation, we would have enough workers to maintain the level of customer service we previously showed before the layoffs," Hart, of the Department of Labor and Training, said. "Unfortunately, that's not the case. We know that there will be an impact. We know that our call wait times are going to go up when you're trying to call our call center."
While Jacobs looks for full-time work, he said he hopes to work part-time with his union, SEIU Local 401, to elect local leaders who are concerned about the jobless.
"Unemployed individuals in the state of Rhode Island have been reduced to just percentages and average wait times, when they're actually people," he said. "I'd like to work towards helping that mindset change."
Jim Gibbons, the former auto mechanic worried he'll be let go by Michigan's workforce agency, said he expects to start really sweating later this month. If he loses his job, though, he said he'll find a new way to make a living.
"I was truly a fish out of water when I first became part of the agency but you learn to adapt, kind of like Sonny Bono," Gibbons said. "Who would have guessed he and Cher were singing all these hit tunes, and before he died he became a United States congressman? Sometimes we have to reinvent ourselves."
CORRECTION: An earlier version of this article misattributed the following quote: "In an ideal situation, we would have enough workers to maintain the level of customer service we previously showed before the layoffs," to Jonathan Jacobs instead of Laura Hart.
Calling all HuffPost superfans!
Sign up for membership to become a founding member and help shape HuffPost's next chapter
BEFORE YOU GO
PHOTO GALLERY
High-Paying Jobs That Don't Require A Bachelor's Degree