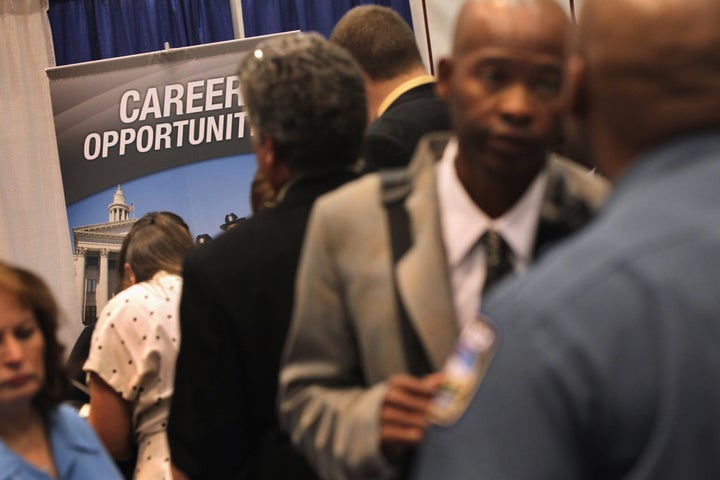 Payrolls plunged in September more than forecast as continuing fiscal retrenchment by state and local governments forced agencies to cut employment while private employers failed to generate enough jobs to grow the economy.
Employers cut 95,000 jobs last month, according to Labor Department figures released on Friday. Private businesses added 64,000 jobs, a continuation of steady private employment growth. Government agencies cut 159,000 jobs, roughly split between departing Census Bureau workers and state and local cuts. The overall unemployment rate remains at 9.6 percent, a figure little changed from January.
But the figures are preliminary and subject to revision. In a troubling sign, the decline in employment previously reported in July and August was revised downward: an additional 12,000 jobs were cut in July and 3,000 in August. Also, in the 12 months ending in March, the Labor Department revised its previous estimates of private payrolls, showing that businesses shed an extra 371,000 jobs more than previously reported.
Friday's report "adds to the evidence that the recovery is losing what little forward momentum it had," said Paul Ashworth, senior U.S. economist for research consultancy Capital Economics. "The budget pressures on state and local governments aren't going to ease for a while yet, so further public sector job losses should be expected. The gain in private payrolls was better than we had feared after the release of... [a report] earlier this week, but it was still nothing to cheer about."
Nigel Gault, chief U.S. economist at IHS Global Insight, noted in a report that 50,000 of the job cuts were in local education.
Economists had expected private payrolls to rise by 75,000, according to a survey by Bloomberg News and Mark Zandi, chief economist at Moody's Analytics. The economy needs an additional 150,000 jobs a month to bring the unemployment rate down and stabilize the economy, Zandi said Friday during an appearance on CNBC.
The unemployment rate will likely rise to 10 percent at the beginning of next year, Diane C. Swonk, chief economist at Mesirow Financial, said Friday on CNBC. During the same program, Federal Reserve Bank of St. Louis President James Bullard disagreed, saying that he is "not really anticipating that."
"Persistently high unemployment represents a significant hurdle for consumer confidence and therefore consumer purchases of autos and housing," economists at Wells Fargo Securities said in a note. The jobless rate has equaled or exceeded 9.5 percent for 14 consecutive months, surpassing the last big recession in the early 1980s, the economists noted. More than six million Americans have been out of work longer than six months, Labor Department data show.
The lackluster jobs report will likely add to pressure for the Federal Reserve to act. In recent weeks, top Fed officials -- including Fed Chairman Ben Bernanke -- have spoken favorably of further efforts to jumpstart the lagging recovery. Others, like regional Fed chiefs Tom Hoenig of Kansas City, Richard Fisher of Dallas, and Charles Plosser of Philadelphia, argue that additional stimulative efforts by the Fed will backfire.
Options include adding to the Fed's already pregnant balance sheet by buying more bonds, like mortgage-backed securities or Treasuries. The Fed holds more than $2.3 trillion in assets. By adding to that, the Fed will essentially be printing money in hopes that it will stimulate the economy.
There's conflicting evidence as to whether such efforts will ultimately be successful. The Fed's balance sheet has more than doubled over the past two years.
There were 3.2 million job openings at the end of August, Labor Department figures show. There are 14.8 million unemployed workers.
A broader measure of slack employment, which looks at the unemployed, those marginally attached to the labor force and workers forced to work part-time, rose last month to 17.1 percent, a 0.4 percent increase from August.
"QE2, here we come," said Ashworth in reference to additional efforts by the Fed to kickstart the economy, known as quantitative easing.
Economists at the Royal Bank of Scotland said in a note that the unemployment report "strengthens the argument for QE." The group expects the Fed to announce additional measures at its next meeting in November.
Bullard, though, said that it's "very reasonable to think you don't have to do very much" when asked whether the Fed would act.
Zandi said that given the dysfunction in Washington the "onus is on monetary policy." Swonk and former Fed governor Laurence H. Meyer, vice chairman and director at Macroeconomic Advisers, an economic consultancy, agreed with Zandi's assessment.
Essentially, because political leaders in Washington are unable to formulate sound economic policies, the Fed has to print more money to boost the economy.
"It's all we got," Swonk said.
Related
Popular in the Community