WASHINGTON -- The unemployment rate fell to 7.4 percent as 162,000 more Americans had jobs in July, the U.S. Labor Department announced Friday.
Richard Bruno was one of them. The 23-year-old college graduate started a new job at a telecom firm on Monday thanks to a temp agency that places workers in government-related jobs.
"I feel great about getting a temp job," said Bruno, who had previously worked as an intern. "Getting a job that pays."
Temps accounted for nearly 8,000 of the jobs added in July, and along with retail and restaurant workers made up more than half of the employment gains. Low-wage workers have been a big part of overall job growth since the recession officially ended in 2009, a pattern economists say is normal early in an economic recovery but usually doesn't last this long.
"The strong growth in low-wage industries is what happens when the economy is this weak," said Heidi Shierholz, an economist with the liberal Economic Policy Institute. "It's unbelievable that four years later we're still saying a robust recovery has not begun."
For his part, Bruno is happy he scored a job related to his bachelor's degree in government and politics. It took seven months to find paid work after he graduated in December, but now he'll be able to move into his own place, after a lengthy period of couch surfing with friends.
Eventually he plans to transition to a better career, but for now, he said, "I'm happy to have something to do. I'm ecstatic."
Workers who still haven't found jobs, on the other hand, can feel the emptiness of the recovery in the isolation of their continued search for work.
Brian Niemiec, 49, has been flinging his resume to potential employers online for the past eight months. He previously worked as a organization development project manager at a biopharmaceutical company.
"I'm just looking at the bank account going down," said Niemiec, who lives in Bethesda, Md. "It's kinda scary and it kinda hurts."
He was one of July's 4.2 million long-term unemployed, Americans who have been jobless six months or longer. Their ranks have declined by almost 1 million in the past year, though economists are uncertain about how many of them are finding jobs or just giving up on their search for work. (Only people who say they've looked for jobs in the past four weeks are counted as unemployed in the government's survey.)
Between looking at his bank account and hitting "send" on job applications, Niemiec is also hustling to job fairs. On July 18, he and several hundred other jobseekers visited such an event in downtown Washington. Even though the most recent data puts the D.C. area's unemployment rate at just 6 percent, on this sweltering day job hopefuls lined up around the block for a chance to meet someone who might hire them.
Niemiec had already applied for a job with one of the companies exhibiting at the event. He hoped showing his face would boost his chances.
"Say your résumé comes into play. They'll say, 'Oh yeah, I talked to that guy at the job fair. He was a really nice guy. He seemed to know what he was talking about, let's get him in here.' You hope they remember," he explained. "But when you look here and you see there's 10 people in line in front of me and 10 people behind me, you just don't know."
Photos and videos of wannabe workers standing in line illustrate daily news stories about the economy, snapshots of recession and recovery conveying hope and despair. The wait is just one part of searching for work, a process that can be mysterious to anyone who can't find employment through informal contacts.
Fellow fair-goer Darlene McKnight marveled at how people who go to the trouble of getting dressed up in business clothes to visit potential employers' booths are still often told to apply online.
"The money and transportation and getting résumés printed up and stuff to come down here -- it's costly when you don't make a lot of money," she said. "And then you come and you stand in line for hours and when you get up to, you know, talk to some of the companies, here they go, 'Oh, go online.'"
McKnight, 53, has a part-time job but has spent the last three years looking for something better. In July, she was one of 8.2 million part-timers who wanted full-time work but couldn't find it.
Richard Bruno visited the same hiring event as McKnight and Niemiec. He walked into the atrium wearing a dark jacket and sweating -- it was nearly 100 degrees outside and he was nervous.
"I've really never been to a job fair before and I don't know what I'm doing and I don't see any companies that fall into my background," he said. "So I'm a little worried."
After making the rounds, he gained confidence. "It was a very good platform to help find a job," he said.
But when he did finally land the job he started this week, it wasn't with a company exhibiting at the event -- he'd applied online a couple months ago.
Related
Before You Go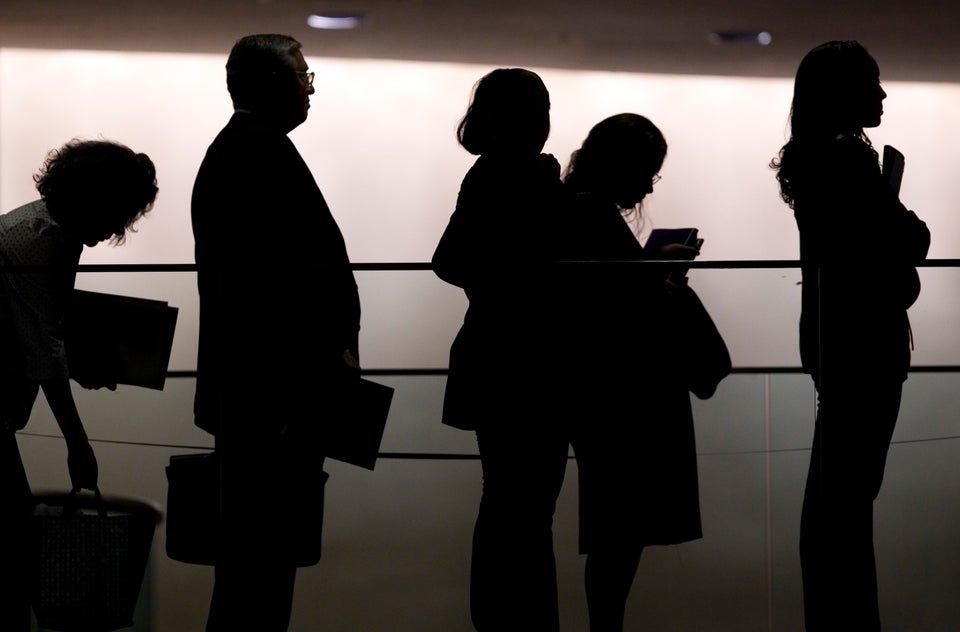 9 Ways Americans Haven't Recovered
Popular in the Community