Proposed Pimachiowin Aki site in Canada will be the next test
Remember the Alamo? UNESCO just did, by including the fabled Texas mission in its latest designated places of "outstanding cultural or natural importance to the common heritage of humanity."
At the same time, a less publicized UNESCO decision, made by the international body's World Heritage Committee, could have an equally profound and more global impact. UNESCO's rules now recognize Indigenous people as a unique group with distinct rights and require that the "free, prior, and informed consent" of affected Indigenous peoples be obtained during the World Heritage Site nomination process.
Why is this rule change so important? For one thing, it affirms and respects the contribution of Indigenous peoples to our common heritage, a long-overdue recognition.
But it also underscores another reality: Across some of the world's largest and most ecologically important landscapes--including Australia's Outback and North America's boreal forest--Indigenous peoples are taking the lead in preserving nature as well as their cultures.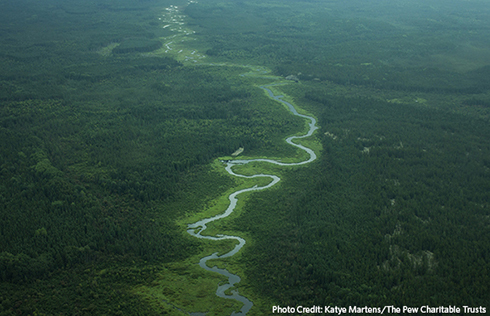 An aerial view of the boreal forest near Poplar River, Manitoba.
Since 1998, Australia has created 67 Indigenous Protected Areas covering more than 145 million acres--an area larger than California. More than 700 Indigenous Rangers now work for the Australian government, managing the areas using both their traditional knowledge and Western science to protect biodiversity and limit environmental threats. Their work includes using controlled fires to reduce non-native grasses and weeds that compete with native vegetation, and hunting to control feral animals that kill and compete with Australia's unique wildlife.
In Canada, Indigenous communities are showing similar leadership. In the Northwest Territories, the Lutsel K'e Dene First Nation is negotiating to manage Thaidene Nene, a region that includes a proposed national park reserve and two territorial protected areas along Great Slave Lake covering 6.4 million acres. The Deline First Nation is asking UNESCO to declare the watershed around Great Bear Lake, North America's fourth largest, as a World Biosphere Reserve, a designation recognizing special areas that show a balance between humans and nature. Other examples abound.
One area of particular interest is Pimachiowin Aki, an 8.25-million-acre area of boreal forest east of Lake Winnipeg. For more than a decade, five First Nations communities in the provinces of Manitoba and Ontario have been at the forefront of efforts to protect Pimachiowin Aki, a wilderness rich in biodiversity--home to more than 40 species of native mammals, including wolverines, moose, beavers, and timber wolves--that provides vital habitat for threatened woodland caribou populations and at least eight at-risk bird species.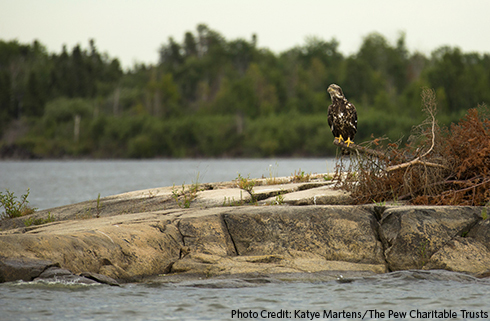 An eagle surveys the horizon at the mouth of the Poplar River in the boreal forest of Manitoba.
Pimachiowin Aki, which means "The Land That Gives Life" in the Anishinaabe (Ojibwe) language, has an equally important cultural significance to the local Indigenous peoples. Directed by stories told by elders about their ancestors' lives, archeologists have discovered ancient hunting and cooking tools, camps, and burial sites, as well as pictographs on rock faces. Many traditional practices of the past continue today, part of the unbroken chain of Indigenous peoples' life on the land, dating back many thousands of years.
UNESCO is now weighing whether to add Pimachiowin Aki to the World Heritage List as a site of outstanding natural and cultural value. The case for designation is strong, but even with the agency's new language about Indigenous peoples, there's a problem. According to the World Heritage Committee's rigid rules, proposed World Heritage Sites that have both outstanding cultural and natural values need two separate nominations and are evaluated under two entirely separate processes. Indigenous communities, for whom nature and culture are inseparably linked, are stymied by such an approach.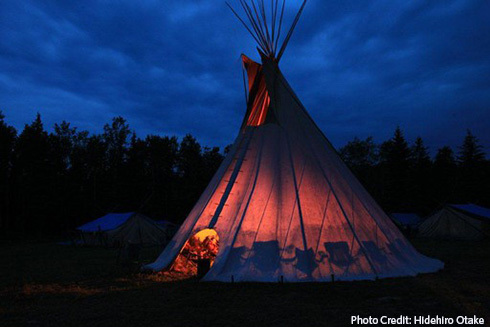 An Anishinaabe healing camp on the shores of Weaver Lake on Poplar River First Nation land in the boreal forest of Manitoba.
This artificial separation has held up designation of Pimachiowin Aki. The World Heritage Committee deferred a decision in 2013 amid an internal debate over whether it needed to revise its processes to accurately evaluate, according to committee documents, "how the indissoluble bonds that exist in some places between culture and nature can be recognized on the World Heritage List." Thankfully, the committee has been working since then to revise its approach, and a decision on a revised Pimachiowin Aki nomination may come in 2016.
Sophia Rabliauskas of the Poplar River First Nation, a longtime advocate for Pimachiowin Aki and an attendee at the recent UNESCO meetings, says, "Right from the beginning, the purpose of the project has been to protect the connection between the land and the people and to share it with the world." She adds, "It's been suggested that we separate the two, but they are inseparable for us. There is no distinction. We are the land."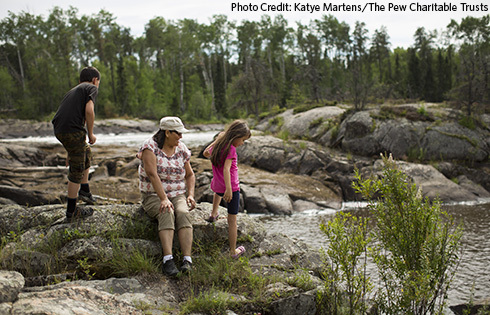 Sophia Rabliauskas, with her grandchildren, along the riverbank in the boreal forest at Poplar River, Manitoba.
By adopting new rules on the rights of Indigenous peoples within the World Heritage process--and by working to integrate the review of natural and cultural values in its evaluations--UNESCO has taken important steps in the right direction, which the people of Pimachiowin Aki hope will improve the ability of Indigenous peoples around the world to protect, share, and pass along their heritage.
Now, UNESCO has a chance to take the next step. Listing Pimachiowin Aki as a place just as important to humanity as the Alamo or any other World Heritage Site would honor the contribution of Indigenous peoples to the preservation of both unspoiled nature and their irreplaceable cultures. Let's hope UNESCO's World Heritage Committee agrees and further amends its rules to properly--and fully--designate such special places.
REAL LIFE. REAL NEWS. REAL VOICES.
Help us tell more of the stories that matter from voices that too often remain unheard.