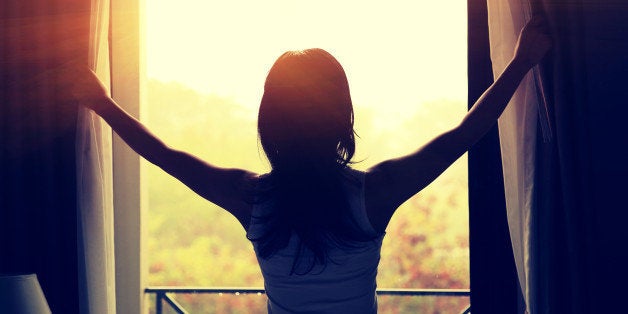 In 2006, when I was pregnant with my second child, I negotiated to work remotely for part of the week at my marketing job. This telecommuting thing was still a relatively new concept then. After a few challenging first few months -- juggling self-discipline, co-worker tension and pregnancy -- I discovered a higher gear; my productivity and effectiveness surged. I shrugged off doubts about workplace dynamics and committed myself to pleasing my three distinct audiences: my boss, my co-workers and the company's clients. I began to thrive with the new schedule. A few weeks short of my due date, my co-workers threw a beautiful baby shower for me; it was clear that I'd earned their trust, on-site or off.

Then, several years later, another company offered me a job that would double my salary and boasted incredible opportunities for promotion. I hesitated to leave where I was because I'd worked so hard to establish my place and to create an arrangement that worked for my family.

So I went to my employer and came clean. "I really don't know what to do," I told him. "I love all of you here." And to my surprise, he said -- with a welcome understanding -- "You have to take it." The company couldn't match my new offer. Instead, he wanted me to consider continuing to contract with them on some projects.

"Of course! I would love that," I said with genuine honesty. Over the next few weeks we all figured out what my responsibilities would be. It seemed like a win-win: a new career opportunity while I stayed connected to the mission and small team that I'd grown to care about deeply over the years.

Our young family was taking on a lot, including renovating our house -- both to fit our growing brood and to build equity -- and starting our own small ad agency. (The extra paycheck was important to us.) I packed my days with meetings at my new hospital job, writing press releases for my old job and preschool drop-off.

The day it all changed was a regular Thursday. I was at my former office to review upcoming projects. I sat next to my old boss's desk like I'd always done. We made the same small talk as usual. "So, what are we doing this week?" I asked.

He winced. "We're eliminating the line item from the budget that pays for these projects." He sat back as if a great weight had been lifted from his shoulders.

It took me a minute to realize that my position had been cut. My cheeks flamed and my heart raced. My throat was dry and I couldn't speak. I couldn't believe how much it hurt to go from thinking I was a part of the team to realizing that I was utterly expendable. Even in the moment I knew it was unreasonable for me to be upset; I'd left them, after all. I was so flustered that my vision blurred. Why hadn't he done it over the phone? I wondered.

"It isn't anything that you did or didn't do. I just needed to trim the budget."

After we tied up loose ends and he thanked me, I walked outside. The sun hit my eyes and I squinted -- it didn't seem possible for it to be sunny. For the first time, I'd lost my job. I felt broken. Even though I had another job, my sense of failure thundered.
I started to cry. I made my way to the park and sat under one of the towering trees. I wasn't ready to tell anyone what had happened, I was too ashamed.

I spent several weeks wallowing, succumbing to the daily temptation to fume, "How dare they!" Eventually I had a realization: It was a waste of time to steep in the negative energy that inevitably surrounds loss. Anger was a dead end. I had to use my emotions as a way to tap into who I wanted to be and where I wanted to go.

By contemplating how I could use my writing, I saw that I didn't want to promote events or operate in a technical role; my ambition was rooted in exploration, not ascension -- pouring myself into a new business, using the time I didn't spend working or parenting to write for myself, not for a company. I wanted to discover how I could use language to make people feel things. I was 35 years old and, for the first time, I felt that I knew what I was supposed to be doing.

About a month after I was let go I met an author who wanted to mentor me. He told me that I had a gift, but that it was time to work. I spent every Saturday working on strengthening my writing, something I would not have had the time or focus to do had I still been freelancing.

It is hard to acknowledge that as we endure some of our lowest moments, they often come to mark the beginning of something tremendously positive. It's been more than eight years since that Thursday. I am still friendly with the person who cut my position and I look back fondly on the years I spent working for that company. It's hard to acknowledge when we are in the thick of a painful experience, that what we are enduring may be a beginning, rather than an ending. Hindsight has allowed me to see the possibilities that opened up as I sat in that chair, getting what I thought would be a permanent badge of failure.

My life now, with three beautiful daughters, is as close to ideal as I can possibly imagine. I've had my work published online, in print and in an anthology about parenting. Nothing I have now would be as it is had my boss not eliminated that line item from the budget. I would still be spreading myself too thin, working for others. In other words, my success would be coming at too high a price. Today I work full time at the company that my husband and I started with friends. My children come to the office and call it their company. We give back to the community and participate in actively planning our future, rather than living in a way that could mean sitting in a chair and having someone else say, "I'm sorry, we can no longer pay you."

I never expected to be grateful to have been let go, but that ending was my most fertile beginning.
Chevrolet Malibu is committed to helping you discover the amazing in the unexpected. Happiness can come from the most unexpected places, and the all-new 2016 Malibu is ready to change your perception of what a midsize car can be.