The priceless touch from fingertips belonging to my beloved's hands... Witnessing the result of the manipulation of molten precious metal into handcrafted pieces of genius... I find myself blanketed with inspiration. Yet, I still find myself asking: What is it in this life that inspires me?
After 18 years of ministry, I'm journeying into my very first sabbatical. I've been asking myself, what are some of the sources of inspiration I have in my life? I've come up with a short list (which, by the way, it's very important for me to call it a short list -- because a lot of time and effort has been put into the redaction of said list). May I share with you my short list of things in life that inspire me? My beloved unbelievably-hot-curvy wife, our three larger-than-life puppies, smooth whiskey, robust cigars, movies (good movies -- and even sometimes bad movies), my array of Jesus kitsch (thanks to Chase of jcmoonrunner.com I now own a bona fide glow-in-the dark crucifix), custom art, and well-crafted jewelry. These are consistently on the top the short list of my inspirations, things that bring meaning to my life. Are you humming "You're The Inspiration" yet? You know -- that song that was sung by Peter Cetera while he was still the lead singer of Chicago. I know, I know, I know... you wouldn't think a guy who looks like myself (tattooed from my head to my ankles, adorned with Dia de Muertos sugar skulls, with 1 1/8 inch gages in my ears -- that my mother affectionately calls "those things in your ears") would know who the hell Peter Cetera is -- let alone know that he fronted the band Chicago for a time. Not only do I know who Peter Cetera is, I also believe that "You're The Inspiration" is one of the best love songs ever written... in my humble opinion, which I respect of course.

Being a Christian minister, it may be a little shocking that church, the Bible, and prayer are not at the top of my short list of inspirations. However, growing up as a fundamental evangelical ("fundagelical" is a fun/pithy shorthand some like to use to describe this subculture), I have realized that my definition of what is inspirational has evolved over the years. And hopefully my definition of what is inspirational will continue to evolve until my time in this dimension is done. It's not that I see myself as some enlightened being who doesn't have time for such trite things such as prayer and the study of scripture. On the contrary, I still find inspiration in those things. But I no longer limit myself to ONLY finding inspiration from these things.

It feels good to have those boundaries put into place for the rest of this article, because (believe it or not) I am writing this article to highlight one of my latest inspirations. No, I didn't find it in a Christian bookstore. I found my latest inspiration on one of the best websites created since Amazon and Facebook -- a website called Esty. I love me some Etsy. This website is where I've found some amazing artists, artists who are trying to get their feet in the door of sustainable commerce. The latest artist I've found on Etsy is one that has captured my imagination and has fueled my inspiration of late -- an amazing jewelry designer: David Wang of Misteltien Design Studio in Long Beach, California.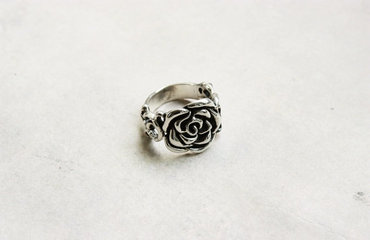 David specializes in .925 silver and has mastered working in this medium, crafting unique
functional masterpieces -- rings, bracelets, pendants, even switch knobs and tuss rod covers to accent your Les Paul guitar. David is truly a master craftsmen and I was honored when he agreed to do this interview. I've been a fan of this "rock & roll" style of jewelry for a few years now, when I was first introduced to King Baby's work. Working with .925 sliver is a niche market of what I've deemed as "Rock & Roll Bling" and has attracted many from the rock and roll world who wear the works of designers like King Baby, Dogstone Of London, Chrome Hearts, Scott Kay, and now David Wang. I am extremely grateful for David's generosity of his time and his talent. Misteltien Studios is not simply a way to make money; David puts his soul into every piece he creates. And that soul is evident -- from the way he packages his art, to the pride of craftsmanship he puts into the detail of each and every one of his pieces. Inspiration is not limited to the short lists we makeup, of where and when we think we can find it. Sometimes, just sometimes, God illuminates Him/Herself outside of our comfort zones and inspires us in ways we least expected, in places we didn't even know existed.



David - All of your jewelry is handmade, is that correct? How did you get into crafting jewelry in the first place? How long have you been a designer?

Yes, all my jewelry are all handmade. I have always like wear silver jewelry when i was a kid and always interesting to making them, but in Asian country that seen impossible because they are more focus on schoolwork. Two years ago I'm finally tired of school and took metal smithing class in el Camino college, and that's how I started jewelry crafting. I'm studio art major in high school and college, and I'm start painting when I was 8, so design and painting is more like my living skill.

How did you come up with the name Misteltien? And what does it mean?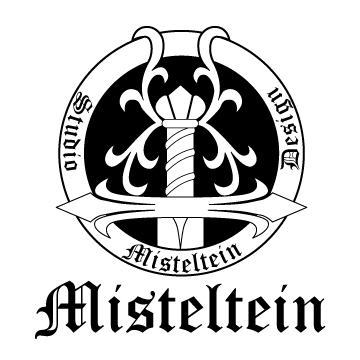 When I was thinking the name for my studio name, I have trouble to finding one, so I web surfing on wiki and this word caught my eyes. Misteltien is mistletoe in Nordic, which is the name of a sword from Norse mythology that kills the god of light, but mistletoe also have positive meaning to the American culture.
David - You recently just got back from an exhibit in Hong Kong and you obviously have international appeal with a strong following overseas, however your design studio is in Long Beach, California. Are you originally from Long Beach? Why did you decide to make that your base for your business?
I was born and raised in Taiwan, I came to United States when i was in high school, and after high school I go back to Taiwan to serve the military, come back to U.S. after finish serving and study in el Camino college in Torrance, California. when my family move to California they decided to live in Long Beach. So that's why I've move to Long Beach and live here since then.

Are you a one-persona-operation -- is it just you who works in the Misteltien studio? Or do you have a team who works with you on the designs?
Yeah, I'm one-persona-operation, have to do everything from design, crafting, marketing, sales, and customer service all by myself.

You obviously you put a lot of time and effort in the pieces your craft; you simply don't just create jewelry, you create functional pieces of art that bare the stamp of your talent and soul. You even have some pieces in your repertoire that have some very spiritual overtones to them, including one of my favorite pieces that I personally own "The Crucifixion Skull Cross" necklace. In your own description of the piece, you describe it as, "The design is inspired by Christianity, the concept of the trinity, crucifixion and symbol of Mary." How does your own spirituality play into the pieces that you create?
I like to study history of different country and different religion, history and religion reflect the culture and cogitation of different country. Those idea whether bright or dark give me inspiration to my crafting.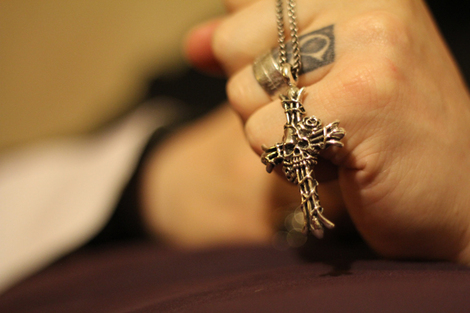 What and who are the creative influences who that have shaped you as a designer?
Salvador Dalí, he just simply awesome.

Like many of your contemporaries, who work in the niche market of "rock and roll" jewelry, you have chosen to work in the medium of 925 sterling silver -- why is that? And outside of your second-to-no-one customer service, and your passion for your art, in your opinion what distinguishes you from say a King Baby or a Dogstone of London?
I've always like silver, not only the elegant metal shine after polished and also it's mythological meaning. just by holding it, people can feel the weight and power inside the silver. Handcrafting jewelry and painting are very similar to me, when I crafting it, I put my feeling and emotion in to the piece just like I'm painting a picture. so when people see my work they are not just watching a piece of jewelry, they are also seeing the soul and emotion that artist put in.

One of the first things I noticed when I visited your shop on Etsy is that you craft truss rod covers for guitars. What make you decide to design this? Do you yourself play the guitar or are you just a fan of music in general?
The truss rod covers line starts when I'm playing in the band, I was simply just want my guitar to look better than other band members.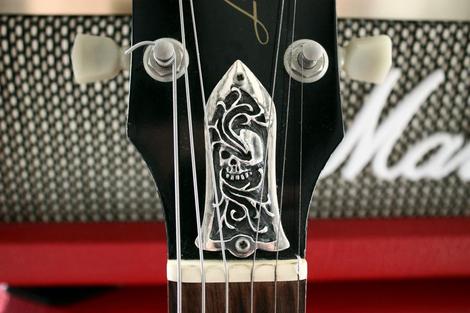 What is your favorite album on your iPod and what do you listen to when you are working in your studio?

i like AC/DC, Rise Against, Eric Clapton , and most rock and punk rock in '70 and '80.
Is there any other type of art you like to create or do you mostly stay focused on crafting jewelry?
I'm also practice martial art and play guitar when I'm not working, but it's been a while that I have time to do those things.

Where would you like to see Misteltein be in the next five or ten years?