The classical music scene in New York City is amazing. Not only for the quality, but also for the depth and breadth of the offerings. Yes, there are always the A-list attractions, Netrebko at the Met, Argerich at Carnegie. But on any given night, first class concerts are presented all over town, in churches, bars and even floating barges. I remember a remarkable St. Matthew's Passion, complete with two orchestras, choirs and children's choir at Saint Ignatius. I remember seeing Pretty Yende, the super-nova Soprano from South Africa, perform at Weill, the tiny space at Carnegie. And of course we have the 92nd Street Y, Merkin Hall, on the Lower East Side, SubCulture, and Spectrum, plus BargeMusic, floating on the East River, not to mention the other Brooklyn venues like Roulette and the Old Stone house, often overflowing with concertgoers (and young concertgoers at that ) hungry for the music.
One of my favorite venues has been the Hotel lobby at the Gershwin, now the Evelyn, where I've seen many concerts presented by Operamission, led by its Artistic Director, the indefatigable Jennifer Peterson. Operamission's mission is "to bring the art from the composer to the audience." Ms. Peterson specializes in older music, especially Handel, but her tastes embrace a wide variety of styles: I've seen Kurt Weill and Poulenc cabarets there, and one of my favorite evenings was from her "assembly required" series, where she rehearsed and conducted Mozart's "Cosí Fan Tutte" right in front of us, putting the opera together piece by piece with the artists and orchestra! Plus the singers she enlists are always first class. (This is New York and the talent pool is overflowing. With the demise of City Opera and other companies, far too many incredible singers have gaps in their schedules and are more than happy to take quick, smaller gigs.)
I recently attended another Operamission presentation at America's Opera Center on 28th Street, a concert of Clint Borzoni's music featuring a world premiere Song Cycle and a workshop reading of scenes from his new opera When Adonis Calls. Although Borzoni's not yet 30, he has already finished four operas, (one of them commissioned by Opermission) and his songs are routinely performed in recitals alongside such veterans as Jake Heggie, Stephen Paulus, and Ricky Ian Gordon.
The first piece, Earth, My Likeness was a cycle for Countertenor Daniel Bubeck, who commissioned the piece, based on poems by Cavafy, Whitman, plus two poets who were new to me, May Swenson and Sandra Penns.
After hearing Peterson play many times over the years, I knew she had a "tell," just like a poker player who unknowingly tips her hand with an unconscious gesture or grin. She always accompanies singers brilliantly, but whenever she's particularly vested in the music, she'll give it a little extra: more emotion, a deeper fluidity. (My mother would have said, "a little utz, a little zetz!")
From Borzoni's initial rumbling bass tonal clusters, I could tell Peterson was passionate about this music, music that seemed to resonate from the depths of the earth itself, climaxing with the entrance of the countertenor singing Whitman's
Earth, my likeness,
Though you look so impassive, ample and spheric there,
I now suspect that is not all.
With the possible exception of Dickinson, Whitman has been set by more composers, especially Americans, than any other poet, and it's a tribute to Borzoni that he was able to make the great gray poet's words reverberate with highly original yet lyrical music, taking familiar poems to unexpected places. Borzoni's natural gift for melody and harmonic structure informed the entire countertnor cycle.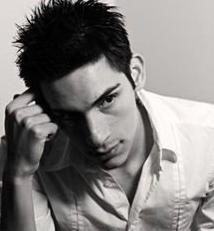 I don't think I've ever heard an entire cycle for countertenor, and frankly, I'm not sure I've ever wanted to. I haven't yet joined the countertenor operatic bandwagon so in fashion today, yet there was a muscular sweetness to Bubeck's singing that was instantly compelling, especially in Whitman's "We Two Boys Together Clinging."
When Adonis Calls, the opera in progress, is based on "homo-romantic poetry" by Gavin Geoffrey Dillard. A former porn-star, now a very serious and well-published poet, Dillard is known to virtually every classical singer in America as the lyricist to Jake Heggie's oft-performed cycle, "Of Gods and Cats,' though I wonder how many performers know about his "oft-performed" early career.
Dillard's poetry was fashioned into an opera libretto by the director/choreographer John De Los Santos and arranged into the story of an older "Poet," sung by baritone Grant Youngblood, who is seduced by a younger poet called "The Muse," sung by baritone Michael Weyandt. It is unusual to have two baritones in the same piece, as composers traditionally employ different-ranged singers to delineate character, but Borzoni's music easily defines both the "Poet" and his "Muse." I didn't know the work of either performer, though both had major credits; they sang rather difficult music with great ease and intensity, Youngblood's voice commanding the small theater and Weyandt's lighter baritone floating through the air. Their voices caressed some of Borzoni's loveliest melodies, accompanied this time by a string quartet and percussion, and I look forward to seeing the entire work staged with sets and a few costumes (or no costumes!) It was fun to hear the sold-out audience get its unexpected kicks from Dillard's masterful poems, especially the naughty bits. Naughty words in opera seem to work every time.
My next off-the-beaten-path musical adventure took me to St. Ignatius of Antioch on West End Avenue to hear a concert presented by the New York Chamber Choir, which, as far as I could tell, is the only Chamber Choir performing in the city. I lived in England for many years, where there is a great tradition of Chamber Choirs (a small group of singers, usually two or three on a part.) With a Chamber Choir, the sound tends to be more ethereal than with larger choirs and more precise because of the few members, and I was looking forward to this concert. Reading in the program, I learned that Alistair Hamilton, founder and Artistic Director, is from London, by way of Scotland. No surprise. It's his mission to bring the tradition over to the Big Apple, as well as to start a free music-education program with a newly created Children's Chamber Choir culled from schools in the tri-state area. Quite an ambitious young man.
But the real reason I went to this particular concert was to hear the guest soloist, the great mezzo Isabel Leonard. If this young organization was able to enlist Ms. Leonard, one of the superstars of the Met and perhaps her generation's definitive "Cenerentola" and "Rosina," something magical was bound to happen.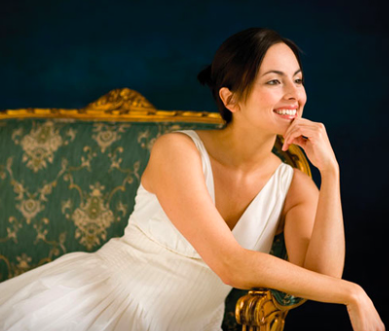 I was not disappointed. In this ornate little church, the Chamber Choir of New York's sound was simply radiant, and Ms. Leonard, looking lovely in a deep purple gown, sang with the sound she is world famous for: gorgeous legatos, sensual, long phrases, and a warmth that is beyond compare. Hearing an artist of her stature perform in an intimate church is thrilling. And hearing her sing with this well-rehearsed choir raised me to heaven. Glad I was in a church.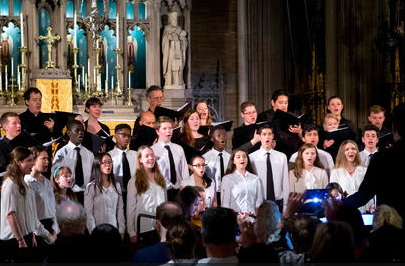 Another interesting thing about this group is the repertoire. The title of this concert was "The Music of Royal Composers" and besides the usual suspects of English music--Byrd, Tavener, Purcell--Hamilton programmed music by Paul Mealor, the most successful choral composer in Britain but virtually unknown here. Leonard and the choir performed the 2nd movement of his Stabat Mater, and the results were sheer bliss. Mealor himself will be a guest at their next concert, and with the help of this choir, I'm hoping we can hear more of this man's music, here, across the pond, as they say.
In addition to these gems, this was the first performance of the Children's Chamber Choir, singing music by Holst and Henry VIII. Quite a challenge for a newly formed group. I have no idea how they were able to sound so polished, so professional, in this, their first concert. If this is the future of Chamber Choirs in New York, I'm glad I got to hear them at the beginning.
Calling all HuffPost superfans!
Sign up for membership to become a founding member and help shape HuffPost's next chapter