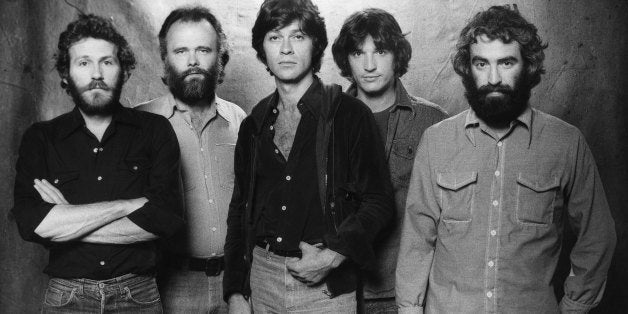 Maybe it's difficult to overstate the contributions to modern day music that began with a group of five young men with no clear frontman. But the Band -- which released its eponymous masterpiece 46 years ago this week -- brought a swollen heart and a down-home groove to the rock n' roll landscape that was unprecedented at its time. Not that surprising, considering the group was referred to as "the best damn band in the world" before they even settled on a name.*
In the mid-sixties, four rag-tag kids from Canada were lured to the open road by Rockabilly legend Ronnie Hawkins and his teenage drummer, Levon Helm. Unlike the rest of his bandmates, Helm was the son of a cotton farmer from Turkey Scratch, Arkansas and brought the authenticity of Delta blues with him wherever he went. He was eventually recognized by fans and friends alike as the heart of the group's sound, sharing vocal responsibilities with bassist Rick Danko and multi-instrumentalist Richard Manuel. But it was Helm who took the reins in four songs on that self-titled release with his signature country drawl. Two of those songs became timeless favorites -- "Up on Cripple Creek" and "The Night They Drove Old Dixie Down," a hypothetical civil war tune overflowing with classic Americana. Ralph J. Gleason described the weight of its lyrical genius in a review for Rolling Stone in 1969.
Nothing that I have read, from Bruce Catton to Douglas Southall Freeman, from Fletcher Pratt to Lloyd Lewis, has brought home to me the overwhelming human sense of history that this song does. The only thing I can relate it to at all is the Red Badge of Courage. It is a remarkable song, the rhythmic structure, the voice of Levon and the bass line with the drum accents and then the heavy close harmony of Levon, Rick and Richard Manuel in the theme, make it seem impossible that this isn't some oral tradition material handed down from father to son straight from that winter of '65 to today.

... I kept coming back and coming back until now I am prepared to say that, depending on one's mood, these songs stand, each on its own, as equal sides of a twelve-faceted gem, the whole of which is geometrically greater than the sum of the parts.
Just a month before its release, Helm and the gang took the stage at Woodstock on the final night of the three-day festival, playing seven songs from their 1968 studio debut, Music From Big Pink. Along with generally favored reviews, this earlier record fell flat with certain critics, one being Robert Christgau of the Village Voice. But Christgau gushed when he heard their follow-up release, which would eventually be referred to adoringly as The Brown Album.
[The Beatles'] Abbey Road captivates me as might be expected, but The Band is even better, an A-plus record if I've ever rated one. That should come as no surprise to those of you -- which I assume means most of you -- who regarded Music From Big Pink as epochal. Though I somehow always managed to avoid saying so in print, I didn't.

Except for Dylan, [guitarist Robbie Robertson] is the only American songwriter to write good fictional/dramatic songs... and the only one to master the semi-literate tone, in which grammatical barbarisms and colloquial ellipses transcend affectation to enrich and qualify a song's meaning.
Months before recording the LP, Robertson, the group's primary songwriter, had no idea just how iconic their work would become. Curiously, music journalist Al Aronowitz asked the guitarist how seriously the group took their craft.
"Just seriously enough to satisfy us, enough so that we can smile at one another when we're through playing."
And you can feel it; that satisfaction. The musicianship between all five members on the album is electric, heartfelt, and casual. With the ping of every ride pattern, you can practically sense Helm's broad, boyish grin behind that drum kit.
The Band released five more albums with the same lineup before Robertson's departure, taking an overwhelming majority of disputed songwriting credits with him -- an issue that left some of the remaining members bitter for decades. None of those records would come close to the success of The Brown Album.
Not bad for a few Canadian boys and a dusty farmer.
*This Wheel's on Fire: Levon Helm and the Story of the Band
Helm, Levon, and Stephen Davis; W. Morrow; 1993
REAL LIFE. REAL NEWS. REAL VOICES.
Help us tell more of the stories that matter from voices that too often remain unheard.