Note: This post contains artistic depictions of nudity.
I first met Lisa Yuskavage in the shop where I work part time. She was searching for special thick ponytail holders that only we sell, and I helped her find them. Over time we became friendly and would chat whenever she came in, mostly about eyeliner or hair clips or whatever she was looking for. Then one day, while I was wrapping a gift she had purchased, Lisa asked me, "So, what else do you do besides work here?" I told her I was a writer and that I self-published my work. When she asked what kind of stuff I wrote, I think I probably replied, erotica, as quietly as possible.

Lisa let out a sharp laugh and looked at me in the very earnest and straight-shooting way that she has, "That's funny," she said, "A lot of people call me an erotic artist." I stopped wrapping and gave her all of my attention. "But, I'm not," she continued, "Or at least I don't consider myself to be."
After that conversation, she jotted down her number and invited me to an exhibit she was having at the David Zwirner Gallery. I never made it to the gallery but I asked her if I could interview her. Thus began my journey into discovering who Lisa Yuskavage was. I had absolutely no knowledge of how incredibly massive her body of work was, how controversial and pivotal her paintings of women were and still are. It wasn't until I went to see her speak at the New York Public Library and they introduced her as one of the foremost figurative painters of our time that I realized my friendly patron was a celebrated, influential, and world-renowned artist.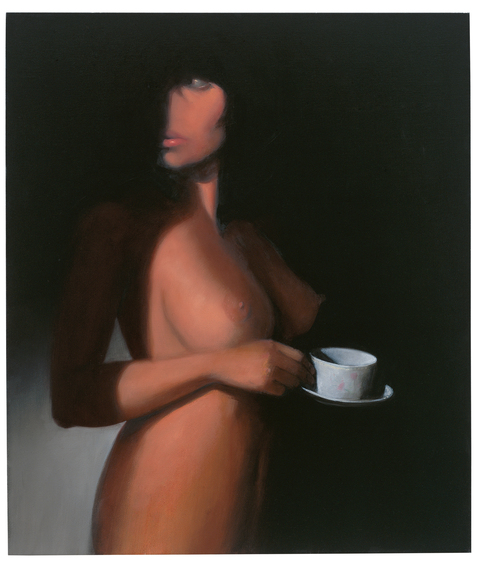 Lisa Yuskavage
Tea, 1998
Oil on linen
35 x 30 inches (88.9 x 76.2 cm)
Courtesy the artist and David Zwirner, New York/London
MW: Let's talk about erotic art. You're a Yale grad and an artist who has a classical foundation, your work seems to straddle a social class divide, wherein you manage to reference both high art and what is often considered lowbrow, simultaneously and fluidly. You've been deemed an erotic artist and in the extreme, your work has even been called, "pornographic." For you, where or what is the tipping point when a nude figure moves from being classical to becoming suggestive? It seems like as an artist you play with and challenge this invisible boundary a lot, I'm thinking of The Penthouse Series in particular here.
LY: The use of porn is different than the use of a painting. Porn at its best is for masturbation and art is ultimately for thinking. They are both taken in through the eye and give great pleasure. I would contend that my work is a complex and layered visual and emotional experience. Porn would ideally not be that. As for that period of my work when I used Penthouse as a source, I knew it would be "wrong" to venture into working with those images (my use of that only spanned a few years around the late nineties) since there was such a touchy PC aspect to everything and I couldn't help but deliberately "go there".
Like many girls I know, as a kid I got into the adult's stash of things I was not meant to see... by doing this work, I wanted to go back to those images as an experiment of daring myself mostly. I thought of the images of the "Pets" as succubae and still love that idea as an imaginary way to think of the images I create. I stopped working that way mostly because the dangerousness felt like it was coming from using another persons photos rather than the dangerousness of being female and using male stroke material. I think it was fun while I allowed it to last. I went on to use my own models and sets after that to avoid that conflict. But it never had the feel of the male gaze since literally, Gucchione's eye was removed from the equation.

Lisa Yuskavage
Day, 1999-2000
Oil on linen
77 x 62 inches (195.6 x 157.5 cm)
Courtesy the artist and David Zwirner, New York/London
MW: At the recent talk at the New York Public library you told a story about how your aunt had seen your show and stated that she "enjoyed it, minus the twat shot," referring to the painting, Fireplace. It seems that critics of erotic art, both professional and amateur feel justified in expressing their disdain because they believe that through doing so they're also expressing a higher morality. How often do you encounter this and does it ever affect your process?
LY:I give most comments a bit of thought but then just go back to do what I was put here on earth to do. I was born for this mission. I can handle it.
I am willing to be disliked. It is a big advantage.
MW: I often get the response from peers and family, "why don't you write 'real fiction'?" It's so ambiguous in terms of figurative painting, because it's acceptable to paint a nude form, you'd just perhaps need to reposition them. The girl in the forefront of, Fireplace, would have to close her thighs. But hers are open and that is, it seems, an act of rebellion. I'm struck with the idea of rebellion, both in the subjects themselves and in you as an artist. It's almost as if you categorically reject all moral and social schema, and yet your work is clearly methodical. Are you a rebel? Is your art rebellious?
LY: I guess I am rebellious even to being rebellious. I hate to be any one thing. I rebel against being categorized.
I think misogyny is so huge, so rampant, that I feel that I have to keep at that conversation. Rather than being a know it all PC artist who is pointing their finger at the bad guys (and girls) I choose to point it at myself and work from within. I have used the Guston legend before to point out how I use this: he as a Jew put himself in the pictures as a Klansman at the end of his life. He said, "I wanted to imagine what it would be like to be evil". He was influenced by Isaak Babel who rode around with the Red Cossacks. Starting with the enemy within is very powerful.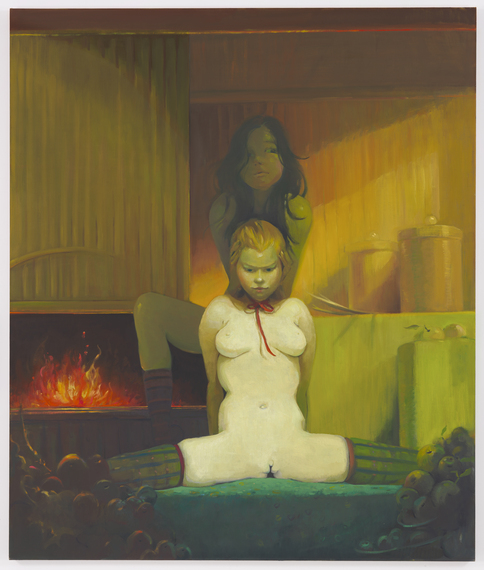 Lisa Yuskavage
Fireplace, 2010
Oil on linen
77 1/4 x 65 x 1 1/2 inches (196.2 x 165.1 x 3.8 cm)
Courtesy the artist and David Zwirner, New York/London
MW: We know each other from the Village and we've talked about hair. In the last year or so, men began appearing in your work for the first time. There is a man in Hippies, and Mardi Gras Honeymoon, then solo men in Dude Looks Like Jesus, and Dude of Sorrows. How did the men make their way into your landscape? Are their long hair and beards important? What is it about the zeitgeist that suddenly has so many men, both gay and straight, enshrouded in hair?
LY: I cannot answer that question regarding why dudes are returning to the Jesus look, I just like it and picked up on it. If something ends up in my work it has to have one foot in life, one foot within art and a third in my inner world. I think that I noticed the guys especially in Brooklyn letting themselves look like all sorts of historical radicals from Jesus to Charlie Manson to Rasputin. I have also been a great admirer of the self-portraits of Albrecht Durer. He used himself as a model for Jesus and he was a total babe with amazing hair to boot.
MW: This is a hard question to ask and I'm only asking because it happens to me all the time. It also kept popping up as I was leafing through your newly released book-of more than thirty years of your selected paintings. When you paint, do you ever get aroused or turned on by your own work? Does it ever occur to you that the viewer might? Or does the idea not enter into your creative process?
LY: I remember that happening distinctly when I made the "Bad Baby" paintings. I think it was due to the fact that I was making for the first time in my life what I intuited was great art and felt what artists when they make great art feel. Alive in every way.
MW: My six-year-old is obsessed with the movie Frozen like every other kid on the planet. She worships Elsa and sometimes I ask her, "Why Elsa?" Isn't Anna the real heroine of the story? My daughter then points her hands at me like she's going to freeze me and yells, "Because Elsa has the power!"A lot of commentary on your work throws around the terms, male gaze, female gaze, and politicized bodies, but when I look at your work I'm captivated with how depoliticized they are. I see a lot of relaxed bodies, women who are comfortable, and somehow the relaxation itself becomes an extremely powerful stance, there's a dignity in a woman reposed. Tell me about female potency and how it makes its way into your work.
LY: I think the unflinchingness of the work makes it potent. We think of potency associated with semen or fully loaded ejaculate that makes lots of babies. I am not shooting blanks.
You can see more of Lisa Yuskavage's work on her website, http://yuskavage.com or her current exhibitions, Intimacy in Discourse: Unreasonable Sized Paintings Mana Contemporary / School of Visual Arts New York, NY
November 21 through December 22, 2015 as well as, The Brood The Rose Art Museum, Brandeis University in Waltham, MA September 12 through December 13, 2015.
Related
Popular in the Community