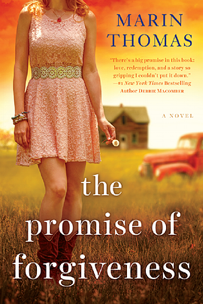 What does it mean to forgive in a town so hard and dry that it's called Unforgiven. Ruby Baxter, the protagonist of Marin Thomas' latest novel, The Promise of Forgiveness, arrives on the bus with little more than a suitcase and her daughter's anger. As the two find Ruby's biological father and the handsome, yet haunted, man that runs her father's ranch, Ruby questions what it means to forgive and what it takes to trust again.
Unforgiven is such a hard place--from both the landscape and the men that fill it. How did you create such a hardscrabble place?
When I brainstormed this novel I needed a location that would challenge the book's theme of forgiveness. What better place to seek forgiveness than in a town called Unforgiven? I made the men in town difficult for Ruby to deal with, so she wouldn't feel comfortable. Only when a person is uncomfortable do they acknowledge a need to change.
Unforgiven is a safe-haven for men. A place where roughnecks and cowboys check their morals and values at the saloon door. A place where they say what they want without fear of backlash or condemnation. The men have secrets and regrets. Their lives have been built on mistakes and bad decisions--but no one holds them accountable in Unforgiven. For some men the women in their lives are the only link between them and civilized society.
Ruby is nothing like the wives or girlfriends that are at home waiting for their roughnecks and cowboys. Ruby is as hard as the gemstone she's named after. She, too, has secrets and has made her share of mistakes and bad judgment calls. The town is a reflection of Ruby-unforgiving and suspicious.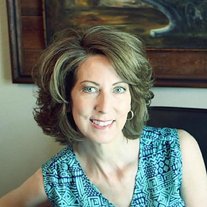 One of the best things about Ruby Baxter is that she isn't perfect. How did you find Ruby and her story?
I love an underdog. Underdogs are full of flaws and go down swinging with their last breath. Ruby had to be a fighter in order for this story to have meaning.
There's something very real and honest about middle-class America. The middle class doesn't make enough money to buy their way out of the messes they create in their lives like the wealthy who have the means and connections to make things "go away." Few people in the middle class experience having opportunities handed to them like the wealthy yet they're often held to higher standards and made accountable for the consequences of their choices and actions while the wealthy get away with their mistakes and indiscretions.
The middle class is the heartbeat of America. They feel deeper, love deeper, appreciate deeper and sometimes they hate deeper. And because these attributes can lead them down the wrong path the need for forgiveness plays a greater role in their lives than perhaps the more fortunate in society.
What do you think it takes to forgive?
It takes courage to forgive. Forgiveness is not about the person who committed the offense. It's not about deciding if the offender deserves forgiveness. It's only about what's inside the heart of the person who's been hurt. If you've carried a grudge against someone for a long time and you find the courage to let it go, you'll feel a weight lifted off your shoulders. Only when you forgive will you begin to heal, because you no longer carry the burden of being the injured one. This is Ruby's journey in The Promise of Forgiveness.
The Promise of Forgiveness is just one of many novels you have written. What keeps you returning to the page?
I can't imagine not writing. I developed a passion for reading as a child--enrolled in the summer reading program at hometown library every year. Reading gave way to writing in high school when I worked on the student newspaper and then I continued to write in college for my broadcast journalism classes. It wasn't until I took a creative writing class as an elective in college that I knew I wanted to write fiction. My active imagination makes it easy to come up with new story ideas, so as long as my readers enjoy my books I hope to continue writing for a long time to come.
Calling all HuffPost superfans!
Sign up for membership to become a founding member and help shape HuffPost's next chapter