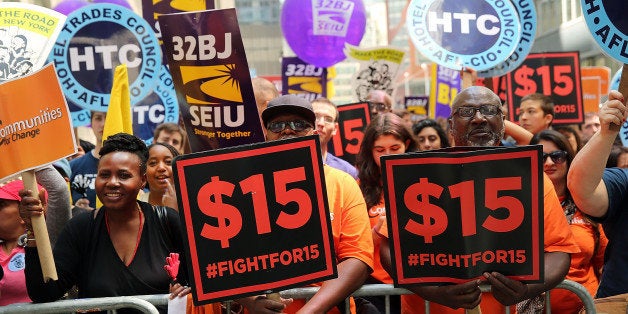 Orange has been the new black for awhile now, so corporate America has cooked up a new new black. Black Monday, that is. The holiday shopping frenzy used to start on the Friday after Thanksgiving. Now it's the Monday before, and we're looking at over a month of Black Monday-Through-Sundays. The madness will continue right up 'till midnight on December 24th, when desperate procrastinators will be seen wandering the aisles at 7-11 looking for the last pitiful box of candy or leftover sweet wine.
Love or hate it, shopping is our national pastime. It's even easier now that you can do it in your pajamas in front of your computer, or on the phone in between texting while driving. But for many, especially the nearly 5 percent of American workers making the minimum wage, those new black shopping days signify a time of worry -- maybe even desperation.
Our national wage floor is an embarrassing, pathetic, shameful, $7.25 an hour.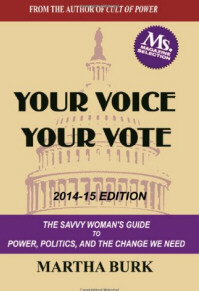 That's a whopping $15 grand a year before payroll taxes -- if you're lucky enough to work full time, don't take off for vacation, and never get sick. Sure, some people say it's a pretty princely sum for a teenager with his first job. Buys a lot of bubble gum and body piercings.
Wrong. Adult women are nearly two-thirds of minimum wage workers. They're also the great majority of tipped workers, like restaurant servers and nail salon employees whose minimum is a measly $2.13 per hour. Thirty percent of working women -- and 37 percent of working women of color -- would get a raise if the minimum wage increased to $12.00 by 2020.
But would twelve bucks be enough? And why wait 'till 2020? National unions are pushing for $15 dollars right now. That's so workers like Chrisanna Capshaw, a mom with a full-time job at Subway in North Carolina, can at least get her kids one small holiday gift and still pay the rent. Seems like her boss, Subway President Fred DeLuca, could afford to give his workers a raise -- he's worth over $1.5 billion.
Fast-food moguls claim raising wages will up the price of all that comida basura they sell. But maybe an additional nickel per burger would be a bargain. According to a study from UC Berkeley, U.S. taxpayers are forking over $7 billion a year to subsidize those low wages in the form of public assistance like food stamps and Medicaid.
Think about it as you're looking at those online popups and shiny catalogs that come in the mail with the latest and greatest holiday goods. These folks can't even buy food on $7.25 an hour, never mind the simplest gifts for their kids and loved ones.
This is the United States of America. To paraphrase Bobby Kennedy: "Can't we do better?"
Calling all HuffPost superfans!
Sign up for membership to become a founding member and help shape HuffPost's next chapter