What did Donald Trump know, and when did he know it? Roger Stone may have the answer.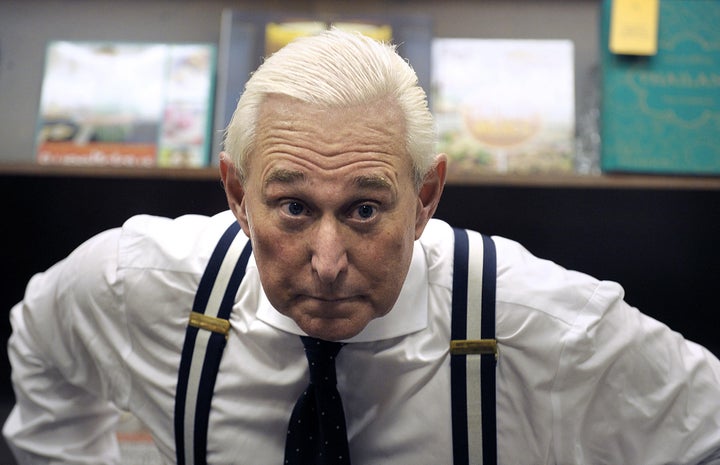 UPDATE: Sunday March 5, 2017 at 4:40 p.m. EST — Some of the tweets referenced in the original version of this piece are actually screen captures of tweets that have since been deleted from Mr. Stone's Twitter profile, and therefore were impossible to source directly. Fortunately, the WayBack Machine cached the originals in their Internet Archives. If screen captures were insufficient to verify the authenticity of the tweets, they now may be viewed in full here.
PREVIOUSLY: Renowned Republican strategist and long-time Donald Trump adviser Roger Stone launched into an inexplicable, vulgar tirade against multiple users of the social media website Twitter on Saturday night, using offensive off-color comments, misogynistic slurs, and at one point admitting that he had a "perfectly legal back channel" to WikiLeaks founder Julian Assange, who "indeed had the goods" on Hillary Clinton.
The latter tweet has since been deleted, but screen captures of the entire tirade were secured by Twitter users who watched the events unfold in real time.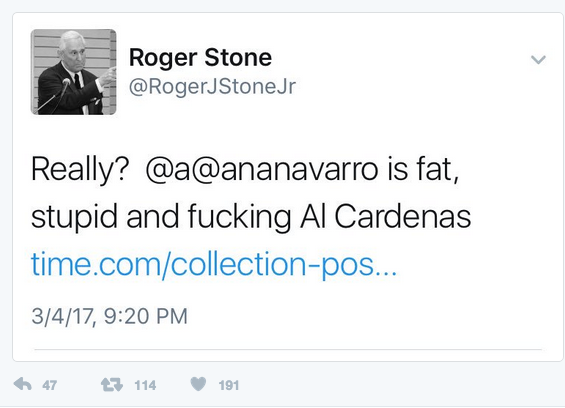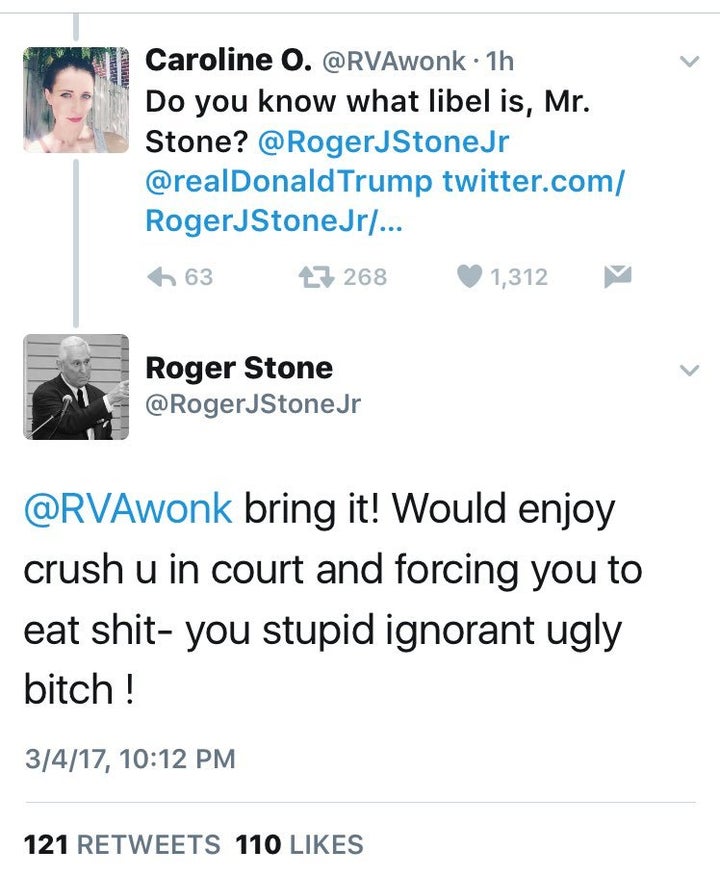 In one of the evening's tweets, Stone insulted Republican political commentator Ana Navarro by making crude comments about her weight and romantic partners, and referred to twitter user @RVAwonk, a self-proclaimed feminist scientist and statistics professor, a "stupid ignorant ugly bitch." For New York Magazine and Daily Beast Contributing Writer @yashar, Stone prepared this missive:
Finally, in a tweet which appears to now be removed, Stone seemed to admit to having colluded with WikiLeaks during the 2016 presidential election to sabotage Hillary Clinton's campaign. Stone tweeted that he "never denied perfectly legal back channel to Assange who indeed had the goods" on Hillary Clinton, using hashtag #CrookedHillary in a throwback to a familiar campaign motif.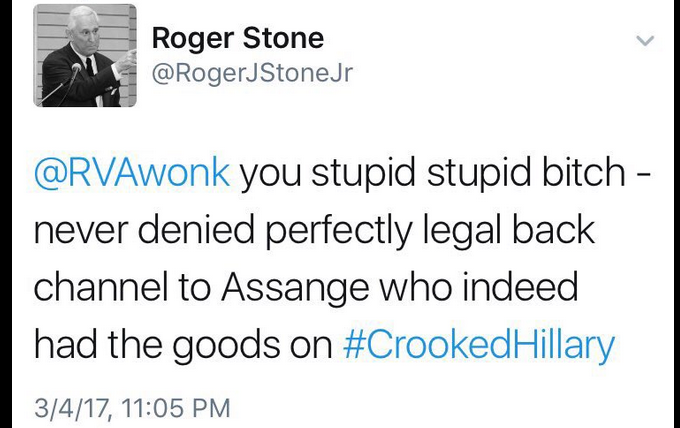 The claim that he had an indirect back channel to Assange is one that Mr. Stone has waffled on, having previously made a similar admission in October of last year. In February, however, the New York Times reported that Stone was one of a growing number of Trump advisers and allies now being investigated by the Federal Bureau of Investigation for alleged contacts with Russian officials during the 2016 presidential election. Stone publicly denied being involved with any FBI investigation into alleged Trump connections to Russia in an interview with NBC News in February.
The question of whether Donald Trump had knowledge of the Russian cyber attacks in the 2016 presidential election could have potentially unprecedented ramifications on the future of this presidential administration.
Stone infamously disputed being fired from Trump's presidential campaign in 2015, claiming he quit of his own volition and that his former boss was "losing his grip with reality."
Popular in the Community