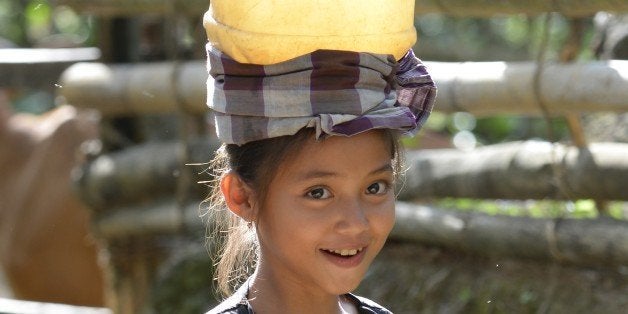 With it's TAP Project, UNICEF will provide a day's worth of clean water to a child for every minute you go without touching your phone.
768 million people around the world go without sanitary drinking water, according to UNICEF. And 1,400 children die daily due to water-borne diseases and lack of sanitation.
With these people in mind, I decided to take UNICEF up on their challenge.
I've worked abroad on and off for the past two years. I have been in refugee camps, slept on the ground with cockroaches, suffered through malaria, gone a month without a shower and been mugged -- twice. I've lived without Internet access for days -- sometimes weeks -- at a time.
So voluntarily giving up my cell phone for a few minutes from my cushy NYC office?
Please. This wouldn't just be a cakewalk -- it would be a mini cupcakewalk.
I had to up the ante. I committed to giving up my phone for the whole day which still seemed like a ridiculous "sacrifice."
I'm always wary of campaigns that attempt to simulate poverty but that doesn't seem to be what the TAP project is all about. In my mind, it's about giving something up to get a bit of perspective -- and in my cell phone fast, perspective is exactly what I gained.
Once I registered for the TAP project, my phone was immediately transformed into a bubbling blue water cooler, spitting out facts as it counted the time. Sensitive to movement and touch, the time only counts when the phone lies still -- sometimes making it feel more like a live bomb than a clever philanthropic stop-watch.
After marveling at it for a few minutes, I got back to work.
The first, and maybe most notable, realization of the day was how often I felt compelled to 'check' my phone for absolutely no reason at all. My phone is usually on silent so I do look at it periodically to see if I've received any messages or missed calls that require my attention. I had no idea how often 'periodically' was until I was forbidden from doing it. My inability to check-in was at first a minor inconvenience that evolved into a leaching anxiety. What if I was missing something? What if somebody was waiting for an urgent response?
This anxiety was, obviously, misplaced. I had my computer and my email open in front of me. If somebody truly needed to get in touch with me, there were plenty of ways to go about it.
Unfortunately, anxiety can't always be rationalized away and my growing concern made the next part of my day seem even more tenuous. I had to leave the building -- for lunch followed by a meeting. I would leave my phone behind. And, because I wanted to make it hurt, I'd also leave my laptop and my iPad.
Walking through the streets toward lunch, I immediately felt the sad absence of my headphones. When I'm out by myself, I'm listening to music a good percentage of the time -- I tried to enjoy the sounds of the city but the bustle of tourists in Union Square and the honking of errant taxis was not particularly endearing.
I did, happily, discover a funky antique store that I must have walked past obliviously a few hundred times.
In the window display, there was a lovely painting of a couple kissing in the rain with a NYC yellow cab whizzing fast behind them. Certainly worthy of an instagram. I rustled around my coat pocket and felt a near instant pang of panic when I didn't feel the familiar bulk of my iPhone there.
I quickly remembered that it was safe and sound at my desk but that didn't stop me from feelings its absence again when I needed to get a sense of my timing. I don't wear a watch. I decided to ask a stranger entering the subway -- he made his annoyance rather transparent as he fumbled through his briefcase and pulled out his own iPhone and referred to its display. "Is yours dead or something?" He asked me.
I got to my meeting without too much trouble--though the maps app would've come in handy... and I couldn't help but wonder if there was an email waiting for me at the office indicating that the time and date had changed.
Happily, the rest of my day went off without any major phone problems or lack of phone problems.
Though throughout my little experiment, I did identify a nagging, itching, anxiety-inducing feeling of absence which would be more appropriately assigned to a child's first day of pre-school.
I realized how much I depend on my phone -- as a map, a watch, a camera, a stereo and a security blanket. I felt insecure without it, less informed, less empowered, less resourceful.
But the truth is, I also felt unimaginably stupid for feeling any of these things. After all, I never went without any essential resources.
In the course of the day, I had 3 meals and 4 glasses of water. I have an office and an apartment that are both equipped with a roof, running water and flushable toilets. Had I randomly come down with a water-borne illness, I would have had access to elite medical care.
The troubles I came across from abandoning my phone can best be qualified as #UpperMiddleClassWesternWhiteGirlProblems
I've logged 10 hours without touching, moving or using my phone. That's 600 days of clean water for a kid who needs it OR 1 day of safe, disease-free drinking water for 600 kids. That's more than worth my inconvenience.
Don't you think it's worth yours, too?
To participate, open an Internet browser in your smartphone and navigate to tap.unicefusa.org.
Disclosure: HuffPost partners with the UN on a number of campaigns and initiatives. It was wholly my choice to participate in this campaign.
Calling all HuffPost superfans!
Sign up for membership to become a founding member and help shape HuffPost's next chapter