UNICEF PRESENTS WORLD VERSION OF "IMAGINE"
This past November with the support of Yoko Ono, UNICEF invited individuals across the globe to sing John Lennon's classic "Imagine," in support of UNICEF's #IMAGINE campaign to raise awareness for children in need all over the globe in 2015. David Guetta joined in on the global initiative and compiled a never before seen video of the crowd-sourced version of the iconic track. UNICEF has just released this "World Version" featuring individuals and philanthropic celebrities who leant their voices to inspire hope in 2015. Katy Perry, Adam Lambert, Scott Foley, Zelda Williams, Melissa Etheridge, Cody Simpson, Nicole Scherzinger, Will.I.Am and many more global super stars showcased not only their talent in the video, but also their ambition to make the world a better place in 2015.
This ground-breaking achievement was created using new technology via the Touchcast app inviting everyone to show their support and upload their version of the track to build an interactive "World Version" now available here: http://bit.ly/11m0GEi
******************************
A Conversation with Isabel Adrian

Mike Ragogna: Isabel, you have a new, popular series on Bravo, Euros Of Hollywood, you have a book - Sex, Drugs And A DJ - and you starred in Swedish Hollywood Housewives. How have you practically become a Kardashian with none of the scary narrative and baggage?

Isabel Adrian: Maybe I'm just better at keeping my baggage hidden! Honestly, it feels great to see my hard work pay off. I don't know what kind of team the Kardashians have behind them, but I'm a one-woman show. Nothing was handed to me growing up, and, at least for me in Sweden, if you're a blonde girl with blue eyes there's an expectation that you'll find a nice guy and get married, and that's the sum of your life. But I'm not built that way - and, maybe to my detriment, I need to get my hands dirty and do things myself. I was poor and bullied as a kid - and it was pretty damaging to me. But at a certain point, I decided to stop letting other people define me. I became a model - not because I needed the adulation, but because it was my way out. And I used that to build my own mountain so I'd never have to stand on anyone else's. I have a wonderful family, but for the most part my creative pursuits and my family are kept separate for the sanity of all of us.

MR: It's no secret you're married to Swedish House Mafia's Steve Angello. What's the romance novel version of how you got together?

IA: It's not a romance novel, more of a less scholarly tome. I wrote a thinly veiled version of it in my book. The very short version is that I was dating a man who came from a very good family, and to the outside world seemed perfect. But he wasn't faithful, and I made the mistake of repeatedly forgiving him for his infidelities. It was tied in to my self-worth at the time, and my mother's insistence that if I married him I would have the financial stability she had always wanted. I met Steve when he was DJ-ing a party, and I heard a song I loved. I was with my boyfriend, and walked away to ask the DJ what he was playing. I didn't know who he was. His face barely registered with me. But he looked at me and said, "It's mine. I can write this song down for you." Then he wrote down his number. I thought he was being cocky. He thought he was being charming. I guess it was a little bit of both, but I had a boyfriend and didn't think about it again. I didn't call. But I did run into him again. And he started to call me from the road. We became friends. Eventually, I broke up with my boyfriend. Three months later, I'm sitting at the kitchen table with my mom, and I'm on the phone. She looks over to me and asks, "Who are you talking to?" I tell her it's Steve. And she says, "I haven't seen you smile like that in years." I don't think I realized I was in love with him until that moment. And the next time we saw each other... well, let's just say we started dating.

MR: How was your previous TV show, Swedish Hollywood Housewives, birthed?

IA: I had just moved to LA, pregnant with my daughter, Monday Lily. A girl I befriended asked me if I wanted to be on Swedish Hollywood Housewives. I knew of the show, but hadn't watched it. My understanding was that it was rich old ladies buying lipstick. But Steve said to me, "You're like the Swedish Chelsea Handler. Just be yourself. You'll make the show fun." I can't say it's my proudest moment being on the show, but it was my introduction to LA, and I had a fun time on it. There was an odd theme on the show of the other housewives discussing how much things cost. There was this insane one-upmanship that has never been my style. But I decided instead of being the wet blanket who said she wasn't raised to brag, I told them everything cost a million dollars. I thought it was funny. My only fear was that there were some people who actually thought I was being serious. Of course, I'm writing this to you on my million dollar computer. When the show ended up winning awards, they bumped me up to a producer which was nice validation for me that what I was doing was working.

MR: What inspired the concept behind Euros...? What's the story behind the new series?

IA: It's a great and unique concept: Six Europeans who have been very successful in their respective countries are followed on their individual journeys of now trying to break into various entertainment, music and consumer arenas in the United States. The hardest hurdle for the cast - who are from countries such as Italy, Austria and Albania - is that most of us are unknown in this country so it will take time for Americans to become familiar with us, our dreams and ambitions. Also, since we are already popular in our various home countries, the show can be sold and broadcast all over Europe almost sight unseen, which is a very smart move by Bravo. In fact, EUROS was just sold in my own native Sweden, and will make its debut on Friday, January 9th. I am excited for all my Swedish fans, friends and family to see the show.
MR: From the writer's perspective, which subject from your book's title were you excited most to write about?

IA: Actually what was most exciting for me was playing with the idea of what people assume about DJ's--and turning that on its head. I called it Sex, Drugs, and a DJ as a play on the Sex Pistols song. But at its essence it's a book about impossible love. The same assumption people have about the music business is the same assumption people have about public relationships - most of it is incorrect. The view isn't better from the side of the stage, and the sex isn't better when you're rich and famous. The grass really isn't any greener.

MR: Awesome answer! Hey, rumor has it you have a single. Rumor also has it you've cloned yourself to handle all these creative things you're doing, but you know how rumors go...

IA: I love the idea of cloning! While one of me works on my music, the other me can get writing done. And of course, one clone would probably spend a good chunk of the day eating Swedish candy.

MR: What does Steve think of all this?

IA: We are both really creative - and really supportive of each other's work. But we are also parents. And with that, comes a balancing act every parent struggles with - especially artists. Steve could be touring 200 days of the year, but it would mean he wouldn't see his family. Very often he flies across the country for a gig, works all night, and is back home for the day. I won't do a show if it takes too much time away from my family. It's just not worth it. As much as we love what we do, if Steve and I have to choose between work and seeing our kids' preschool performance of Wizard of Oz, then we choose our tiny scarecrows every time.

MR: What's the best advice you were ever given? Did you apply it?

IA: The best advice I was ever given is, "You're just a cute blonde girl - keep quiet and marry rich." It was such bad advice that it drove me in the opposite direction. And for that, I'm thankful.

MR: What's your advice for new artists?

IA: There are a few things that are really important. If you really love something let nothing else get in the way - as long as it's not damaging to yourself or anyone else. And remember why you started. Don't follow trends. The great thing about the US is you can actually make it if you work hard. It doesn't matter where you come from. That's the apocryphal American Dream, but it is the truth.
MR: What's your advice to The Kardashians?

IA: The Kardashians seem to be doing just fine without any advice from me. But I wouldn't mind styling any of them.

MR: Now that the first season of Euros is over, do you have any new projects coming up? Would you like to plug a charity you are involved with?

IA: I'm producing a new song with Kim Kat featuring Victoria Swarovski. I'm having an exhibition at Mouche Gallery with my paintings and photography by Douglas Kirkland about love. I'm working on translating my book into English, and working on the film adaptation. I'm styling DJ's for Ultra in Miami. I'm releasing a jewelry line. And I'm working on a script with an actor and writer, Seth Menachem, who you probably know from his brilliant Huffington Post articles. Hey, didn't you mention something about cloning?

MR: By the way, can you fill us in on the Swedish music scene hitting the U.S. right now?

IA: When I moved here there was only hip hop, rock and country so it was so hard to name drop to get into a club. I'm kidding, but Steve would get a gig and it would be a rave with Hello Kitty bags, and furry boots and neon. It went from Steve doing raves in Anaheim to collaborating with Pharell. Now electronic music is just music--it's just an electronic way of recording music. I don't want to brag but Sweden is doing so well because there's nothing else to do in the winter. We invented Ikea, Spotify, the Nobel Prize, and the Tetra Pak. We have eight months of winter and we're stuck indoors, so we invent, innovate, or we make music. Swedes are writing music for Justin Bieber, FloRida, Nikki Minaj, Katy Perry, Lady Gaga. There's so much Swedish music that it's hard to separate out Mapei is an artist I love. She's very true to herself. Seinabo Sey is one of my favorite artists coming through this year. And Elliphant is another Swedish artist you should check out.
******************************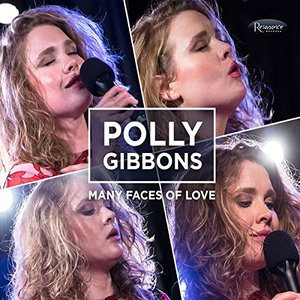 A Conversation with Polly Gibbons

Mike Ragogna: Polly, teach us about the Many Faces Of Love! I heard there were seven, but I might have heard wrong.

Polly Gibbons: Well, according to this album, there are five! [laughs] It was an idea that George Klabin, the producer of the album came up with to have an album journey through some of the experiences of love. Firstly, that longing for it and the joy and deliciousness of finding it. The nervous anticipation of hoping it will last. Sometimes the break down and ending of relationships. The grief of losing someone and going over and over it through to eventually having to be philosophical about romantic love and its place in our lives. So it's a collection of songs from older composers to contemporary ones, hopefully touching upon that.

MR: Artists ranging from Van Morrison to Joss Stone have complimented your voice. Briefly, catch us up your musical history and who your influences were.

PG: The artists who first grabbed my ears ranged from Billie Holiday, Aretha Franklin, Miles Davis, Prince, D'Angelo, Mary J Blige... Billie Holiday was the first '"jazz" singer that made me wonder about the genre and explore it more when I was about 14. I didn't know I could sing until I was about 13 or 14 and then I seemed to gather some attention quite quickly at school and then with a local jazz bassist who introduced me to some artists on the British jazz scene who took me under their wing and got me going. I had my first professional gig at 17 in London and drove 100 miles from the farm in Suffolk twice a month.

MR: With your recordings, even your performances, do you feel like you're on any kind of creative mission and what is it?

PG: I want to try my best to tell the story of the song. I think storytelling is one of human kind's most powerful tools to move, teach, soothe, empathize and share etc. I think improvising and play is also a mission, finding something new in the music each time I sing, being as free as possible and as in the moment as I can be.

MR: How did you become associated with Resonance Records

PG: I made a video for a friend as a kind of favor and George Klabin, the founder of Resonance Records saw it and called me up in October 2013. Then by February 2014, I was over in Los Angeles recording an album with him. It was pretty fast moving, but we talked a lot over the period and got on very well, both of us being quite direct and also having a good amount of respect for each other.

MR: Can you take us on a little tour of the new album from the artist's perspective? Do you have a favorite track or one that you're most proud of on Many Faces Of Love?

PG: Well, I think the selection of material we have on the album is pretty fine and diverse. I love so many types of music and I think there's good reflection of that on the album. From jazzy blues to soul/r&b and also the "singer songwriter" genre, though I dislike that description. For example, I do a song by the great Rickie Lee Jones called "Company." That's a special one for me...what a song! "That's Enough For Me" by Patti Austin and Dave Grusin has a lovely backing vocal arrangement done by myself and British pianist James Pearson, which I think is funky and fun. Then there's "Love Comes and Goes" by Carroll Coates, which is just beautiful! George and I deliberated over the selection for some time trying to get a good balance. Hard to pick a favorite! Ha!
MR: What advice do you have for new artists?

PG: You'll have to love it and be patient. Don't be hard on yourself. Days of wilderness stretching before you to fill up and then busy gigs and then wilderness! I suppose, keep a balance in your life as best you can. Have plenty of other loves and interests. People are more important than music, it doesn't exist without them!

MR: What's the best advice you were given and did you follow it?

PG: To keep trying to love people even when they are vile. I daily try and follow that advice towards others and myself.

MR: What do you think about the state of jazz these days?

PG: Jazz shmazz! It's a very odd community really, with pockets of brilliance and wonder and at the same time cynicism and esotericism. I very much believe in the ethos of this genre and the joy and depth it can offer but it seems to have changed its game from whence it came! It started as dance music and improvised music and since has taken so many different paths I think it's very hard to characterize any more. All I can say for me is that I love to play and have fun and harmony and melody have such infinite potential. It'll always excite me and I'll always want to explore that, whether I'll be considered related to jazz anymore, who knows! The fact this genre always seems to either evoke extreme reactions in people or take people into an in-depth debate, I think is a super thing in itself!

MR: What does your future look like?

PG: Well, hopefully, I'll be singing more and sharing it with plenty of people throughout the world! I love traveling, meeting people and learning about new cultures. I hope my future has good health in it and plenty of decent friends and family!
******************************
A Conversation with Dan Jones
Mike Ragogna: California X, eh? What's the secret origin story of the band?
Dan Jones: The band started back in 2011 while singer Lemmy Gurtowsky and I were living in New Haven, Connecticut. The initial idea was to write some pop songs with two really loud fuzzy guitars. After some noodling, we realized having two guitars and no bass was just kind of lame so I switched. Lemmy quickly wrote a few songs that got us excited about doing this band for real. It took a little while to find someone to drum, but our friend Jack Barrett joined when we moved to western mass.
MR: How did you get signed to Don Giovanni Records?
DJ: After recording our first LP, we had no idea who would have any interest in putting it out. Our drummer at the time was originally from Syracuse, and had met joe (who runs Don Giovanni) at a few shows in that area. Don Giovanni was the first and only label we asked. Luckily, joe was into it and has been an amazing person to work with.
MR: You're back together with producer Justin Pizzoferrato. Didn't you already do that and I'm kidding, of course?
DJ: Working with Justin is really easy for us. He totally gets what we're trying to do and has great ideas. He makes us sound incredible and we're really happy with how the new record came out.
MR: Fine, there's that. So a group named "California X" moves from Connecticut to Western Mass. Reading that sentence, you can see where this might be confusing.
DJ: After finishing school in Hartford, we didn't really have an idea of where to go next. A few of our friends we're talking about moving to western mass and then Lemmy got into a graduate program at U-Mass, which kind of confirmed the idea. Moving there was one of the best decisions I've ever made. It's a special place.
MR: The band like's its rock hard, definitely shaken. Are there any contemporaries you'd allow into your Bondrock club, my not at all implying you're influenced by John Barry?
DJ: There are way too many great bands putting out new records to name. There is some amazing music being made in western mass right now. Our friends in Potty Mouth and Blessed State are always great to watch live. We just played a few dates with our friends Ovlov from Connecticut and they blew us away every night.
MR: What are some of the band's creative or live high points you all enjoyed most?
DJ: The whole process of seeing this new record come together was one of the most exciting things I've experienced. The tour that we're currently on has been amazing so far. Our New York show was definitely a highlight. Playing in England last year was also incredible. We met some great people and ate mushy peas.
MR: What advice do you have for new artists?
DJ: I don't think I'm in a position to be giving anyone advice. We're all figuring this out as we go. If I had to suggest anything, it would be to just start touring. There are tons of great people ready to help book shows, feed you and show you a good time.
MR: As Meat Loaf might ask, when do you think these rock and roll dreams will come through?
DJ: It seems like they're coming through now. We're incredibly lucky that people seem to like what we're doing and they're willing to come out and support us on the road. Playing in this band has given us some incredible opportunities.
MR: California X five years from now?
DJ: Hopefully, we'll still be able to sustain this. Recording this new album has definitely reinvigorated us and I can't wait to see what happens next.
Popular in the Community