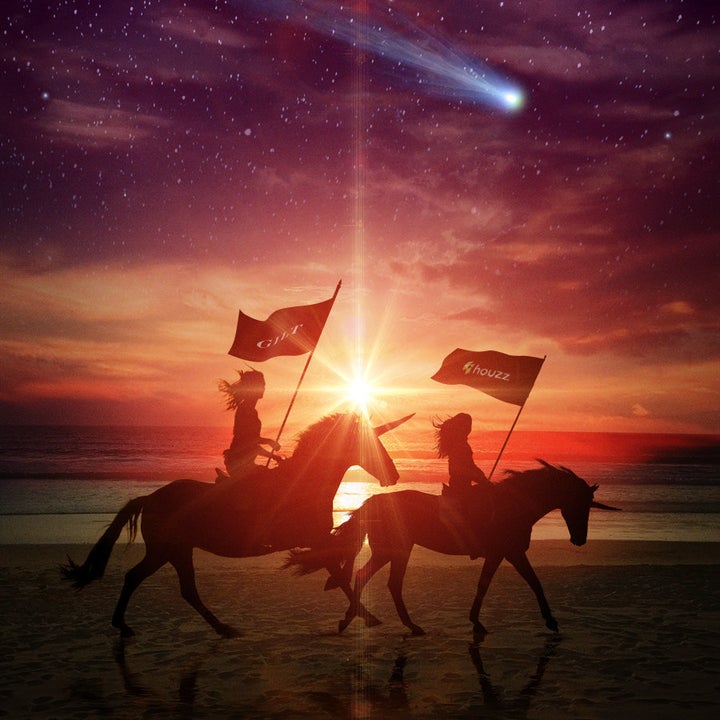 Sadly, this counts for progress in the male-dominated tech startup world: Of the 84 so-called "unicorn" U.S. companies -- startups valued at $1 billion or more -- two have women CEOs, according to a new analysis published in TechCrunch over the weekend.
The two newcomers are Adi Tadarko, the chief executive and cofounder of home design site Houzz, and Michelle Peluso, CEO of online retailer Gilt Groupe. 
These startups are called "unicorns" because they're so rare and so prized -- members include Uber, Instacart and Slack -- but the analysis reveals what's truly hard to find: a billion-dollar, woman-led venture. It also highlights what is, by now, a well-known problem in both the tech and business world: the shocking lack of women leaders. The TechCrunch article looked at companies founded between 2005 and 2015 that were valued at a minimum of $1 billion. Some have since gone public or been acquired. 
 Two years ago, not a single unicorn company had a woman at the helm, writes researcher Aileen Lee, a founder of Cowboy Ventures who authored the article. 
"So while 2.4% of CEOs is little to celebrate, this is an improvement from zero," she writes.
It's not much better at big, established companies. Only 4.6 percent of Fortune 500 companies are led by women. 
The reason there are so few female CEOs is not, as some will inevitably mansplain to me on Twitter, simply because men have the best and most valuable ideas. Sorry!
The situation is actually more complex -- but it boils down to a systemic bias for male entrepreneurs that begins from the moment someone gets an idea for a business. 
The people making funding decisions are typically male -- 95 percent of investors, according to this analysis. And these men are more receptive to business ideas from men.
A recent study by researchers at MIT found that investors overwhelmingly prefer pitches presented by male entrepreneurs compared to pitches by female entrepreneurs -- even when the content of the pitch is the same. And entrepreneurs who found companies typically become CEO.
This leads to a big bias in terms of who gets the money, and you need lots of investor money to make it to unicorn status.
"Fundraising decisions are often made off of little more than 'gut instinct,' and research shows that these gut instincts favor men and disfavor women,"  writes Dating Ring CEO Lauren Kay in a blog post for LinkedIn. Kay details her troubles getting investor support for her online dating company, recounting overt sexism as well as more subtle bias.
There's a lack of women on the boards of unicorn companies as well -- 30 percent have no women on their boards, according to Lee's analysis. A different analysis from Fortune magazine in March showed that 60 percent of the unicorns had all-male boards and none of the 55 companies Fortune looked at had more than one woman on their boards.
As awareness of the problem grows, so, too, does the possibility of a solution. Just last week, one woman launched a company called BoardList, which is meant to help tech companies discover potential female board members.
Hopefully, it'll get funding.
Calling all HuffPost superfans!
Sign up for membership to become a founding member and help shape HuffPost's next chapter