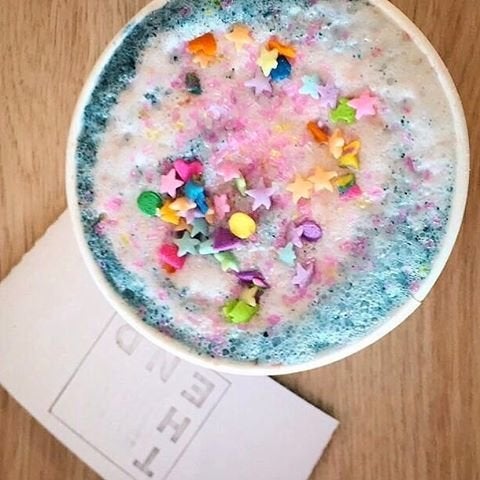 While all these colors and sprinkles are primed for Instagram, we began to wonder what it all means. Why do we feel the need to integrate mythical creatures into our foods? Is it a reaction to the current political climate? Are millennials ruining our lattes with their social media-focused lives?
Rachael Goren-Watts, a clinical psychologist in Amherst, Mass. who specializes in eating disorders, body image issues and disordered eating, thinks about this bizarre food craze in a unique light.
"I think fantasy and play is awesome," Goren-Watts told HuffPost, "If we can't have fun and play with stuff, then what's the point? Kids play with their food all the time and we tell them they're not allowed, but why? Just because it's messy? What's wrong with messy?"
While many have embraced the craze, not everyone has been on board. It's been the brunt of criticism on social media:
But in the end, as long as these foods are eaten in moderation, Goren-Watts argues that they're harmless.
"Unicorn food is fun. Obviously, it's not necessarily nutritious. But I think food can be fun and playful. And I think rainbow bagels are a great idea."
And then Goren-Watts left us with this non sequitur about the name "unicorn." "I also have a thing where I think they should be called uni-horns, but that's a whole other thing."