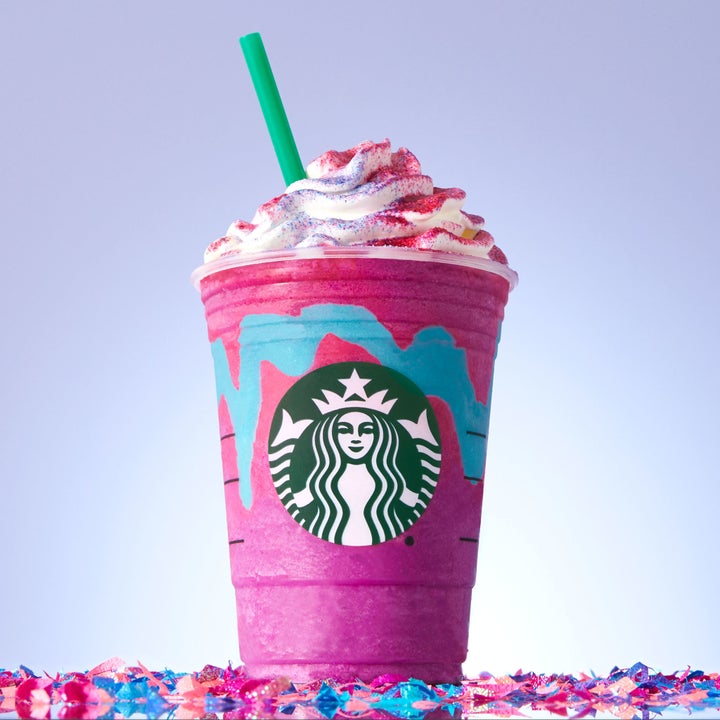 Starbucks has confirmed to HuffPost that the "Unicorn Frappuccino" is coming to participating stores across the U.S., Canada and Mexico from April 19 to 23 (while supplies last). The beverage is made with mango syrup, a sour blue drizzle and topped with vanilla whipped cream and sweet pink and sour blue powder.
Prior to the official announcement, employees around the country were already spreading the news on social media.
Some locations say the Unicorn Frappuccino will be available on April 19, while others insist the big release date is April 20. Either way, it's happening this week and is available for a limited time.
Early reviews of the drink from those who say they've gotten their hands on it say the colorful concoction is about what you'd expect: Intensely sweet, sour, and it looks better than it tastes. Hopefully it tastes better than last year's limited-release Fruitcake Frappuccino.
Snacktaku's Mike Fahey, whose wife has worked at Starbucks for over a decade, said Monday that he expected the drink to taste like a sour berry situation, based on its purple, pink and blue hue. But it actually has a mango base. The sparkly sugar sprinkles on top are basically sour candy, he wrote, and the blue wave is more sugary syrup.
"It tastes nothing like unicorn," he added.
This article has been updated with information from Starbucks.