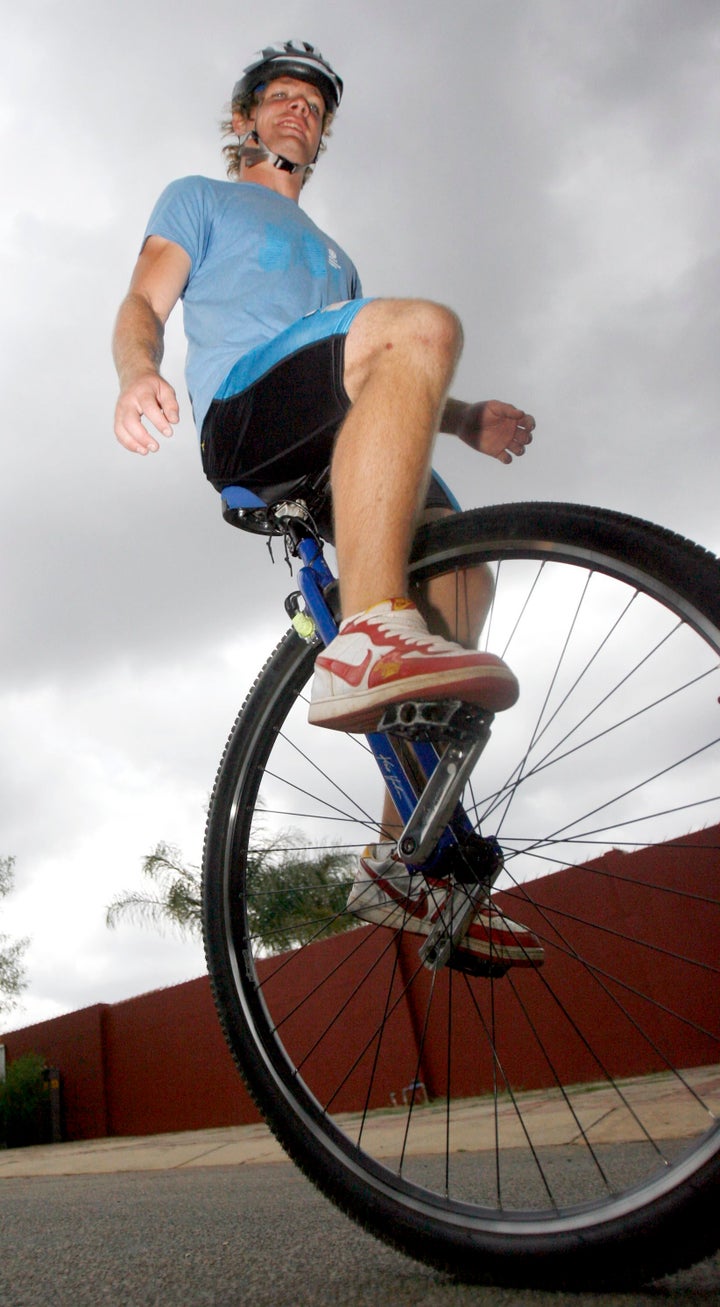 For more than a year, my 9-year-old son, Mendel, has been asking for a unicycle. Sunday was the day. He came home from school, and greeted me with one word, "unicycle."
In Oyster Bay Long Island, there is a woman named June whose daughter recently moved away from home. She no longer needs her 20-inch unicycle. Brokered by our good friend Craig and his infamous list, Mendel exchanged a 20 and five with Judy for a shiny blue unicycle.
Conveniently enough, Shoshi, his 7-year-old sister recently chose a bike pump for her father on the occasion of his birthday. We returned a family of six, from the sprawling lawns of Long Island to the row houses of Queens, removed the "new to us" unicycle from the car, inaugurated the birthday bike pump and got rolling.
I let Mendel practice balancing in our carpeted basement. It wasn't long before he called up the stairs, "I fell on my head, backwards off my unicycle -- but I'm fine." He kept practicing and even managed to peddle a few times before jiggling off. Mendel asked to sleep with his unicycle in his room.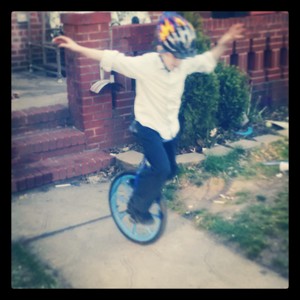 Just the other day, I was laughing as my kids repeated a mantra from school. "Kids say," they told me, "You get what you get and you DO get upset." I had to laugh at the human truth of the sentiment. I'm not sure who coined the original -- "you get what you get and you don't get upset" -- but it certainly wasn't anyone who ever wanted anything. It certainly wasn't a little boy who came home from school uttering just one word: unicycle.
Perhaps the slogan was thought up by an over burdened supervisor trying to pretend that there is no difference between being chosen first or being chosen last; that the green ones taste just as good as the red ones; or that chocolate is the same as oatmeal raisin. I hate oatmeal raisin.
The Jewish holiday of Passover has just finished and we are on our way toward the next holiday known as Shavout (to be celebrated this year on May 14-16). It is customary to literally count the days between these two festivals, therefore, the seven weeks between Passover and Shavout are called sefira, which means "count."
Sefira is also entomologically related to the English "sapphire" and can be translated as "shine." Through the countdown of the 49 days between Passover and Shavout we can make ourselves shine.
Jewish mysticism teaches that there are seven emotional character traits and each of the seven weeks of sefira corresponds to one of these traits. They are:
Chesed -- kindness, attraction
Gevurah -- severity, rigidity
Tiferet -- beauty, harmony
Netzach -- strength, vigor
Hod -- humility, modesty
Yesod -- foundation, fortitude
Malchus -- regality
As each week contains seven days, each of these traits can be subdivided. Think navigation bar, parent pages and sub-pages. If you hover over "kindness" you'll be given seven aspects of kindness to choose from. And so it goes. Each of the 49 days represents a specific combination of these basic traits. My youngest son turns 3 today on
tirefet
within
tiferet
(beauty within beauty), a day upon which a great sage once asked rhetorically, "why are you surprised when beauty within beauty does well...?"
We are all a composite of the fore mentioned seven traits and their permutations.

You DO get upset.
A little too much kindness can lead to bad judgment calls and too much severity can be harsh and unfeeling. Too much strength can lead to arrogance and too much self effacement can thwart growth and development. This is a time to make an honest inner evaluation.
They key is balance, kind of like balancing on a unicycle. We each have the task of honing and shining our individual package, hence the connection between shining and counting. As we count each of the days of the sefira, we are meant to realign ourselves. For a specific exercise relating to each day of sefira click here. The goal is to hold back what needs to be held back and push ourselves into those awkward uncomfortable places that ultimately make us into better people.
For more, join the HuffPost Religion virtual community by visiting the Omer liveblog, which features inspiration and teachings for all 49 days of spiritual renewal between Passover and Shavuot.
Calling all HuffPost superfans!
Sign up for membership to become a founding member and help shape HuffPost's next chapter