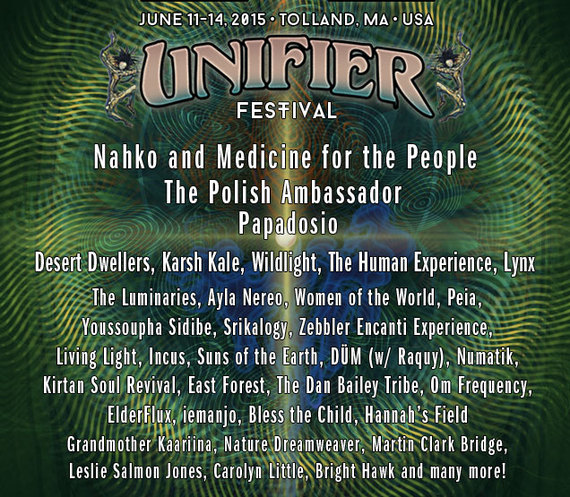 When like-minded individuals gather together for the sake of unity, anything is possible. Ideas are forged, relationships are born, bonds are strengthened and the world changes. With so many festivals these days, it becomes difficult to discern which ones are for profit, which ones are for change, which ones are unique and which ones just are. Listed at the top of Fest300's "15 Transformational Festivals to Attend in 2015" is Unifier Festival, an experimental and interactive event that builds community and promotes earth-centered awareness and regenerative living through art and music.
Situated in the small town of Tolland, Massachusetts from June 11th-14th, the 2nd annual Unifier Festival has no shortage of verdant landscapes, tall trees, clean water and fresh air. With 476 acres of forest, field, and lake to play on, it's small wonder that Unifier is garnering attention in the transformational festival community. This festival creates a place for free people to breathe, dance, listen, gaze, appreciate, love, bend, entertain and create. Diverse yoga styles such as Afro-Flow yoga will be available to fuel our kinetic bodies. World class music from a variety of genres will be offered to our ears, hearts and souls. Cruelty-free and locally sourced food will be crafted with love to nourish our active metabolisms. Sages will share their wisdom, propagating balance and harmony. Hand-crafted and fair trade wares will be for sale, allowing patrons to take a piece of Unifier home with them while supporting local artists. Live painting and sculpture will give us a glimpse into the minds and souls of various artists. A family friendly place, there is also programming especially catered towards children. All of these aspects and many more are just a few of the reasons why Unifier Festival is one-of-a-kind.
In addition to its beautiful venue, Unifier is not only about enjoying the present, but also about creating a brighter future. Over the course of multiple years, a significant amount of the proceeds from Unifier Festival will accumulate in a Land Trust Fund with the eventual goal of creating a retreat center and potential eco-village. It will be a place that is owned in perpetuity, governed by council and in service to the community. A commune of sorts that will be created by and contributed to by many, for future generations to enjoy.
And what would a music festival be without music? Like a lake without water: empty. Some of the festival music scene's most active and transformative acts will be sharing their sounds with the people of Unifier. The lineup includes Nahko and Medicine for the People, Papadosio, The Polish Ambassador, Desert Dwellers, Wildlight, The Human Experience, The Luminaries, Ayla Nereo, Srikalogy, and many more. The First Nation Elders will be joining Unifier for the 2nd year along with Grandmother Kaariina and Elders from various cultures that will share their ancient wisdom and indigenous knowledge. The synthesis of beautiful minds, music and nature is why the music festival community is flourishing.
Amidst a sea of music festivals to choose from this season, Unifier should stand out as one of the most unique. While providing world class entertainment for world class individuals, the founders of Unifier have a greater vision. It is a vision that gives purpose and builds towards a brighter future. A vision where with each passing year that Unifier exists, they are one step closer to accomplishing a dream. Don't just join the utopia, create a utopia together with the brilliant minds at Unifier Festival.
Calling all HuffPost superfans!
Sign up for membership to become a founding member and help shape HuffPost's next chapter