In 2009, I pledged to wear one little black dress for 365 days as an exercise in sustainability and a fundraiser to support the Akanksha Foundation - a non-profit organization providing education to children living in Indian slums. And for the next 365 days, I reinvented my uniform solely using accessories that were either vintage, handmade, reused or donated.
On August 1 of this year, we launched the UP Pilot Series, a new twelve-month experiment with a dozen new and inspiring trendsetters, all committed to proving to the world that sustainable style is some of the most eclectic, unique, and inspirational fashion out there. Oh yeah, and to raise money for some great causes. My interview with last month's pilot, Angie Johnson of Norweigan Wood explored a unique take on the LBD. This month,my longtime friend and designer Aki Goto takes the eco-concept behind the Uniform Project to a new level and fashions her LBD -like her entire line - out of entirely reclaimed materials. For additional interviews and background on the series, visit the eBay Green Team or Uniform Project site.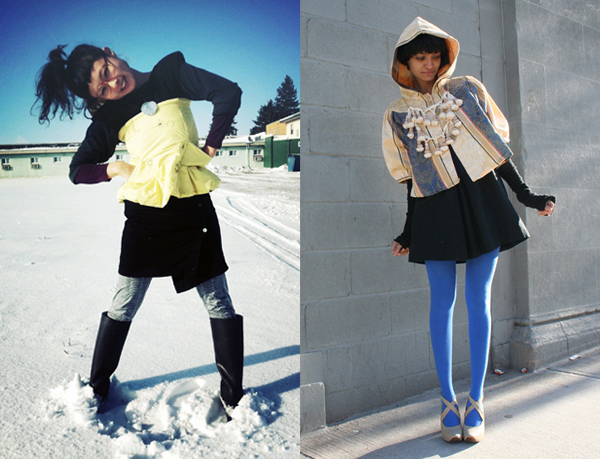 Aki Goto: I felt it was a big job because the dress was always the main existence for your whole project. My job was making the second life of it, which also meant it wouldn't go back to the original LBD again. I was very glad that you got me such a job and trusted me; it really meant you had a desire to make your creation advance beyond its first iteration. So it made me that much more excited to work on it.

SM: From then to now. Today, you are the December face of the Uniform Project. How did you feel when I called you up last month and asked you to be a U.P. pilot?
AG: At first I was a little worried if I could do it just because I didn't think I had enough time. We only had a few weeks to prepare, and I was already preparing for a big move out of New York City on Dec 1st, which was the first day of the project. But I had recently been having some profound thoughts about what it means to be an artist, and was searching for a way to put these thoughts into practice. It was then that you contacted me about the December pilot, and after thinking it over, I realized that if I could find some ideas of yours and of the UP that I could relate to, it could be possible for me to actually put some of these thoughts into practice. so when I realized this, I was determined that I had to do this project even if there was no time.
SM: Aside from being an artist and designer, you are also a musician. Tell us about your cause, and why you chose to raise money for Songs for Kids?
AG: For me, art, music, design and any other ways of creating are all the same so long as it is an expression of one's heart. The only difference between them is the "method." I believe that the meaning, power and effect as a result of this expression is mostly dependent on how true something is to the heart. When I see children express themselves through creative means, I notice that there are many instances when the result is very powerful. By selecting a cause which supports such a connection between a child and their expressive nature, I thought it would be a perfect way to spread the idea that art holds such tremendous possibilities. Also, I wanted to personally support an organization which advocates the strong connection between art and health (=life).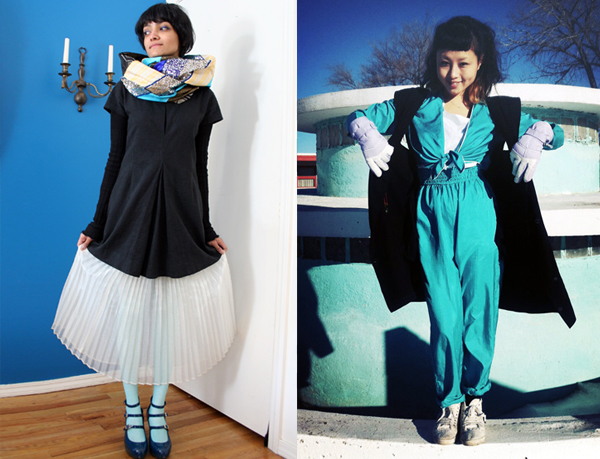 SM: All the clothes you design come out of something that already exists. You breathe new life and form into garments that have been discarded. Can you tell us your thoughts and motivations behind the AKIGOTO designs and the way you create?
AG: I began using these methods of creating with used and discarded garments after moving to NYC. Originally, i didn't have the money to pay for such a variety of materials, so I simply used things I had lying around. It was by mere coincidence that one day a generous friend of mine, having noticed this, donated many garments to me that she no longer needed. Since then, many of my close friends have been passing on their unwanted clothes and fabrics to me. this really made me feel that my existence in NYC was truly being supported by the people around me. My "method" was a real testament to my survival here. Using the terms "recycled" and "repurposed" makes it sound as though I had some sort of environmentalist concept, but this is not the case. Of course I personally have concerns about the environment, but my process in making my clothing never came from contemplating the environment, but came more from self-contemplation.
SM: You designed your Little Black Dress for U.P with Tara St. James. Tell us about the design of your dress and what are its key elements that you love?
AG: I wanted to create a very simple dress. When I thought about the 31 days that I would have to wear this dress, I thought each day would add to the previous day's story and that the dress' presence would evolve as the stories layered. So a simple dress was in order. What I had to change each day was not the dress but the outfit.Ii wanted to really draw on the fact that one's creativity can change the way a dress looks. I also thought that if I designed a dress that was too complicated and could take on many shapes, the complexity would draw too much away from the beauty of the dress itself. I've also chosen to style the dress for most of the month with my own brand, akigoto, and I knew that I needed to keep the color impressions and the actual number of items to a minimum. by doing so, i thought you could really witness the strengths and impressions of the color "black" over the course of the month. what i love about this dress is it's flatness and sharp lines, like a kimono. rather than having something more three dimensional, i thought that a simple square piece could be easily fitted and styled regardless of a person's size or shape.
SM: Can you describe the way you usually get dressed and has it changed at all as a result of wearing the same dress everyday?
AG: Usually I think, "Today i'll wear something simple and comfortable" or "I feel like something feminine today", but at the moment my feelings are coming second, because the black dress is number one for now. iIn some respects it is a big constraint, but I like to look at it as a great opportunity to use my imagination to find out just how i'm going to breathe life into this dress each day. So it is a fun constraint.

SM: You received some great vintage accessory donations from eBay this month. What was your favorite piece and why?
AG: My favorite piece is the green jump suit from Kingston Avenue Vintage. The color and fabric are both beautiful, and even though it really has a presence on its own, it is very versatile. Just like my LBD.
SM: What kinds of things do you look for on eBay that you can't find anywhere else?
AG: It's great to find something second hand for a reasonable price when buying it brand new would be just too expensive. As long as I don't care about the brands, anything goes, really.
SM: Do you have a favorite eBay vintage store?
AG: Actually no. I usually search by the object and browse all the stores that come up.

SM: What would you say to people who think fashion is frivolous? Do you agree/disagree?
AG: I think it depends on what aspect of fashion this person thinks is frivolous. but for those that believe fashion is something to have fun with, something that brings depth to their life, something that expresses who they are, for these people, and they are not lying, i don't think it's at all frivolous. and for someone who simply feels that fashion represents pure frivolity and is void of meaning, I'm sure they are not lying either. Each probably believe what they are saying. In other words, just because one says it's so, doesn't make it so for the other.

SM: As an artist and a designer, what do you love and hate most about fashion?
AG: Love - when I have fun as a result of fashion. Also, we all have different ways and looks that suit us. I love to witness people discovering new ways and looks that suit them. That is beauty. Hate - things that are "fashionable" have the tendency to move people more than what they actually like and dislike. But rather than saying I hate fashion, I think it's more about hating the fact that people are controlled by information fed through the fashion world. So, in the sense that fashion is a powerful tool to control people, I guess this is an aspect of fashion I hate.

SM: What inspires your style (designers, styles, people, eras, music, your dog, your family, anything)?
AG: My feelings, my emotions, my loves, my desires.
SM: Lastly, what are you taking from this 1 month challenge with the Uniform Project?
AG: Enthusiasm. Joy. Love.
Popular in the Community