In 2009, I pledged to wear the same Little Black Dress for 365 days as an exercise in ethical fashion. Operating as a creative digital platform, the goal of the project - the Uniform Project - was to enable individuals to fund raise online by taking on a '1 dress' fashion challenge. Central to the platform is its daily styling exercise, where the act of reinventing the same dress is used to raise awareness about responsible consumerism. The centerpiece of the challenge is the LBD, an iconic staple in every woman's wardrobe. The project was also designed to be a fundraiser for The Akanksha Foundation, a non-profit organization bringing education to underprivileged children in India. The eBay Green Team became hugely involved by donating a dollar for every person who joined their community of green shoppers, sellers, and collectors-people who celebrate repurposing goods.
For 365 days, I reinvented my LBD with accessories that were strictly pre-owned, vintage, recycled or donated. By the end of the year, we had raised over $100,000 for the cause.
This year, we launched the Uniform Project Pilot Series, a twelve-month experiment with a dozen new and inspiring trendsetters, all committed to proving to the world that sustainable style is some of the most eclectic, unique, and inspirational fashion out there. To celebrate, the eBay Green Team has launched a twelve-month interview series to highlight and explore the stories behind each pilot's experience.
This month, designer and founder of Norwegian Wood, Angie Johnson, takes the iconic Little Black Dress to the floor - floor length, that is - proving just how cool Canadian style can be. My interview with Angie, in which she responds to people who think of fashion as frivolous and offers advice for upcoming designers, follows. For additional interviews and background on the series, visit the eBay Green Team or Uniform Project site.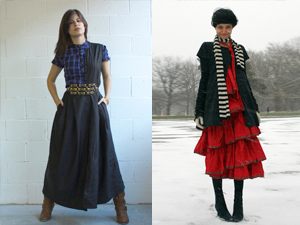 Sheena Matheiken: You are almost done with your Uniform Project challenge, why did you choose to support Free the Children and how do you think the fundraiser's going so far?
Angie Johnson: I've been familiar with Free the Children for quite a few years now after first hearing about Craig Keilburger when I was in high school. I was a finalist for one of the scholarships that he won previously....only a LITTLE bit intimidating! I was so impressed by what he was doing, even back then, and I never forgot about Free the Children.
SM: I'll admit I was a bit skeptical when you said you wanted to do the challenge in a Long Black Dress. But you've done an incredible job reinventing the silhouette of your LBD throughout the month. Did you have a master plan when you requested a long dress?
AJ: Well...my master plan was three fold: First, avoid wearing a short skirt for a whole month (this would be almost impossible for me, I'm totally not a short skirt kinda girl). Second, get to wear a long skirt as much as I want, this is the length I'm obsessed with right now, it just feels right. And third, have more fabric to work with for wrapping, folding, etc.
SM: Can you describe the way you get dressed and has it changed at all as a result of taking on the U.P. challenge?
AJ: Usually on a day to day basis I get dressed much more quickly than I have been this month. I'm a very hands on kind of designer and am cutting/sewing all day so comfort/functionality has to be key. The long dress has been pretty good for that, I've just had to be extra careful not to accidentally cut a hole in the dress.

SM: You received some gorgeous vintage accessory donations from eBay this month. What was your favorite look styled with eBay pieces?
AJ: The INCREDIBLE reversible cape (neutral on one side, plaid on the other) that I wore on the 24th was definitely piece I was most excited about!
SM: What kinds of things do you look for on eBay that you can't find anywhere else?
AJ: I'm a huge vintage clothing fan so I'm always on the hunt for those super special vintage pieces that are hard to come across.
SM: Do you have a favorite eBay vintage store?

AJ: I tend to just search and search until I find what I'm looking for, so no particular faves!
SM: Tell us about your collection of vintage slips.
AJ: Well, it all started around 1993 when I started getting into thrifting. Prior to that I had started wearing vintage, but it was all from my grandparents basement (ie. all my aunts/uncles old clothes). I grew up in the country so we mostly hit the small town charity shops, and I guess ladies in the country wore slips a bit longer than the general population so there was always an abundance of them in many colours. Around the same time Drew Barrymore started wearing slips as dresses, and the Hole album "Live Through This" came out and I was Courtney obsessed, so it was all about the slips (sometimes two at a time) worn with my army boots. I've purged a few of the lesser slips, but currently I have a few black ones, cream ones, powder blue, coral, nude and a rust one.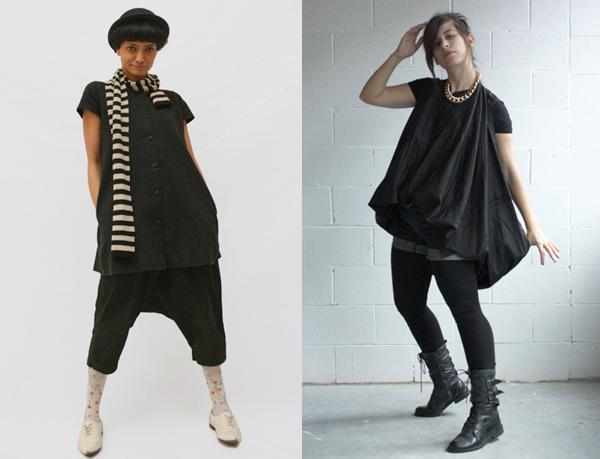 SM: What would you say to people who think fashion is frivolous?
AJ: Well, fashion IS a little bit frivolous...but it's an entire industry that employs hundreds of thousands of people, it's a creative outlet for many, and it's how many people express themselves. To totally dismiss something that affects so many people on a day to day basis is....maybe a bit ignorant?
SM: As a designer, what do you love and hate most about fashion?
AJ: I love that it's constantly changing and evolving, and I hate how fast fashion has skewed reality in terms of what clothing should actually cost.
SM: What prompted you to think about fashion from an ethical standpoint?

AJ: I've always been into thrifting and using vintage fabrics and reworking clothing so I had that base. Then I went to Hong Kong a few times for work when I worked for larger companies. Although I didn't see any horrible working conditions in person, it made me more aware of the industry that exists there, and that there ARE factories that are really taking advantage of people. Not every factory is a sweatshop, but they do exist.

SM: If you had free reign to do whatever you want, what would you do to make ethical fashion more popular?
AJ: I would force every clothing company in the world to produce in an ethical way, so it would be the norm, not a choice customers make. Perhaps not realistic, but that's what I would do!
SM: What inspires your style (designers, styles, people, eras, music, anything)?
AJ: A very wide variety of things! Almost everything actually....books, movies, history, things that have happened in my life, a plant...anything!

SM: Based on the success of Norwegian Wood, any advice for upcoming designers?
AJ: Work for at LEAST one large company before you start your own. The things you will learn are not the things you learned in school, and are absolutely invaluable!
SM: Lastly, what are you taking from this one month challenge with the Uniform Project?
AJ: As I suspected, it's made me look at my OWN wardrobe in a completely different way, which I'm VERY excited about. I also want to find more vintage cardigans...but that happens pretty much every fall.
Popular in the Community