This month's Uniform Project pilot features Miss Sarah Jones, the "Lil Snotty" half of the Brooklyn based clothing line Ruffeo Hearts Lil' Snotty (RHLS). Being half of a two person run business, Sarah spends her very long days designing and sewing clothes, finding hardly anytime to think about styling herself. So, when I asked her to be this month's pilot, she decided it was the perfect opportunity to take a break from dressing other people and focus on dressing herself. Oh - and raise some money for City Harvest, an organization aiming to end hunger throughout New York City, of course. Throughout the month, Sarah has given her Little Black Dress transformative powers, using sustainable hemp silk, geometrical design, and some brilliantly placed zippers. Check out my interview with Sarah, below, and visit the eBayGreenTeam.com to read more about The Uniform Project and previous pilots.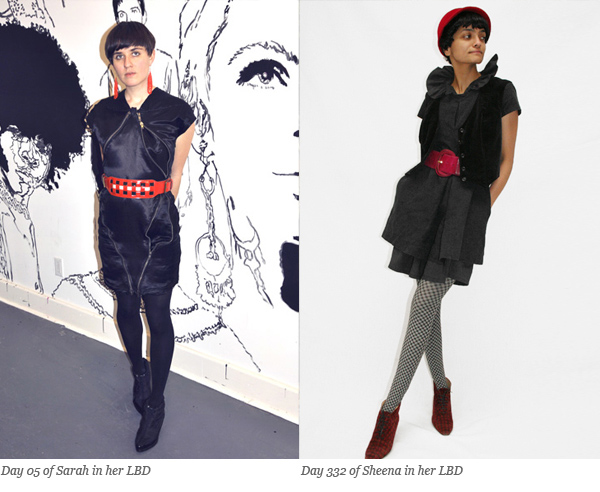 Photo Credit: The Uniform Project
Sheena Matheiken: You've been busy dealing with the madness that is New York Fashion Week and you've taken on the 1-dress challenge with U.P on top of it. Can you share some thoughts on your motivations to do this?
Sarah Jones: As a small business owner it is too easy to be fully consumed by my work. I find myself putting all of my energy into the day to day tasks and lose sight of the original intention of the clothing line. When my business partner, Mackswell, and I first started the line we wanted to create a brand that was environmentally and socially sustainable. We wanted to prove that we could create a successful clothing line with little sewing or business experience and no funding. Out of unstoppable passion and creative problem solving we wanted to make clothes that made people feel great and did not have a negative impact on the planet. After leaving the bubble of Olympia, Washington and eventually moving to New York, we began the tricky process of accepting some of the rules of the Fashion Industry without losing the foundation of the company. By wearing this LBD every day, I am constantly reminded of why we started Ruffeo Hearts Lil' Snotty's (RHLS) in the first place; to use clothing to create social change.
SM: A lot of your dailies were posted at the crack of dawn after pulling all-nighters. How has it felt to be working and living in your LBD every day?

SJ: My LBD has been a fun sidekick through the month. I would often schedule a 5 am break into my all nighters in order to plan the next day's outfit. At 6:30 am Mackswell and I would walk out of the studio in time to photograph outside in the sunrise. Every night I would look forward to 5 am when I got to take a break and have fun with my dress. It was reenergizing and inspiring. The process gave me the extra boost of energy to finish up the last of the mornings work before taking a short snooze. But as fun as it was, it was a challenge. I often felt I hardly had time to breathe and this project added extra hours to an already impossibly long day. On top of the stress of preparing for major deadlines, I had to put the entire process, my droopy tired eyes, and my foggy thoughts on to the Internet for anyone to see. I could no longer hide behind the sewing machine as an overworked mess. I was forced to take time to reflect on my intentions and focus on a positive outlook.
SM: Let's talk about your decision to support City Harvest and their mission. Why should people donate to your cause this month?
SJ: There are so many worthy causes to support in the world, but this month I wanted to focus on helping a local charity. Eating a solid nutritional diet is the foundation for doing anything else. In the process of building this business I have often found myself wondering where my next meal would come from. I am forced to stretch a meager budget to feed both myself and my business partner, Mackswell. I am fortunate to know how to create simple, healthy meals on a budget. In order to sew all night, to think creatively, to help create change I first need to feel physically healthy. Teaching underprivileged kids early on about the importance of diet and community, specific ways to eat well gives them an important tool to help them follow their dreams and to avoid nasty chronic illnesses such as diabetes and heart disease.

SM: Let's talk about your LBD. This is a very special dress with multiple personalities. How many different ways have you worn them so far? Any favorites so far?
SJ: I have tried to wear this dress in every way possible, as a skirt, as a vest, a poncho, top....but honestly I am a huge fan of the simple, short, fitted LBD.
SM: You designed your LBD with your partner-in-crime, Mackswell. This has been such a wonderful RHLS/U.P collab. Can you walk us through your creative process of developing the ultimate LBD for your needs?
SJ: The process started with me brainstorming my dream dress. I wanted it short and I wanted it tight. But, I also needed to be able to play with it over the course of the month to get different looks. We started by coming up with the concepts of transformations: expansion/contraction, modular dress with basic building blocks that can be arranged in different ways, a dress that has portions that can be added or removed, or an origami dress. Our line is based around color and shape. We wanted to focus on shape being a key feature since color was not an option. Mackswell put all of these ideas together and drew this dress. He took my measurements and turned out this incredible pattern. We sewed up a prototype, made some adjustments and then made the final pattern. We had never worked with silk and zippers in this way before. We cut the pattern before realizing that sewing zippers on those angles was nearly impossible! The fabric stretched on the sides of the triangles making it hard to keep all of our lines and angles exact. We then had to make all of the panels and zippers match up into what seemed like a million perfect points. And of course we were working on this from midnight to 8 am. Mackswell was a stallion and made it work just in time for the first photo shoot.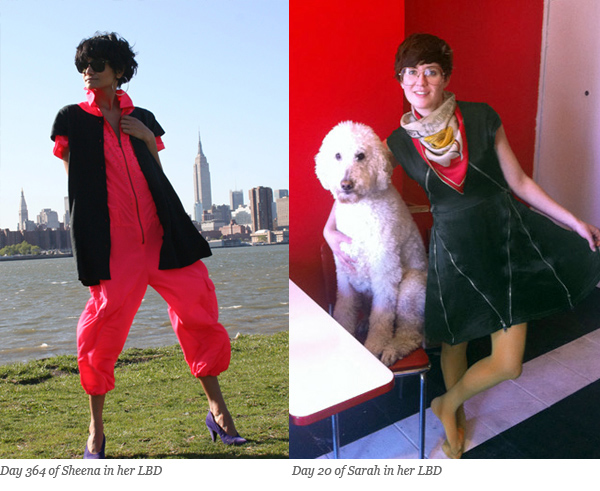 Photo Credit: The Uniform Project
SM: How has the 1-dress challenge changed the way you get dressed every day?
SJ: I never think much about what I put on in the morning aside from comfort and function. As a clothing designer and seamstress I think it is important to constantly develop my own unique style as well think about how clothes wear throughout the day. This has been a great push for me to do this. I am thinking about clothes as one part of a total look instead of on their own. It has changed the way I think about designing for RHLS.
SM: You received some great vintage accessory donations from eBay this month. What was your favorite piece and why?
SJ: My favorite item from ebay was the red woven pleather belt I wore on day 5. It is bold and unique and shiny! I love belts and this one has a lot of attitude.

SM: What kinds of things do you look for on eBay that you can't find anywhere else?
SJ: I am always looking for unique clothing and accessories that no one else wears. I like to prove that fashion can be bold and unique to your personality without being too extreme or un-wearable. My favorite accessories are big belts and big earrings.

SM: What do you love and hate most about fashion?
SJ: I love fashion as a way of personal expression but I do not like much else about it.

SM: What do you love and hate most about fashion week?
SJ: I am not sure I love fashion week, but it is a necessary part of running the clothing line. We produced all of our samples in house this season so I missed out on much of the fun and I only made it to one show. I learned so much this month and next season I hope things will go lil bit smoother.
SM: What drives you and what inspires your style (designers, styles, people, eras, music, books anything)?
SJ: As I mentioned earlier Mackswell and I are driven by very simple things: color, shape and function. We are aiming to invent brand new styles as opposed to referencing old trends. We are making futuristic clothing that you can wear anywhere anytime. Many of our designs are unisex so you can share your favorite RHLS garment with any of your friends. I am personally inspired by the portrayal of the future in the past. For example, movies made in the 80's but set in 2025. I find it fascinating to watch popular visions of the future change over time.
SM: Lastly, what are you taking from your 1 month challenge with the Uniform Project?
SJ: Before this month I struggled with being photographed, sharing my personal life on the Internet and getting dressed in the morning. After being forced to do those three things day after day I have become more comfortable with all of them. I also have this great new dress I will continue to wear regularly.