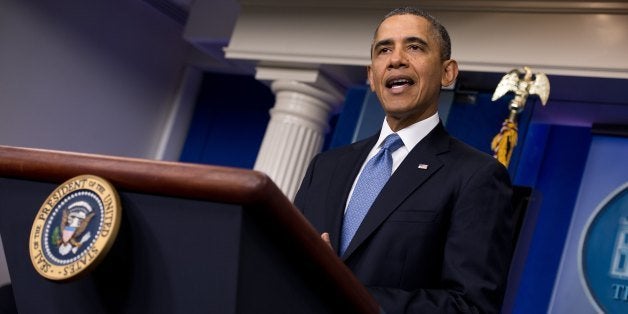 SALISBURY, Md. -- If you're wondering why the Obama administration is still so far from its goal of enrolling 6 million Americans into Obamacare, look no further than Maryland's Lower Eastern Shore.
The area is home to Ocean City, a local beach getaway. But beyond the sand, the three counties that make up the Lower Eastern Shore -- Somerset, Wicomico and Worcester -- also are known as some of the poorest areas in Maryland, with high rates of poverty, unemployment and uninsurance. In 2011, about 20,000 of the counties' 178,000 residents lacked health insurance, according to the most recent census data. That 14 percent rate was the fourth-worst in Maryland that year, and above the 2011 statewide uninsurance rate of 12 percent.
It is now up to a team of just 15 county health workers to get those people covered under the Affordable Care Act, President Barack Obama's signature health care reform law.
Convincing this poor, Republican-leaning population -- the area elected the state's only GOP member of the House and voted for Mitt Romney in 2012 -- to sign up for health insurance under Obamacare is painstaking work done at the individual level. A health worker must sit down with someone and guide them through the process -- that is, if they can find the uninsured.
"The uninsured are really hard to pinpoint. I mean, they're working families and individuals, and we have so many people who are self-employed, under-employed, contractors, farmers, watermen, service-sector Ocean City resort employees, small-business employees," said Katherine Gunby, the coordinator for the outreach program here.
"It's just a matter of making it clear to them that most of them are eligible for some type of assistance, and this is how they can get help signing up," Gunby, a 30-year-old from Salisbury, said.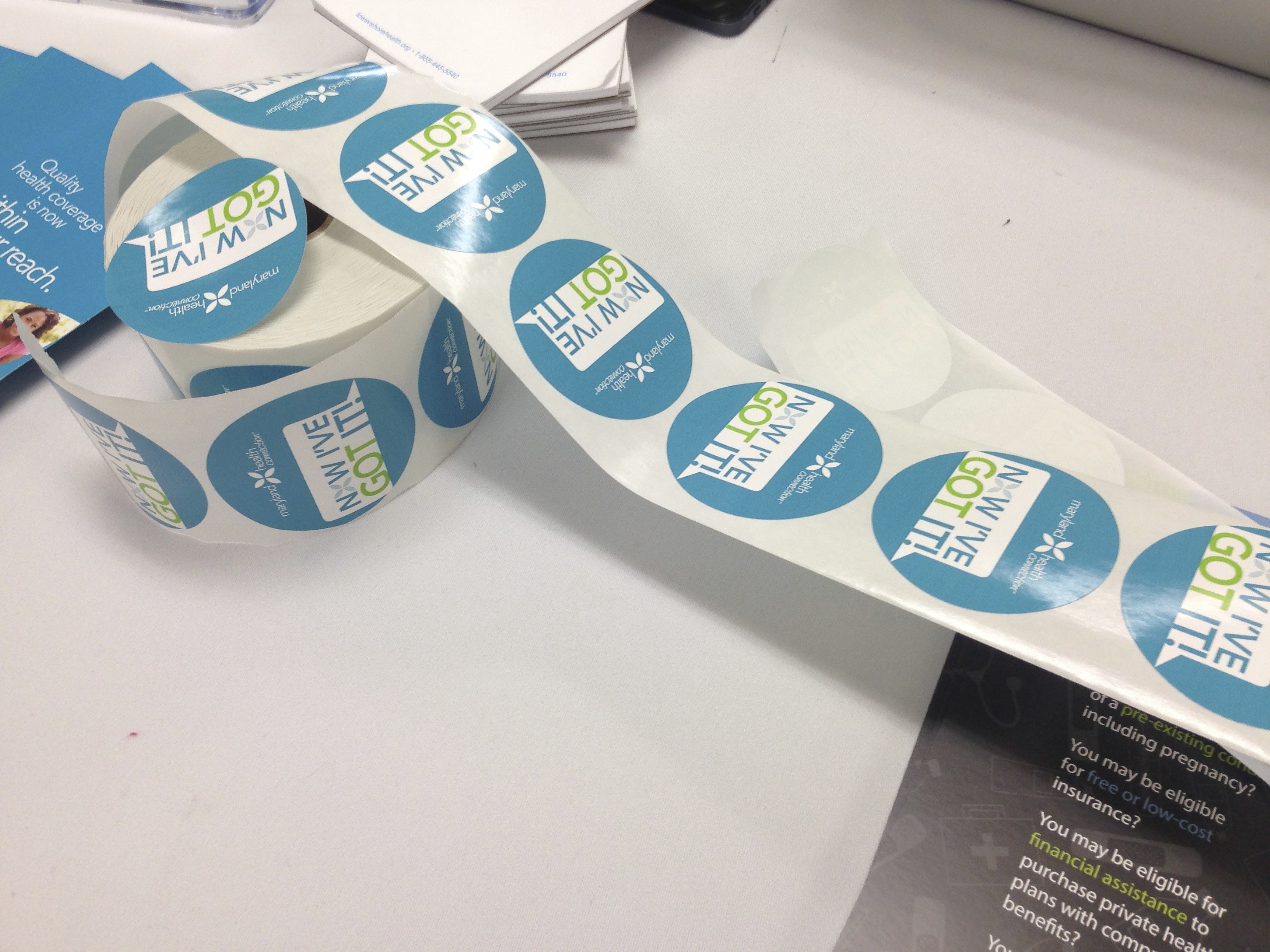 Stickers at the event in Maryland.
Gunby's small crew, which operates out of the Worcester County Health Department with state funds of about $1.2 million, is responsible for spreading the word about the availability of the Affordable Care Act's two main components: subsidized private health insurance and Medicaid, a health benefit that's been expanded to include more poor Americans in half of the states, including Maryland. They have a huge swath of the state to cover -- three counties spread across 1,100 square miles.
At the March 8 enrollment event, Gunby, her team of 10 Obamacare "connectors," and four health insurance brokers were joined by two information technology technicians from the state, who were on hand to deal with website issues. Carolyn Quattrocki, the interim director of Maryland's troubled exchange, also attended to oversee the event in person.
During the five-hour event, people streamed into the Wicomico Youth & Civic Center in Salisbury to sign up for health insurance. Some waited more than a half-hour to be seen and more than an hour to get through their applications, seeking help applying for private insurance or Medicaid.
Attendees interviewed by The Huffington Post left happy. Amanda Weaver, a 33-year-old self-employed wedding photographer from Salisbury, signed up her family for coverage that's cheaper and more comprehensive than the plan she gave up in November when she left Starbucks, where she worked for the health benefits, to focus on growing a business. Lamont Morton, a 27-year-old from Fruitland who'd been unemployed and uninsured for three years after being laid off by Coca-Cola, left the civic center enrolled in a Medicaid plan from a private insurer.
"We finally got a plan," said Sheila Fisher, a two-time cancer survivor from Westover who had been unable to afford health insurance before Obamacare's passage prohibited health insurers from charging astronomical rates to those with "pre-existing conditions." For $271 a month including tax credits that cut the cost, Sheila and her husband, Samuel, got a low-level "bronze" plan plus dental coverage. The couple had been uninsured for three years.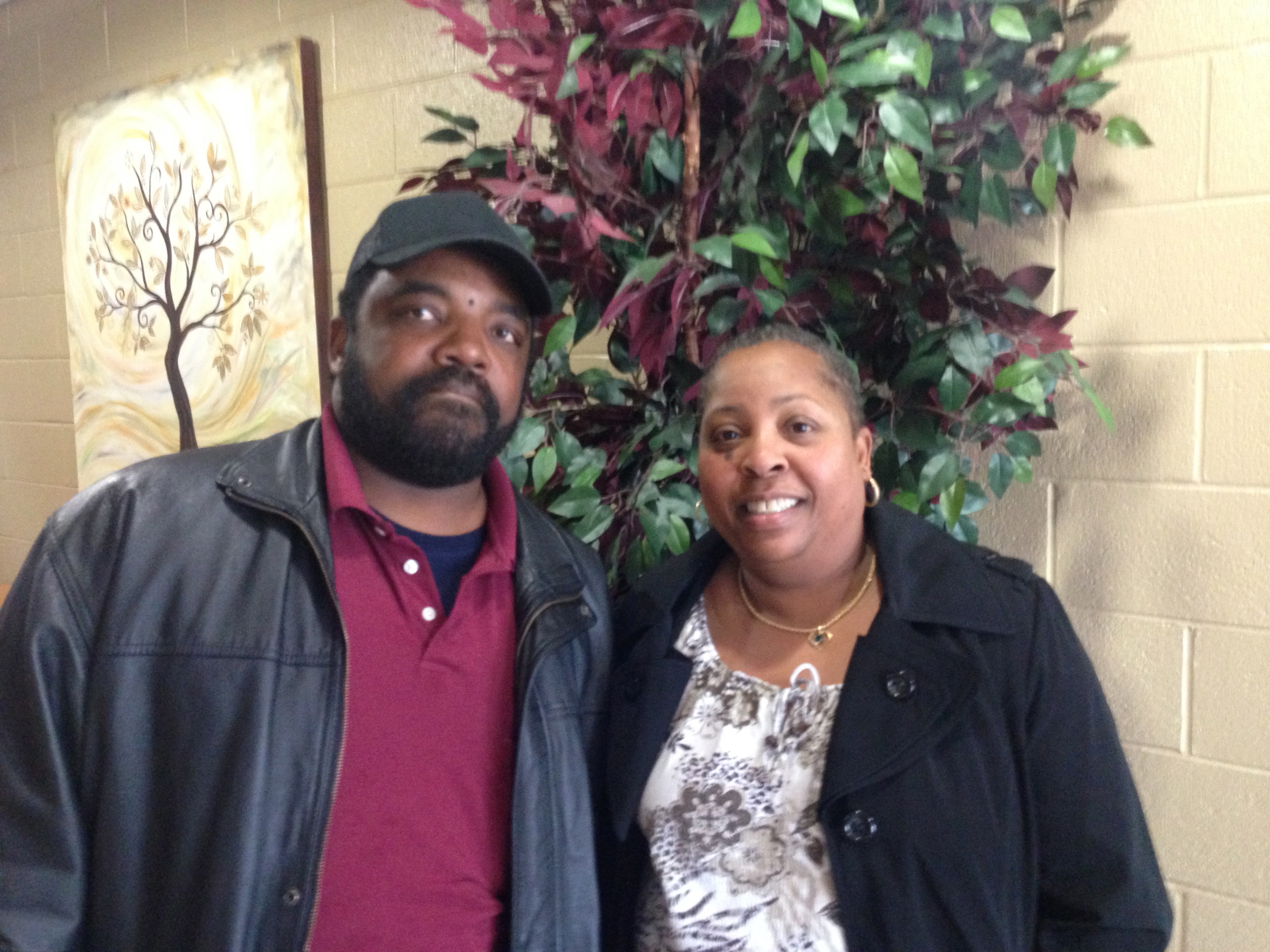 Samuel and Sheila Fisher of Westover, Md., enrolled in a health plan at a Lower Shore Health Insurance Assistance Program event in Salisbury, Md., on March 8.

"We've seen just what can happen when you run up hospital bills and you own property," said Samuel Fisher, who works three hours away in a Washington, D.C., restaurant. Medical debts left after the death of Shelia Fisher's mother last year have been an issue for their family, he said.
The Fishers tried to sign up online and over the phone, but Maryland Health Connection failed them, he said. Technical problems with their application kept them at the civic center for more than an hour and half.
As is well-known, technological glitches have hampered both HealthCare.gov, the online portal to the health care exchanges in 36 states, and state-run marketplaces in locations like Oregon, Hawaii and Massachusetts. As improvements have rolled out at the federal and state levels, enrollments on the exchanges have continued to mount, topping 4.2 million in February.
Now that the March 31 deadline for private insurance enrollment is nearing and workers are figuring out ways around glitches, the pace of enrollment seems to be speeding up, according to one Lower Shore Health Insurance Assistance Program worker.
"We've gotten very busy over the last couple of weeks or so, and we're kind of expecting things to stay strong up until the end," said Jalissa Worthy, 25, of Salisbury.
So-called connectors like Worthy travel the surrounding counties each day spreading the word about how to sign up for health coverage. The 15 workers on Gunby's team typically visit a total of 30 locations every day, she said. That includes many events held across the area every week at county health departments, libraries, pharmacies, religious institutions, community health centers and other gathering places.
"We're 100 percent mobile. On my busiest day, I move between three locations," Worthy said.
Worthy grew up on the Lower Eastern Shore and understands that the need is great. "I remember as a kid, lots of family members and lots of people in my local community who did work out on the water or who did work in the crab houses and the seafood places. And over the years, those have kind of dwindled down to nothing," she said.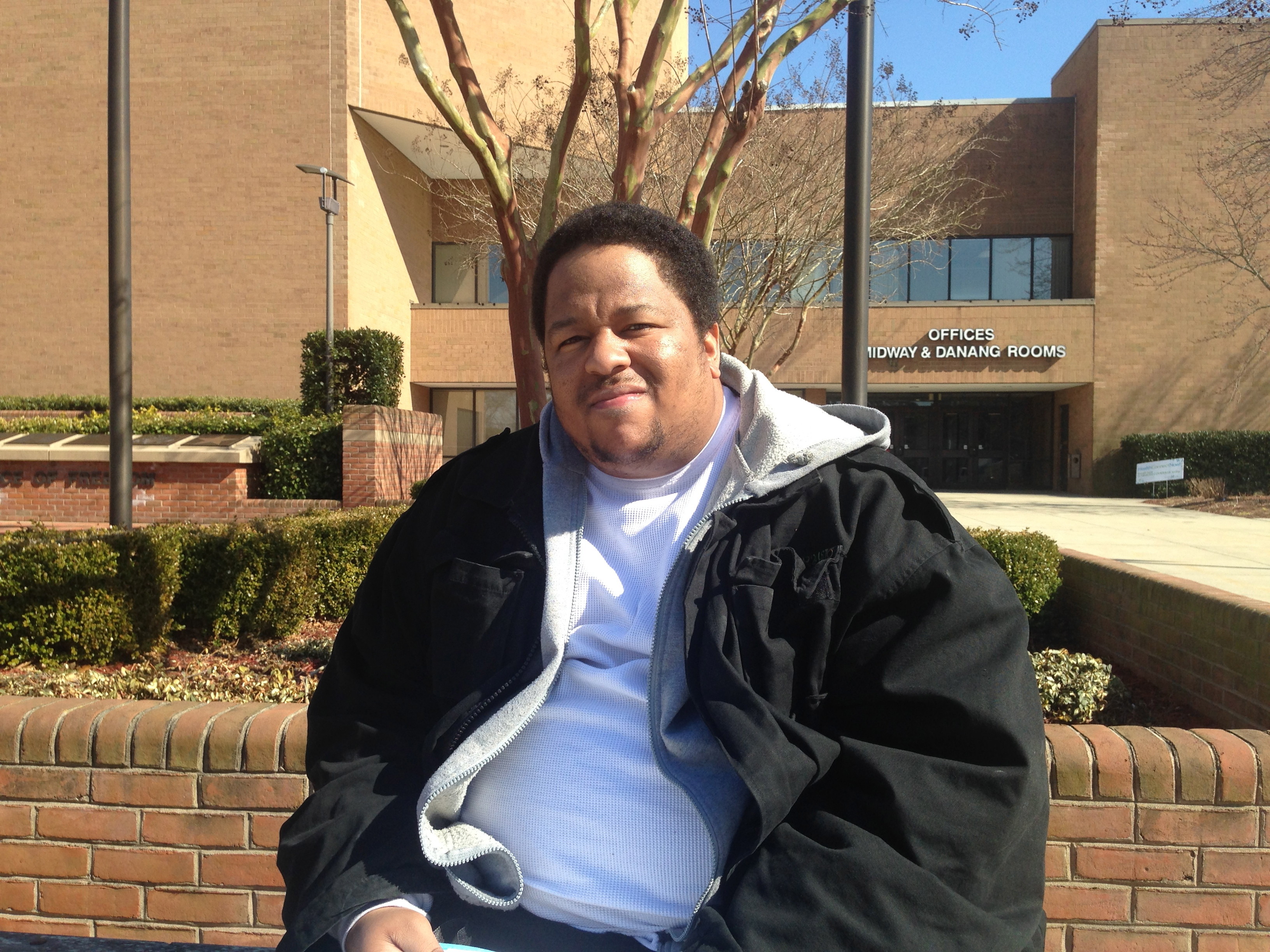 Lamont Morton, who signed up for insurance at the March event in Maryland.
Other local industries have also shed jobs over the last decade or two, said Sue Gray, the CEO of Three Lower Counties Community Services in Salisbury, which operates community health centers in the area. "I've lived here 30 years, and we lost a lot of industry. Since we moved here, we lost Campbell's Soup, we lost Crown Cork and Seal, we lost Wayne Pumps," said Gray, a nurse by training.
Poultry conglomerates like Perdue Farms and Tyson Foods still provide a lot of jobs in the area, but not enough to go around. When jobs go, often so does access to affordable health insurance.
Unemployment, poverty and a lack of insurance aren't the only reasons why many people in this area need assistance with their health care, Gray said. "We have, as you could imagine, a large amount of people with comorbid conditions, where they are diabetic, hypertensive, overweight, have cardiac diseases," she said.
Not that every eligible person on the Lower Eastern Shore is clamoring to enroll. The team has to overcome misconceptions -- like the idea that there aren't any options for insurance, just one big program called "Obamacare" that everyone must join, Worthy said.
And some people still don't feel like they can afford health insurance even with subsidies, especially those for whom work is unsteady and income hard to predict, Worthy said. Poor people are forced to concentrate on their immediate needs, so committing to a bill they're not sure they can pay every month isn't always the obvious choice, she said.
"They only thing you can do is present the benefits to people and really try to have an honest conversation with them," she said. "I just try to get them to think of the long-term consequences."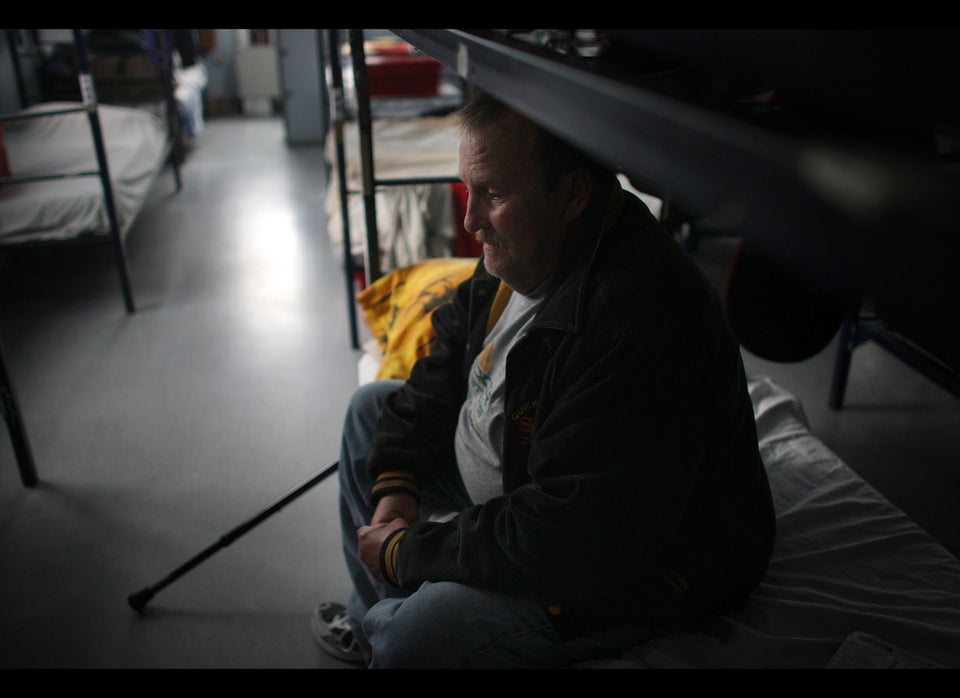 13 Devastating U.S. Numbers About Poverty, Income And Health Insurance
Popular in the Community