Whatever you think about Charles Barkley, one thing's for sure, the guy will speak his mind. Just last week it was reported that Barkley chose to unleash to the airwaves on a Philadelphia radio station a declaration about what he deems as "successful" blacks' biggest problem -- "unintelligent" black people. Check it out:
"Unfortunately, as I tell my white friends, we as black people, we're never going to be successful not because of you white people but because of other black people," Barkley said. "When you're black, you have to deal with so much crap in your life from other black people. It's a dirty, dark secret; I'm glad it's coming out." Note that this is from a guy who just a few days ago announced that he wants to run an NBA team.
He goes on to say that ALL black people experience this problem when they are successful. ALL? Come on now. What is even more troubling about Barkley's comments is the "never" part. What does he mean? He also takes the time to explain that he makes such points to his white friends as if he's the great race spokesperson who is burdened with helping his so-called friends better understand those "other" blacks. Not blacks like me. I'm a good one, Bob. Barkley doesn't have a clue as to how unintelligent he sounds. I'm sure his white friends see him as a big joke.
But are unintelligent blacks the real problem? Or is it failing schools, poverty, an increasing wealth gap, a glorified pop culture lifestyle, overall low black self-esteem, an American history rooted in subjugation, and a media that parades a certain depiction of black life as the "norm"? Not to whine, but a more exhaustive analysis is required.
The irony in all this for me is that I first saw Barkley's comments pop up in my inbox on my phone while attending a hackathon the evening of October 26, which wrapped up the second annual Platform Summit hosted in Atlanta this year by my alma mater Morehouse College and Georgia Tech; MIT hosted the 2013 event. By background, Platform is a non-profit organization co-founded by tech entrepreneur Hank Williams, Shahara Ahmad-Llewellyn Family Foundation head Shahara Ahmad-Llewellyn and MIT Media Lab and One Laptop One Child founder Nicholas Negroponte, among others. Platform sees itself is a change-maker in the tech world. It's mission is to increase the interest, participation, and success of those underrepresented in the innovation economy -- with a focus on blacks, Latinos and women. The hackathon took place at Goodie Marketing, an Atlanta-based non-profit created to support the marketing strategies of non-profits that support underserved communities.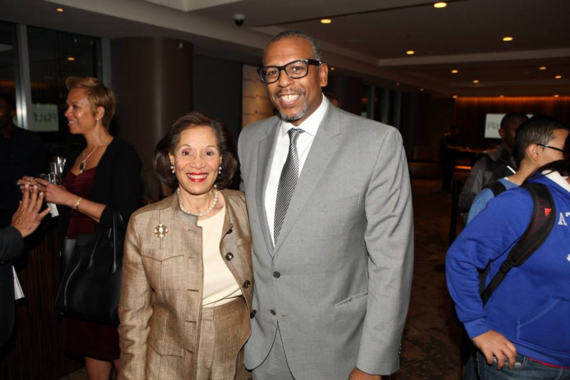 The weekend was a hot ticket. Charles Barkley should have been there.
The two and a half day summit attracted some of the biggest minority influencers in technology, innovation, politics, the arts, entrepreneurship to perhaps ever assemble in one place. They heard speakers like singer Janelle Monáe, CNN's Van Jones, REVOLT TV's CEO Keith Clinkscales, Rev. Jesse Jackson, former NAACP president and now Kapor Capital and the Kapor Center for Social Impact partner Ben Jealous and Credit Suisse Chief Marketing Officer Pamela Thomas-Graham, HBO SVP of multicultural marketing Lucinda Martinez, former NBC TV executive Paula Madison, among others. With attendance at over 500 this year up from 180 in 2013 and with sexy sponsors like Credit Suisse, Google for Entrepreneurs and HBO Go, Platform is primed to have significant impact on the diversity equation in innovation.
Platform drew the dreamers, the big ideas people, those who have track records of knocking down doors for themselves and, most importantly, for others.
At Platform, Barkley would have seen very successful black people and other minorities who are working hard to find solutions to the complex obstacles facing economic progress for not only blacks, but for Latinos and women as well. Barkley would have seen people of color and women committed to building alliances and businesses with each other to help change the world. He would have seen very intelligent and highly motivated Morehouse College and Spelman College students, who comprised a press corps my business partner and I assembled with the aid of Morehouse journalism professor Ron Thomas, engaged in dialogue with thought leaders about how to make fundamental changes in our society to improve not only their lives, but the lives of their fellow brothers and sisters.
That the summit was held at Morehouse, with its vast legacy of being an engine of producing leaders committed to social justice, is a fact that should be underscored. Morehouse's president Dr. John Silvanus Wilson Jr. stresses that the college has been very productive in its STEM enrollment and graduation rates and is an answer to how the innovation economy can truly diversify. In fact, Dr. Wilson pointed out that Morehouse is considering requiring all students to know how to code before they graduate.
Some summit speakers, like the Rev. Jackson, whose conversation with Hank Williams closed out the two-day and half day event, see the digital landscape as the new frontier for the civil rights struggle.
Now back to Mr. Barkley's' comments. The fact that Barkley, who's an accomplished man, a media brand of the day whose commanding presence on screen and off makes him a person of great influence in certain circles, feels the need to make his comments to his white friends while ignoring the larger institutional issues that hold back huge segments of the population, is irresponsible at best. If you want to look at hate in America, it's everywhere. It's American culture. Bullying is at an all time high. There are sites dedicated to hate. TMZ, a mainstream media outlet, spouts out hate by the hour. Political ads are increasingly nasty. And look at the school shootings by low self-esteemed young white people who so much detest some of their peers that they are willing to kill them. There was just one in Washington state. Hurting people hurt other people. That's no longer a secret. Let's explore that, Charles. There's a lot of hurt in our society. And with a widening wealth gap that economists cite as poised to cripple the economy further, this problem might only get worse. It could be only a matter of time before the masses storm the castle.
Perhaps Mr. Barkley could take some time to explore the issue of poverty and how that affects Americans and their behavior. And he could start with our native Alabama. According to Alabama Possible, an organization focused on reducing systemic poverty in the state, Alabama is the seventh poorest state in the union with 900,000 people including 300,000 children living below the poverty line. Organizations like Platform know that poverty is linked to poor education, a lack of resources and access to new possibilities. Today and looking ahead, that means access to education, capital, and the tech economy.
There's, unfortunately, a perception in the country, the world, that there are no black engineers, there are no blacks in tech, there are no back startups. Platform is changing that. But its founders know that they have a tall challenge ahead of them. Much of this, I think, is attributable to a media and popular culture that celebrates a narrow view of what being black is, what a Latino looks like and what it is that women do. Not to mention high-profile talking heads, who made their mark and millions in sports, pontificating about the plight of black folks to people who couldn't care less about black progress or that of any other minority group.
With his own media platform, Mr. Barkley has an opportunity to enlighten not only his white and unenlightened black brethren with a more extensive examination of the issues affecting blacks in America. But please do your homework first, Mr. Barkley. In fact, you should come to Platform next year. You could use some old school schooling and perhaps meet some new friends who could help you elevate your game when it comes to discussing the complex topic of race in America.
But before coming to Platform, Barkley might want to reach out to Apple CEO and fellow Alabama native and Auburn University alum Tim Cook, who made his own media headlines this past week, when he acknowledged that he's gay. Mr. Cook, who has revealed a sense of sensitivity around issues of race, gender and sexual orientation and inclusion, might be able to aid his War Eagle buddy in such matters and how they impact the broader society. Last year, Business Insider ran an excerpt from a speech Mr. Cook gave upon receiving a lifetime achievement award from Auburn. Mr. Cook, who grew up in Robertsdale, Alabama, not far from my native Mobile, recalled an incident he witnessed as a child:
"Not far from where I lived, I remember very vividly witnessing a cross burning at such a remarkable family. This image was permanently imprinted in my brain, and it would change my life forever," Cook said. "For me the cross burning was a symbol of ignorance, of hatred, and a fear of anyone different than the majority. I could never understand it, and I knew then that America's an Alabama's history would always be scarred by the hatred that it represented."
I think Mr. Cook could teach his homeboy a little history lesson.
It was just in August that Mr. Cook acknowledged in Forbes that Apple could do more about diversity at the company when he said that he is "not satisfied" with the numbers and will focus on "advancing diversity." Nice. I think it would be cool to see both Mr. Cook and Mr. Barkley at Platform next year. I can't wait.
Calling all HuffPost superfans!
Sign up for membership to become a founding member and help shape HuffPost's next chapter