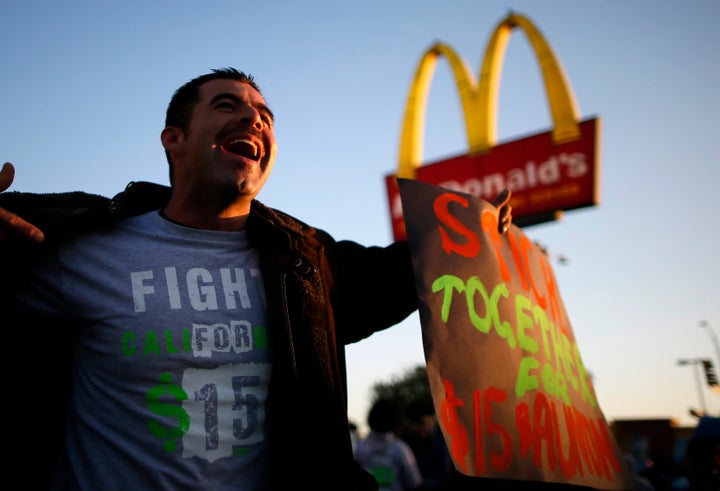 The labor union that has orchestrated and funded the Fight for $15 movement has moved money away from its city-based fast-food committees, though officials insist they are maintaining similar funding levels for the high-profile worker campaign.
The Service Employees International Union poured around $10.8 million into fast-food efforts in 2017, down from around $19 million the previous year, according to an analysis of Labor Department filings by The Center for Union Facts, a conservative group critical of unions and the fast-food campaign.
The biggest of those cuts appear to have hit local organizing committees, which have done the on-the-ground outreach to workers and coordinated the fast-food strikes that began in 2012. Luka Ladan, a spokesman for the Center for Union Facts, called it a sign that "union officials have realized it's a fight they cannot win."
But SEIU says those cuts were offset by new investments elsewhere in the campaign not reflected in government filings. The union has wound down its city committees and created a national fast-food local union that it says it poured $1.5 million into last year. It also moved organizers who were employed through the committees onto union staff, and increased its spending on fast-food campaigns in Europe and Brazil.
"The idea that we're cutting funding for the Fight for $15 isn't true ― we've just shifted gears," a union spokesperson said. "We've brought a lot of stuff in-house, and that doesn't show up in the [disclosure forms]. We're not taking our foot off the gas on McDonald's."
SEIU implemented steep budget cuts in the wake of President Donald Trump's 2016 election win, which signaled an inhospitable regulatory atmosphere for unions. Close watchers of the Fight for $15 suspected the high-profile campaign could be subjected to belt-tightening as labor law became less friendly to organized labor than it was under former President Barack Obama.
"For all its successes, the movement has not translated into more dues-paying union members for SEIU."
By organizing walkouts and protests by fast-food workers, the Fight for $15 raised worker pay by spurring minimum-wage hikes in cities and states around the country, and made a $15 wage floor a plank of the Democratic Party. In some regards, it has been the most successful labor organizing campaign in years, bringing unprecedented public attention to the plight of low-wage workers.
But for all its successes, the movement in fast food has not translated into more union members for SEIU, raising the question of how long the union could continue to robustly fund it.
"While the SEIU's Fight for $15 has scored some legislative victories, it has failed to secure new dues-paying members in quick-service restaurants," Ladan said.
Rather than file for small union elections at individual restaurants, most of which are run by franchisees, SEIU had hoped regulatory changes would compel big companies like McDonald's to come to the bargaining table with workers. But Trump's influence on labor policy has made that increasingly unlikely, with his nominees to the National Labor Relations Board (NLRB) making it more difficult for workers to unionize.
The organizing of fast-food workers created a public relations nightmare for McDonald's and other big chains, which were pilloried for their low pay. Many workers claimed they were illegally fired or punished for taking part in strikes aimed at improving their working conditions.
The general counsel for the NLRB eventually put McDonald's on trial, accusing it of being a "joint employer" alongside its franchisees. A finding against McDonald's could potentially put it on the hook for labor law violations inside its franchised stores.
But McDonald's has much less to worry about under the Trump administration. New leadership at the NLRB has already reversed the Obama-era definition of joint employer, bringing applause from business groups. As Bloomberg reported, the board is apparently moving quickly to settle the McDonald's case to avoid a union-friendly precedent.
This post has been updated with comment from SEIU, and the headline has been changed to reflect the source of the claim that SEIU reduced its funding.
Popular in the Community