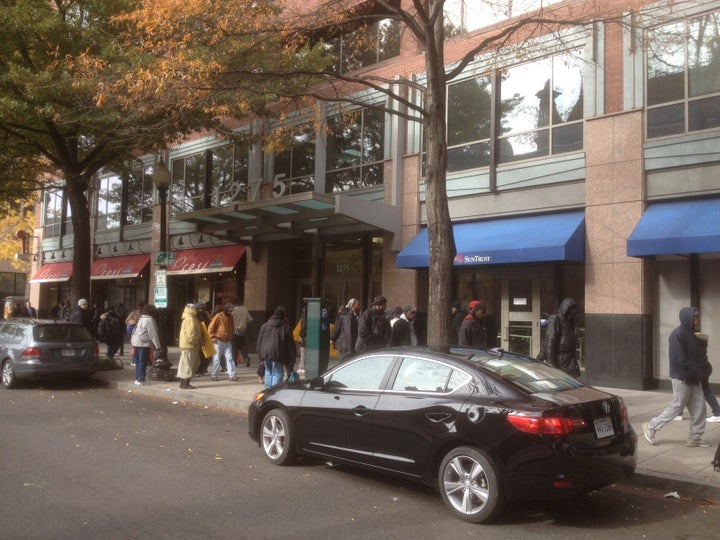 WASHINGTON -- John Horsey landed his current job by hollering across the street to a friend back in 2005.
After a little back and forth, his friend shouted that a man nearby wanted to talk to Horsey. "He said, 'Hey, this guy wants to know if you want a job.'"
Horsey walked across the street and asked the man what kind of job he was offering. "'Doing what you do: yelling,'" he said the man told him.
"They said this job might last 30 days, 90 days," Horsey said. "I've been doing it ever since."
Every business day, Horsey, 54, walks in a line with 30 or so other men and women, chanting slogans on behalf of the Mid-Atlantic Regional Council of Carpenters in downtown Washington, D.C. But Horsey and the others are not members of the union; they're "hired feet" earning $8.50 an hour to chant about substandard wages and benefits at worksites where contractors are not using union labor.
Some of the picketers are homeless. Horsey, for instance, spends most of his nights in a downtown D.C. park, though he said his wages from the union afford him the occasional room in a house or a motel stay. He said he'd been without regular shelter for the past four years, ever since his landlord raised the rent.
Carpenters locals have used hired feet rather than their own workers for picket lines in cities across the country for several years. They may be the only union that regularly does so. A spokesman for the United Steelworkers told the Washington Post in 2007 that paying picketers is not a good way to engender sympathy for workers. The Post's editorial board has harped on the protests as a "cynical use of homeless people to do this dirty work."
Are the homeless workers being exploited? Neil Donovan, executive director of the National Coalition for the Homeless, objects to the practice, saying unions should use their own workers.
"If you're gonna protest, then protest," Donovan said. "Also, if you're gonna protest, don't cause harm to another group of individuals who have something of their own to protest."
While the wages might help homeless workers manage their lives on a day-to-day basis, Donovan said the lack of benefits or job security means the work falls far short of alleviating the bigger problem of homelessness.
"Homeless individuals have the human right to housing, and until we as a country can get it together and actually own that, then homeless people are going to be left to live in shelters and in a safety net that really is quite unsafe," Donovan said.
Officials with the carpenters' union did not respond to requests for information about their picketing tactics. They have previously said they use hired feet, including homeless people, in seven other cities. They hire picketers, they said, because their members are busy working. In 2010, a union official told the Wall Street Journal that the bad economy had provided an "endless supply" of unemployed workers willing to picket.
Horsey, who said he sometimes hears complaints from passersby, said the critics just don't understand. "You got people walking down the street and they go, 'Hey, get a job, you bum! You homeless bunch of bums, why don't you guys get a job?'"
When he and his colleagues explain that they are being paid, some interlopers respond that it's not a "real" job. But it is -- Horsey is on a real payroll and his employer even takes out weekly deductions for Social Security and Medicare.
"We get a paycheck every week," Horsey said. "It's not a whole lotta money, but it's a paycheck."
Horsey works four hours a day, five days per week, weather permitting. In a typical week, he earns roughly $170 before taxes. He doesn't get the kind of benefits and wages for which he advocates on behalf of the carpenters union, but he believes in the message.
"They're about two steps away from being where I'm at," Horsey said of the non-union workers inside the buildings he's picketing every morning. (He said he has not heard complaints from the workers before.) "We wouldn't be standing out there protesting unless these cats was not paying these dudes what they should be paying for them."
Last year, Horsey and other homeless people who sleep in downtown D.C. parks had lots of company in the form of Occupy Wall Street protesters, some of whom had homes and beds available but nevertheless made a statement by camping out in downtown parks. As protesters, they shared some common goals, but Horsey was not impressed. "Fake-ass motherfuckers," he said. Police forcibly removed the protesters earlier this year.
On Monday morning, Horsey and his colleagues chanted phrases like "A.B.I. has got to go!" outside a downtown Washington, D.C. office building where they said a company called Affordable Builders International was doing a construction project inside. The company did not respond to a request for comment.
Horsey said he wishes he was given either more hours to work or better pay. His criminal record (which includes a drug dealing rap) and lack of a college degree have made it difficult for him to find a better job. Still, he's grateful for the one he has.
"Even with this little bit of money I'm making, I'm going to be determined to hold on to something," he said. "Even though nothing came along all this time, even though I had other jobs and they haven't been better than this, I'm still determined to keep holding on."
Related
Popular in the Community