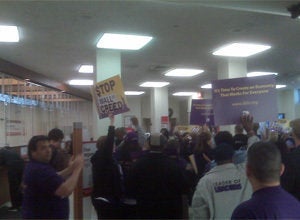 UPDATE - See below for a statement provided by the Pulte Group.
WASHINGTON -- About 200 union workers interrupted a meeting of mortgage bankers at a posh hotel Wednesday.
The protest -- aimed at the Pulte Group, one of the nation's largest homebuilders -- quickly turned into a scrum as workers wearing hardhats and shouting through bullhorns overwhelmed the security staff at the JW Marriott, bursting into a crowded conference room before a stunned crowd of bankers.
Shouting "Where are the jobs?" and "Where is the money?" the protesters from the Sheet Metal Workers' International Association and the International Union of Painters and Allied Trades, many in overalls and helmets, said taxpayers have provided $900 million in tax breaks to Pulte with the aim of creating jobs. They said they haven't seen the results they were promised.
"Those tax breaks were supposed to create jobs," Wayne Peworchik, one of the protesters, said. "That was President Obama's and Congress's intent."
"Instead, Pulte laid off workers," Peworchik said.
Marc Norberg, the union official who led the protest, said they protested the summit held by the Mortgage Bankers Association of America because "this is where Pulte is, and the mortgage bankers should know."
"Pulte used that money for land acquisition, and that land isn't being used," Norberg said.
He added that the union has been targeting Pulte for years, but the homebuilder won't meet with them.
Union workers said they're with the AFL-CIO, which played a part in the protest.
The roughly 10-minute demonstration ended once more security officers were brought in.
The Pulte Group provided the following statemet to The Huffington Post:
"PulteGroup builds the majority of its homes by working with thousands of highly-skilled and committed local and regional trade contractors. These trade contractors are typically small, independent companies that are the engine of our economy.

PulteGroup does not directly employ the majority of the workers at its job sites, which means that the protest today at the Mortgage Bankers Association conference was misdirected and an unfortunate incident.

In 2010, PulteGroup invested more than $1.0 billion in new land and development to support its ongoing operations, which enables its contractors to employ both union and non-union workers. As has been well documented, the U.S. housing industry continues to struggle, but we continue to invest in the business to capitalize on market opportunities as they develop."
Popular in the Community