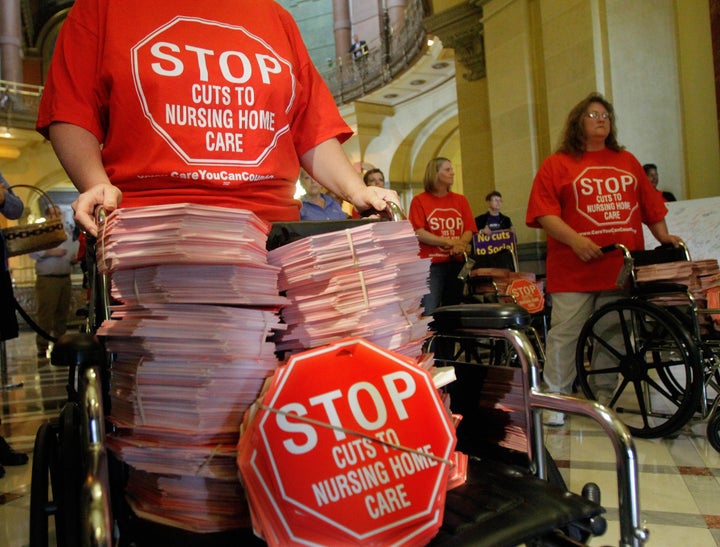 WASHINGTON -- The top union representing state and local workers is putting pressure on moderate Senate Democrats to reject any debt ceiling proposals that would end up cutting funding to Medicaid.

The American Federation of State, County and Municipal Employees (AFSCME), one of the largest unions in the country, unveiled new plans on Wednesday to hold events in North Carolina to pressure that state's two senators -- Democrat Kay Hagan and Republican Richard Burr -- to rally behind the embattled low-income health care program.

That the union is rallying behind Medicaid reflects the extent to which labor leaders are worried about how even moderate cuts would affect their rank and file members. A recent study by the health care reform advocacy group Families USA showed that even a five percent cut in Medicare funding could result in the loss of well over 100,000 jobs (8,890 in North Carolina alone), not to mention the toll on state budgets.

Equally telling, however, is the targeting of Hagan, who is considered to be one of the more conservative members of the Democratic caucus. The senator has spoken out against a Republican proposal to turn Medicaid into a block grant program, but her willingness to oppose funding cuts has been shaky enough to compel other groups to write letters demanding she firm up her position.
AFSCME and its affiliates are hosting events in six states on Wednesday and Thursday featuring local experts on Medicaid who will explain the ramifications to the community were the program to be cut. North Carolina is the first, and will be followed by Colorado, California, Missouri, Arkansas, and Virginia.

"We've chosen states that in most instances have large rural populations, and the Medicaid programs are particularly vital in those states," said Chuck Loveless, director of the legislative department for AFSCME. "We want to share our concerns about the proposed cuts that are being considered, right now, as part of these deficit talks."

Loveless told HuffPost, "We are encouraging our members and concerned voters throughout each state to call their Senators and ask that they stand firm against these Medicaid cuts and not let Washington cut off the lifeline for seniors, our children and the disabled."
AFSCME hopes to draw senators' attention to the overwhelming support that Medicaid has in these regions. In a July 7 poll, the Pew Research Center reported overwhelming support for the program, with 77 percent of respondents felt that it has been good for the country -- including 68 percent of Republicans and 75 percent of Independents.
A number of the participating organizations are also encouraging their members to call their senators and tell them to reject cuts to Medicaid as part of a deal in Washington over raising the debt ceiling.
While Loveless only expected to get through to Democrats, he hoped members of both parties would listen. "This event is targeted at both North Carolina senators, and in all of these states we're asking senators of both parties to stand up for these programs," he said.

The offices of Senator Burr and Senator Hagan did not return requests for comment.
REAL LIFE. REAL NEWS. REAL VOICES.
Help us tell more of the stories that matter from voices that too often remain unheard.