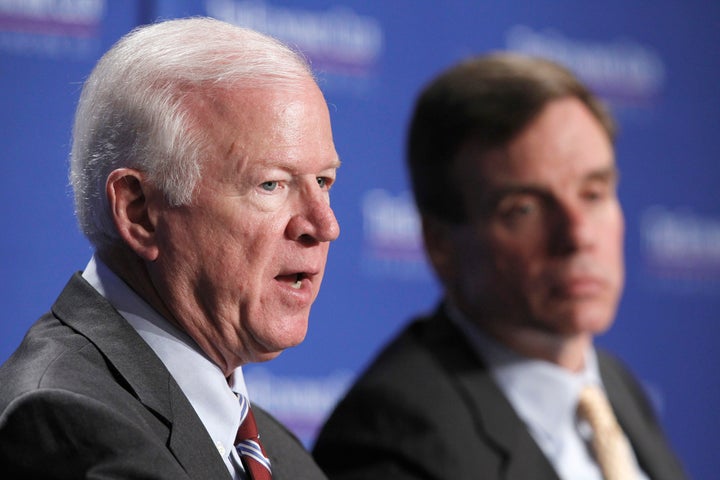 WASHINGTON -- Unions are coming down hard on the so-called "Gang of Six" deficit-cutting plan, blasting the bipartisan proposal with a harsh ad set to come out Friday in Capitol-focused publications.
The plan would cut about $3.7 trillion over 10 years, in part by slowing the growth of Social Security and limiting deductions for things like home mortgages, health insurance and retirement plans. It would also lower income-tax rates.
The ads -- paid for by the AFSCME, the AFL-CIO, the National Education Association, the SEIU and the United Food and Commercial Workers -- slam the plan as an assault on the middle class.
"Does this look like shared sacrifice to you?" the ad asks. "This is no deal for working families. It's long past time for Washington to focus on jobs, not protecting corporations and the wealthy."
AFSCME union head Gerald McEntee charged the measure puts "Wall Street before Main Street," and argued that the loss of health care deductions would destabilize the entire system of employer-provided health care.
"The proposal released by the Gang of Six is not a path forward for the country," McEntee said. "It reserves almost all of the pain for ordinary Americans. It reduces taxes on the wealthy while cutting Social Security benefits for seniors and people with disabilities."
"It would kill jobs and put our economy into another recession," added McEntee, whose union is asking members to call their senators.
The union broadside is the latest sign that the Gang of Six plan -- which had been hailed as a potential breakthrough earlier in the week -- faces tough opposition. But Sen. Mark Warner (D-Va.), one of the leaders of the group, defended the plan on a call Thursday night with the bipartisan group No Labels.
"We've had some push back from some organizations," he said on the call. "What's pretty stunning to me is the refusal to recognize of some groups that Social Security is now paying out more money then it's taking in. ... Why put off until 2030 or 2035 when we're going to be in a real crisis stage to start making minor adjustments to Social Security?"
The ads are part of a broader effort the unions are mounting as the Aug. 2 debt limit approaches and pressure rises on lawmakers to make unpopular deals. In particular, they have targeted senators in North Carolina, Colorado, California, Virginia, Arkansas and Missouri to beat back any cuts to Medicaid, a source familiar with the effort said.
REAL LIFE. REAL NEWS. REAL VOICES.
Help us tell more of the stories that matter from voices that too often remain unheard.