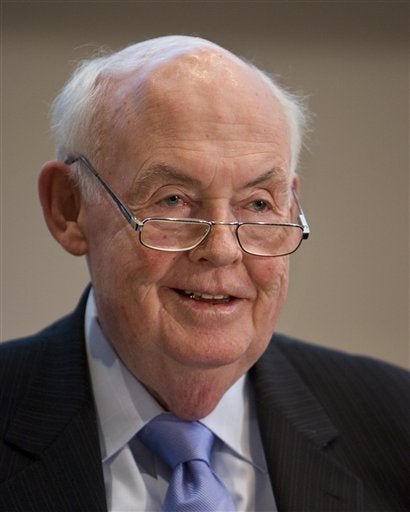 Two of the nation's largest unions have filed a joint complaint with the IRS, urging the agency to revoke the tax-exempt status of two organizations for engaging in partisan political activity.
The AFL-CIO and Change to Win submitted their complaint to the IRS on Thursday, officials told the Huffington Post. The two unions allege that Rick Berman's Center for Union Facts and Bernie Marcus' the Marcus Foundation violated rules regarding their tax status by explicitly endorsing and trying to raise money for Republican senatorial candidates in the 2008 election. Berman, in a comment to the Huffington Post, downplayed the threat to his organization's tax status as nonexistent and political "theater."
The issue stems from an October 17th conference call, hosted by Bank of America, during which both Berman and Marcus attempted to drum up activism against the Employee Free Choice Act.
"If a retailer has not gotten involved in this, if he has not spent money on this election, if he has not sent money to [former Sen.] Norm Coleman and all these other guys, they should be shot. They should be thrown out their goddamn jobs," Marcus declared at one point.
At another point, his aide Steven Hantler noted that "for corporate dollars," participants could donate to Berman's organization, "because even though McCain-Feingold applies now that we are in the window period, there is still activities... that can be used to get out the vote." Hantler added that "some organizations have written checks for $250,000, $500,000, some $2 million for this."
Such appeals for campaign cash, officials with the AFL-CIO and Change to Win contend, constitute an "improper political campaign intervention on behalf of Republican candidates," and a violation of the Center for Union Fact's tax-exempt status.
"Bernie Marcus and Rick Berman are no-holds-barred leaders of a network of people and organizations that despise worker rights and unions," said AFL-CIO President John Sweeney. "Now, they are violating their organizations' tax-exempt status through partisan political appeals."
Legally speaking, the issue may be a bit more complex. While campaign finance laws limit what tax-exempt organizations can do to impact a federal election, such groups still have leeway to conduct "issue advocacy" and other political activity during a campaign season.
Berman also contends that the money being directed his way was meant for an entirely different tax entity. "Bernie [Marcus] was referring to our c4," he told the Huffington Post, which would make the donations "perfectly legal." "There is nothing that Bernie said that is remotely illegal," he added. "This is all theater."
So-called 501c4 groups, known by the tax code that governs their status, can engage in a broader range of political activities, but still face very sharp restrictions on electioneering.
From the transcript of the conference call, it is not possible to infer if the donations were being directed to the 501c4 arm of the Center for Union Facts. At one point, Berman makes explicit note to Marcus that there are restrictions on the amount of money that people could donate to vulnerable Republicans. Marcus replies that participants could give to Berman's organization.
Rick Berman: Quite frankly, Bernie, sending money to Norm Coleman you are restricted to how much money you can give.

Bernie Marcus: Then do it through you... you can give $10,000 to his committee, you can. Through your organization, Rick they can also give a lot of money. We've had people come up with half a million dollars who understand this issue... For every dollar we put in, [the unions] are putting in $100,000
The Marcus Foundation is also a 501c3. But Bernie Marcus never mentioned his organization on the call, nor did he solicit donations to the group in an effort to impact the election. Marcus could not be reached for comment.
Popular in the Community