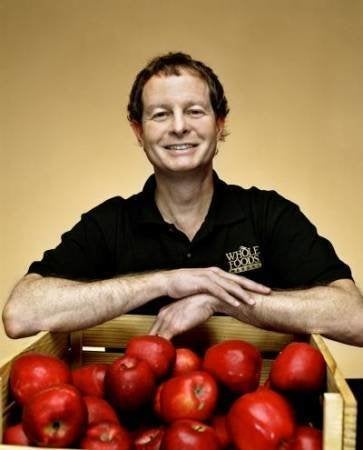 Two unions have now joined in the growing chorus decrying Whole Foods' CEO John Mackey and suggesting a boycott of the store. Two weeks ago, Mackey penned a controversial op-ed in the Wall Street Journal offering the "Whole Foods alternative to ObamaCare."
"The last thing our country needs is a massive new health care entitlement that will create hundreds of billions of dollars of new unfunded deficits and move us much closer to a government takeover of our health care system," Mackey wrote, then suggested a neat solution. (Hint: this alternative involves grocery shopping at Whole Foods.)
As the NY Times write-up of "the most unexpected" sideshow to the 2009 Health Care Debate put it: "Reaction from pro-reform Whole Foods shoppers was swift and vociferous." Now the Change To Win Investment Group and United Food And Commercial Workers Union -- both a part of the Change To Win federation of unions representing six million workers -- have put out statements criticizing Mackey and encouraging a boycott of the store.
CtW called for Mackey's removal as chairman of the board and CEO. "Mr. Mackey attempted to capitalize on the brand reputation of Whole Foods to champion his personal political views, but has instead deeply offended a key segment of Whole Foods consumer base," the group's executive director Bill Patterson said in a statement. UFCW has begun handing out pamphlets to Whole Food shoppers. The group said Mackey's op-ed was an "attempt to undermine Obama's health-care reform." (Whole Foods is not unionized.)
Not everyone is so taken aback by Mackey's suggestions. In the Washington Post, Kathleen Parker declared, "Now is the time for all good capitalists to shop at Whole Foods." Parker's sentiments are echoed by several conservative bloggers and journalists. Doug Bandow wrote in the American Conservative that "it is good to see at least one company stand on principle." Blogger Radley Balko of The Agitator blog strongly concurred: "I plan to do a lot more shopping at Whole Foods in the coming weeks."
Whole Foods has remained pretty quiet throughout, though Mackey did write in his Whole Foods blog that "I gave my personal opinions... [the] company has no official position on the issue."

Calling all HuffPost superfans!
Sign up for membership to become a founding member and help shape HuffPost's next chapter