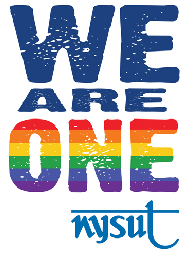 When I came out over four years ago the narrative was led by my role as a coach. Being one of the select few openly gay coaches at the time gave me a platform to not only share my story, but take a leadership role in the LGBTQ sports community.
Lost in the story was the fact that I was full-time educator. I have been a social studies teacher in the Greenburgh-North Castle School District for the past 13 years. The district serves special needs students in grades 7-12.
This past June, I became the district's union President. My role as a leader in the sports and advocacy world has trained me well for the various challenges that I have faced. I grew up in a proud union household which created a natural connection to labor activism. I remember not being allowed to have Pepsi products in the house while workers were on strike. Watching my father work long hours and being part of pickets and strikes has engrained a pro union thought process in my head.
As I embraced my role of president, I jumped in head first; the only way I know how. I spent the summer attending meetings with my local NYSUT representative, I spent hours researching laws and procedures and attended a leadership conference for local elected officials.
Somewhere along the way I was asked to join the NYSUT LGBTQ Committee. I gladly accepted and this past weekend had the pleasure of attending one of their bi-annual meetings in Albany.
I've had the fortune of being involved in some very powerful ventures over the past few years. I've worked with pro-athletes, celebrities and traveled across the country to promote LGBTQ equality. This weekend was something very different.
There were no celebrities in the room, but I say with absolute certainty, everyone there was a super hero.
You see, these are the folks on the front lines. They go to work every day, stand in front of a classroom and are openly gay. When a student is bullied, it falls in their lap. When bigots challenge the creation of a GSA, these folks stand their ground and fight.
I listened to their stories and was in awe that I could be part of the group. We discussed issues like the attempted ban of transgender soldiers, the importance of Pride at Work, the heartbreaking stories of islamophobia and the dangers our unions face with a Constitutional Convention vote and Janus decision looming..
Grassroots efforts are where change starts. Having local folks promote diversity and inclusion will have a trickle down effect that will lead to a much positive environment. NYSUT has taken a lead on this that all unions should follow. When we stand together anything can be accomplished.
Sometimes you need a reminder of why we do things; motivation. This weekend with my NYSUT brothers and sisters served as one of those. We still have lots to fight for and I'm extremely confident knowing that I have real life superheroes by my side.
Calling all HuffPost superfans!
Sign up for membership to become a founding member and help shape HuffPost's next chapter
This post was published on the now-closed HuffPost Contributor platform. Contributors control their own work and posted freely to our site. If you need to flag this entry as abusive,
send us an email
.