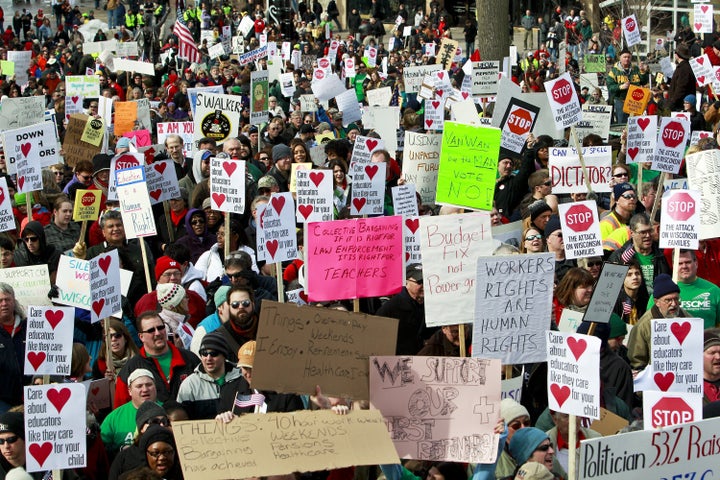 UPDATE: NBC just sent out its line-up for Sunday's "Meet the Press" and it does now include AFL-CIO head Richard Trumka, who will be part of a roundtable. Other guests are: Wisconsin Gov. Scott Walker (R), Sen. John McCain (R-Ariz.), Gov. Haley Barbour (R-Miss.), Rep. Emanuel Cleaver (R-Mo.), MSNBC's Lawrence O'Donnell and the Wall Street Journal's Kim Strassel.
UPDATE: Several sources have told The Huffington Post that in addition to Christie, "Meet the Press" has preliminarily booked Wisconsin Gov. Scott Walker (R) and "Fox News Sunday" has booked Indiana Gov. Mitch Daniels (R). These bookings are not final and could still be changed. There are also still open slots for other guests on the shows.
WASHINGTON -- Though thousands of Americans have turned out this week to show solidarity with Wisconsin's public employees and oppose a threat to their collective bargaining rights, union officials say they have not been able to place a labor voice on this Sunday's editions of the weekly public-affairs TV shows. The shows' producers, they complain, are shutting out the workers' perspective.
A union official told The Huffington Post that when none of the Sunday shows' producers reached out to them to book a labor representative this week, several unions started to pitch the shows with affected workers and local and national leaders who they felt could discuss the protests. The official said the response from the shows was essentially "thanks, but no thanks."
"If you're a Sunday show and there are labor fights going on for two weeks, if you can just book ... Chris Christie, why would you actually go out and get somebody who is actually involved in this? That would be work!" snarked the official, adding, "Everybody's been pushing, and everybody's been shut down."
The Huffington Post reached out to officials at Fox News, NBC, ABC, CNN and CBS. NBC News spokesperson Erika Masonhall said the lineup for this weekend's "Meet the Press" will not be final until Friday and "will highlight a number of topics and include a variety of guests and opinions." An official at another network said their show's guest roster had likewise not been set and a labor representative could still be included. Additionally, there's a chance that not every show will cover the protests this week -- and would therefore be unlikely to have on a labor official -- just as not every show covered the topic last week.
Christie is also a frequent media guest, and that presence appears to have helped make him a particular target of labor. On Twitter, the AFL-CIO's political communications director, Eddie Vale, joked, "But, don't worry, while no labor members or leaders on Sun shows, you get Chris Christie! He's never on TV so should be new & interesting."
While no Sunday show featured any workers or labor officials last week, ABC's Bob Woodruff did do an on-the-ground report from Madison, Wis., where he interviewed some workers who were protesting. That report has been criticized, however, for overplaying the role of the small group of Tea Party protesters who were also there. Mediaite's Tommy Christopher called it "a stunning example of the mainstream media's true bias, toward laziness and conflict."
Calling all HuffPost superfans!
Sign up for membership to become a founding member and help shape HuffPost's next chapter