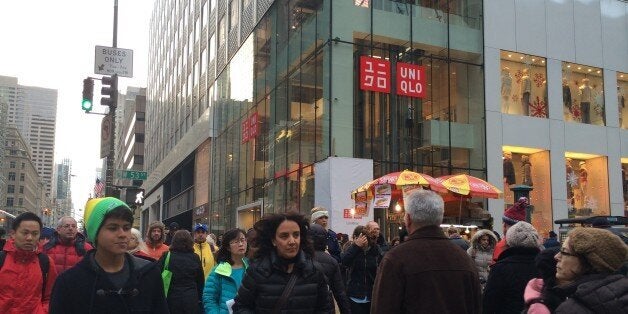 NEW YORK -- On a frigid afternoon in midtown Manhattan, international tourists and New Yorkers alike jam the Uniqlo store on Fifth Avenue, perusing a seemingly endless array of T-shirts, cashmere sweaters and winter jackets.
The hulking 89,000-square-foot space constitutes the largest retail store on the famed shopping street -- at once a symbol of the Japanese retailer's lust for expansion and a study in its formula for conquering new markets.
Uniqlo sells everyday clothing, from jeans and sweatshirts to socks and underwear, and the price tags may leave the impression that its business is all about wooing the thrifty. There are T-shirts on offer for $6 and cardigan sweaters available for a mere $30. Yet some of the shoppers at the New York flagship are clearly willing to part with vast sums in the interest of fashion: They carry shopping bags from luxury retailers like Barneys New York, Fendi and Burberry. Still others tote bags emblazoned with logos from the cheaper reaches of retail -- Gap and H&M.
Far from an accident, the diversity of shoppers attracted to Uniqlo reflects its meticulous engineering. Mass allure permeates Uniqlo's brand, underscored by its tagline, "Made For All." The brand aims to design low-cost garments with high-fashion sensibility, yielding clothes that can complement both a faded pair of jeans and a $2,500 Italian sport coat. It also draws people attracted by its specialized products, such as lightweight jackets and T-shirts that are designed to provide extra warmth in winter.
Universal appeal, utility and unique materials are key to understanding how Uniqlo's founder, Tadashi Yanai, is pursuing an audacious goal: global supremacy.
Following in the footsteps of automotive mammoth Toyota and omnipresent electronics-maker Sony, Uniqlo is the latest Japanese company setting out to eclipse rivals that have already achieved unprecedented size and scope. In Yanai's telling, Uniqlo will become the world's largest apparel business by the end of the decade. By then, the brand's parent company, Fast Retailing, will claim $50 billion in annual sales -- a mark he says will be achieved "comfortably."
"We will become the overwhelming number one brand in Asia, and we will continue our strategy of massive store launches and expand our territory," Yanai said at a news conference last April. "Of course we want to become number one in the U.S., if we can."
Turning such talk into money would require dramatic growth. Fast Retailing -- which, in addition to Uniqlo, owns several smaller clothing brands including Theory and J Brand -- expects to amass around $12.5 billion in annual sales this year. That makes it only about half the size of the current global apparel leader, the Spanish juggernaut Inditex, which owns the popular fast-fashion chain Zara. Both the Swedish fashion retailer H&M and the ubiquitous American brand Gap -- long dominant in basics -- are determined to stay ahead.
Zara commands a sprawling empire of 1,800 stores spread across 73 countries on six continents. Uniqlo is for now confined to Asia plus the United States, the United Kingdom, France and Russia.
Some industry experts doubt Uniqlo will be able to achieve its ambitious goals.
"Once you become a global behemoth, it's tough to evolve," said Margaret Bogenrief, co-founder and partner at consulting firm ACM Partners. "Growth is sexy, until it's not. The biggest key to failure when you're expanding is assuming all the commonalities that make you successful will remain indefinitely."
Uniqlo has failed in previous expansion binges. In 2001, the retailer set its sights on capturing customers in the United States and the United Kingdom, but a year-and-a-half of dismal sales later, it shut the doors on most of the new stores.
"The number one reason was our lack of brand recognition," Yanai told CNN a decade later. "Consumers did not understand our products and our mission."
Now, Uniqlo is in the midst of another go. It opened 10 new stores in the United States late last year, focusing on major markets like San Francisco and New York, and it plans to open five more this summer. Uniqlo also has plans for Australia.
Despite Yanai's penchant for brash pronouncement and his uncomfortable legacy in the United States, many industry experts think he has a chance to realize his aims.
"They're only in 12 countries," Hana Ben-Shabat, a partner at the retail division of consulting firm A.T. Kearney, told The WorldPost. "The potential for them is very big."
BEYOND THE ARCHIPELAGO NATION
Uniqlo began life in Japan in 1984 as the Unique Clothing Warehouse, peddling familiar international brands like Adidas and Nike. By the early 2000s, Yanai had added store brand clothes and vastly expanded his chain, now bearing a shortened name, across the archipelago.
Japan became mired in a lost decade that was sowing previously unknown unemployment and financial distress, and Uniqlo beckoned as a place where people could make themselves somewhat stylish on the cheap. Many customers shopped at Uniqlo on the sly. Lowering prices has sometimes proven deadly to retailers in Japan -- a sign that the product is not sufficiently prestigious.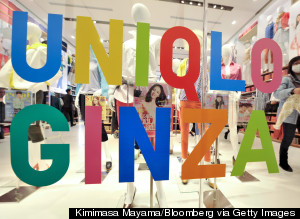 The Uniqlo store in the Ginza district of Tokyo, Japan, on Friday, March 16, 2012.
Long saddled with a reputation of cheapness, not quality, Uniqlo has worked to change its image with a novel strategy: attempting to distinguish itself as a brand with all-inclusive appeal, at once affordable and aspirational. Yanai loudly challenged the status quo in 2012, opening a monolithic 12-floor flagship in Ginza, Tokyo's most luxurious shopping district.
But in recent years, Uniqlo's business in Japan has plateaued, placing an onus on forging new markets overseas.
Uniqlo's latest wave of global expansion began three years ago, as the company opened hundreds of stores across Asia, introducing the brand to shoppers in China, Southeast Asia, South Korea and Taiwan. Soon, it had nearly four times as many stores in the region as Zara.
By November 2013, Uniqlo's international operating profits were skyrocketing, backed by strong sales in China, Taiwan, Europe and the U.S, according to Nomura Securities analyst Masafumi Shoda, who noted that these sales helped compensate sagging fortunes in Japan.
Uniqlo's success has provoked controversy. A scathing 2011 book by journalist Masuo Yokota, The Glory and Disgrace of UNIQLO, accuses the company of generating profits through the exploitation of low-wage garment workers in poor countries. The book describes "extremely harsh, slave-like labor conditions" at some plants.
After disaster struck a factory in Bangladesh last April, killing more than 1,100 people, Uniqlo agreed to take part in a safety pact signed largely by European retailers, including Inditex and H&M. According to Uniqlo, none of its clothes were manufactured in the factory that collapsed, though it does do business with other plants in the country.
Beyond the potential stigma of producing its clothing in poor countries, Uniqlo has struggled to avoid another pitfall of selling mass-market products at low prices -- the perception that the goods are low quality.
Unlike competitors whose cotton T-shirts can seem like generic commodities, Uniqlo has invested heavily in fabric technology. This focus is evident in its stores, with prominent signage explaining each of the retailer's unique fabrics, like Heattech, which generates and retains heat. Its garments better resemble products from tech-savvy merchants like Nike, Under Armour and Lululemon than a more basic undershirt found at Gap.
"Uniqlo was initially perceived as another cheap Gap," Ben-Shabat said. "In essence, they're not, they invested a lot in technology and fabric technology."
Getting the word out and convincing customers the fabrics are more than marketing gimmickry may be crucial to its global expansion plans.
"They must articulate what the difference is," Ben-Shabat said.
Tucked away in a Manhattan studio, an army of mannequins stand side-by-side, each garbed in different types of minimalistic clothing, from polo shirts to fleece pullovers. Collectively, the mannequins are sporting a central element of Uniqlo's strategy to take its brand global: They are modeling the collection for spring 2014, which continues a concept introduced last year that Uniqlo calls "Life Wear," marketed as clothing to improve everyday life.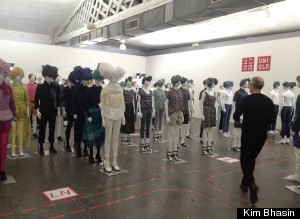 Mannequins dressed in Uniqlo's spring and summer 2014 lines at Industria Studios in New York.
In the studio, Uniqlo displays 11 of its newest projects -- some debuting for the first time, others revamped for the new season. They include AIRism, a super-soft fabric that supposedly wicks away moisture, and Bratop, an ultra-light women's top meant to be worn without a bra.
Naoki Takizawa, design director at Uniqlo, is the man responsible for nailing down mass allure. He seeks to produce clothing that anyone might want to wear, not a certain age group or personality.
"Find a common denominator globally," Takizawa said through a translator, speaking Japanese. "That's my job."
The driving idea is to maintain a simple style such that Uniqlo's clothes can blend with apparel made by other designers, Takizawa said. He pointed to Uniqlo's new collaboration with former supermodel and icon of Parisian style Ines de la Fressange as the archetype: The pieces effectively complement a multitude of other brands by remaining minimalistic and accessible to the mass market.
"When I first met [de la Fressange], she was wearing a Prada jacket with a Uniqlo shirt and jeans," Takizawa said. "It's not so much a matter of what's expensive or what's cheap."
Takizawa previously designed for Japanese fashion brand Issey Miyake. In his current incarnation, he is not focused on what's happening on the runways at shows in Paris, London and New York. He wants to drive fashion trends, he says, not merely imitate the designs of others -- a jab at reactionary fast-fashion retailers that aim to bring simplified styles from high fashion runway shows to store shelves in a matter of days.
"I think if you're reacting, it's time to stop being a designer," he said.
BRINGING JAPAN TO THE MASSES
The gargantuan flagship on Fifth Avenue looks and feels like a gleaming centerpiece. But a subway ride away and across the East River at a new store in a fast-developing Brooklyn neighborhood, the look and feel is virtually identical, albeit on a much smaller scale -- a testament to Uniqlo's obsessive attention to detail.
Every store is supposed to be clean, orderly and exactly the same -- perhaps a paradoxical notion in mass market retail, where volume business typically makes for unkempt stores and a shortage of sales help.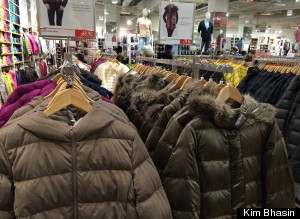 Clothes arranged by strict color-coding at the Uniqlo store in Brooklyn, New York.
"It's important that the execution in stores is consistent throughout," said Larry Meyer, chief executive officer of Uniqlo U.S.A., a veteran of Forever 21 who was a "key architect" of the trend disposable chic. "Everything has emanated out of Japan. It's embedded in the culture of what we do."
Employees are subjected to a rigorous two-week training program designed to prepare them for the daily grind of maintaining the streamlined Japanese feel. They're taught posture, dress code, and that they must smile. In the U.S., workers must dress in all black. On day one, they must memorize the "Six Standard Phrases" to be used constantly with customers ("Thank you for waiting" and "Hi, my name is Bill, I'm here to help you.").
Not least, they must pass the folding test, which ensures that each employee is able to fold and stack clothes following Uniqlo's stringent guidelines. Every piece must be folded against one's body and stacked as straight as possible. Stacks receive a letter grade, A through D.
Sales associate Shandale Pinckey, 25, said the training program was exhausting.
"I thought I was in the army," she said with a sigh.
"When we hand credit cards back, we use two hands," said Tom O'Malley, manager of the Brooklyn store, rattling off his various requirements. "Fixtures must be in a straight line. If I look down a row, it should be straight. The stickering has to be right. The sizes have to be in order. The colors have to be in order."
Uniqlo's color arrangement is evident throughout the store. Every display of clothes runs from light to dark. Even sets of mannequins, outfitted with customized looks, must follow the same pattern.
Lynn Domercant, a chipper 19-year-old working at the Brooklyn store, said her daily tasks were similar at her previous job at Hollister. But at Uniqlo the standards are more rigorously enforced.
"If there's a shirt sitting by itself on this table and I walk past it, it's a big deal," Domercant said. "You're held accountable."
A stock room supervisor, Quandell Blake, 24, began to express agreement with that sentiment, but then stopped mid-sentence.
"See this, this here is wrong!" he exclaimed as he moved to flip the hanger on a dark green down vest. "The medium should be behind the extra small. And the hangers aren't in a heart shape."
Related
Popular in the Community