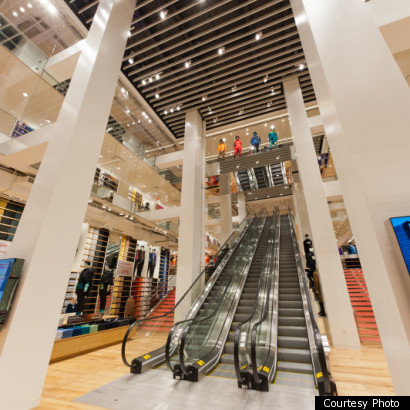 Yesterday while standing in front of Uniqlo's uptown Fifth Avenue location with designer and architect Masamichi Katayama, a passerby's voice was overheard exclaiming, "I don't know what that is, but it's gorgeous!" Katayama, the store's innovator, was flattered by the compliment, "that's a very good sign, makes me smile." Though the person who shouted the sentiment might not be familiar with the Japanese-based clothing store, this particular location is meant to become their stamp on the U.S. and its burgeoning fast-fashion dominance.
We had the pleasure of getting a sneak peek of the brand new 89,000 square foot space before it officially opens to the public today at noon. According to Masamichi, "it is the biggest and boldest Uniqlo store in the world, even more statement-making than it's Tokyo counterpart." And if this store is one thing, bold is definitely it. Walking in you feel more like you're in an international airport than a clothing store and that is exactly what Masamichi intended with his sleek and open design. He told us, "this is the premiere location in the world and it is the window to the world for Uniqlo, so it is kind of like an airport." Bringing Uniqlo to the world makes total sense for a brand that has cemented its roots with its signature tag line, "Made For All."
The store itself is inviting and easy to navigate, with most of the merchandise being featured on the third floor among brightly lit LED screens that provide a lot of pop against the clean, insanely organized interior. It's a functional store at its core, but the detailing creates a fun and fashionable arena to buy your basic sweaters, tees, jackets and jeans.
That combination of style and function is precisely the idea behind the clothes themselves, as was told to us by Fashion Director Nicola Formichetti and Innovation Project designer Naoki Takizawa. The Innovation Project is a new capsule collection for Uniqlo designed by both Formichetti and Takizawa that incorporates scientifically formulated fabrics into creatively designed sportswear. According to Takizawa, a veteran of famed Japanese label Issey Miyake, Uniqlo's Innovation Project has, "form and functionality as its main focus, but we want to always include style and a beautiful aesthetic in our designs, much like we did outside of the Innovation Project with the +J collection." That collection, done in collaboration with Jil Sander, has been Uniqlo's biggest seller in the U.S. and they are eager to bring other high-end designers into the store and its Project Innovation collections in the future. For now though Takizawa says, "we want to expand on the creative end and on the design side, but for now, we are working on developing new fabrics and inventing new fabrics and materials that have never been used this way before."
Formichetti, fresh off a Lady Gaga styling job for the new music video for her single "Marry The Night," was also super enthusiastic about both the new store and Project Innovation. Sitting in front of one of the giant LED screens on the second floor (home to the final and highly-coveted +J collection), Formichetti explained that his involvement with Uniqlo has been, "amazing and very personal in a way. I was born in Japan, I was brought up with the brand, my Mother and Granny wore it, so to see this store come alive is kind of emotional for me." He continued, "I'm kind of the perfect fashion director for Uniqlo because I know the brand so well." We couldn't agree more, especially since so much of what Formichetti has become known for can be categorized as out-of-the-box and progressive, two ideas that Uniqlo wants to bring to America's fast-fashion market. With a big smile on his face he added, "I love that you can come in here and buy a plain tee or sweater at a ridiculous price and wear it in your own style with some high-end pieces or vintage pieces. To me that's really what fashion is all about, we don't really need stylists, we are all our own stylists at the end of the day."
As Formichetti and the rest of the Uniqlo creative crew reiterated throughout the day yesterday, the store and brand are all about accessibility and approachability. So when the doors open this afternoon, though many may not yet be familiar with Uniqlo, we'd venture to guess that people will come out in droves, not only to ogle the massive space, but to shop the stylish basics at this fresh and innovative import from Japan.
Check out photos of Uniqlo's new digs on Fifth Avenue below.