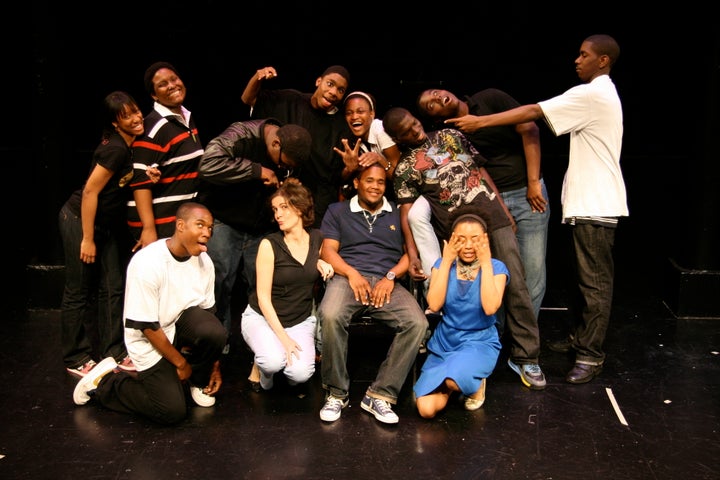 Julia Kamin, a self-diagnosed theatre geek in her teenage years, never really anticipated how much her own interests would impact kids in need.
"I remember doing plays in high school," she said. "And it was something I would look forward to all day, something I could sink my teeth into."
Back in 2000, Julia was working for a legal advocacy organization in New York, helping students and families in the margins of the city's often troubled public school system. "These were kids with learning and behavioral issues that weren't being addressed," she said.
Julia met one student who had been held back a few grades, he was bullying other kids, a "big kid" with a severe learning disability who was constantly struggling in school. Julia asked him if there might be something outside of school that he'd be interested in trying. Immediately, and to her complete surprise, he said: "I'd really like to act."
Due to severe budget cuts, many of the city's most under-served public schools had seen their drama clubs and other creative after-school activities fall by the wayside. Julia thought that a free, after-school program for kids to act and write original work would be something she could really get behind.
So Julia laid the foundation for what would become Opening Act. She started at a high school in Brooklyn and moved on from there, focusing especially on schools with the highest need (low reading scores and graduation rates below 50 percent), and a lack of current theatre programming. Julia and the Opening Act "teaching artists" would begin working with students in the fall, and then, together, create an original play that the students would perform at the end of the semester. "Then in the spring we do it all again," she said.
In those early years Julia learned quite a bit about how to operate the organization. "I raised my voice in class at a student once, and this hush sort of fell over the room," she remembers. "The next day, two girls came and talked to me before class and said: 'The reason we come here every week is because we feel so good and we feel so safe. And last week when you did that we didn't feel that way.'"
A lot of programs like Opening Act would struggle to hang onto students' attention after the first few classes -- some kids just stop showing up. So Julia set high expectations for attendance and participation. "The key was to make sure these students knew we were in it for the long haul," Julia said. "When they leave at the end of the day we want them to feel amazing, first of all, but also to know that they're working towards something."
Julia learned that the program had to serve as an alternative to the rest of their lives -- a haven from everything else they face on a daily basis. And that's exactly what the program became.
"Opening act changed my life," said Patrick Cucuta, an Opening Act alum who can currently be seen performing improv comedy each week at the Peoples Improv Theater. "In high school I spent most of my days skipping class, roaming the hallways, and just getting into trouble. That's when I found Opening Act." His instructors taught him the concept of "Yes, And," a central tenet of improv that encourages you to always say "Yes" to your scene partner, no matter what they're bringing to the table.
"It's so much about encouraging a positive attitude and a way of looking at the world," Julia said. "All about being inclusive, telling them they have potential."
After heading off to the Harvard Kennedy School to obtain a degree in public administration, Julia handed the Opening Act reigns to Suzy Myers Jackson, who has risen up the ranks since 2004 and currently serves as the Executive Director. But Julia still remains active with the organization.
"There's so few things in these kids' lives that make them consistently feel good about themselves," Julia said. "Opening Act makes that a big priority."

Related
Popular in the Community