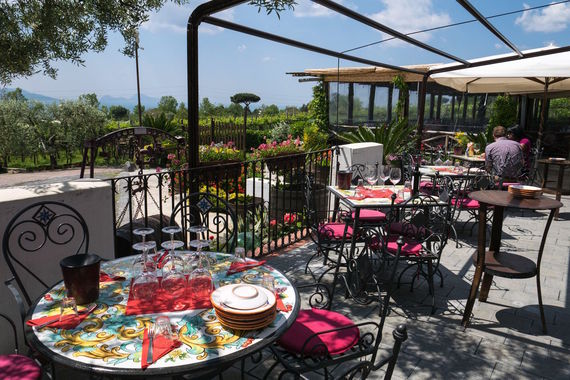 Before a traveler embarks on the treacherously winding and ridiculously narrow drive along Italy's Amalfi Coast, there are towns and pleasures along the way just south of Naples and before you get to Sorrento, not least, of course, Mount Vesuvius and the ruins of Pompeii. And in the foothills of the volcano lies one of the most enchanting attractions I know of in Southern Italy: Cantina del Vesuvio, where, on 30 acres of very rich volcanic soil, Maurizio Russo and his partner, Esther Grosso (below), produce excellent wines and run a little trattoria serving some of the best local food in the area.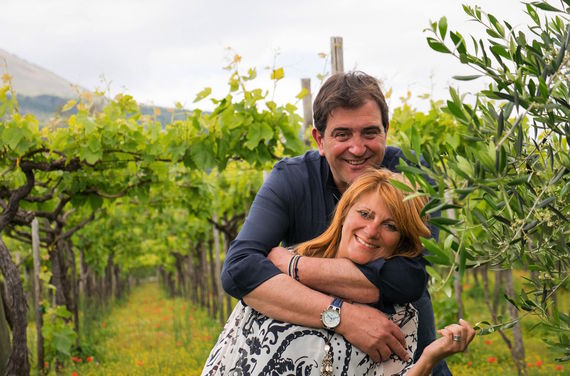 The winery was founded in 1949 by Maurizio's father, Giovanni, at a time when wine was transported to Naples by horse-drawn wagons, then sold to merchants who supplied the restaurants and wine stores. Then, 18 years ago, Maurizio began selling his products from the winery itself, after improving their quality and making his estate a tourist destination at the base of Vesuvius.
And so you arrive--a twenty-minute drive from the center of Naples--among the cool green hills of Vesuvius. You will be effusively met by Esther, whose graciousness is exceeded only by her joy that you have come to visit. Maurizio, who is in the vineyards digging, planting, trellising, and pruning, invariably arrives and proudly shows off his winery.
Then you sit either on the leafy patio or in the rustic interior room, where the moment you sit down, bottles of Lacryma Christi bianco, Rosato, and Rosso wines, pitchers of water and a lavish antipasto platter of provolone and salami, local casatiello bread, and smoky bruschetta topped with heirloom Piennolo tomatoes are brought over.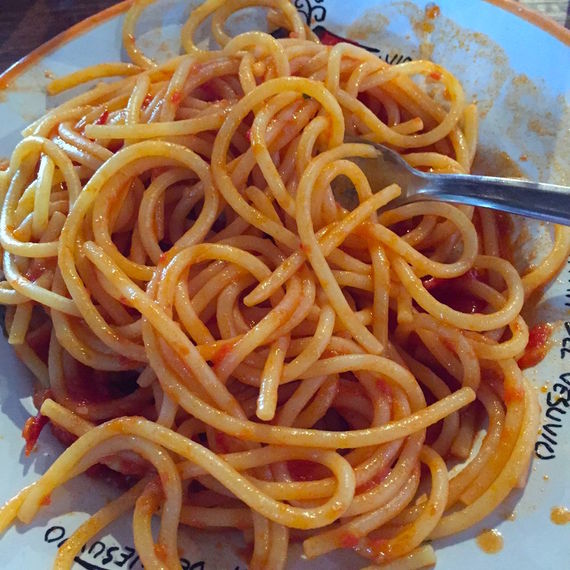 Then arrives a bottle of Lacryma Christi Riserva and a platter of spaghetti tossed with a deep red tomato sauce of such intensity that, unless you have dined elsewhere in Campania, where the tomato achieves unparalleled greatness, you will never have tasted anything like it. Stick the bread into the sauce, leave nothing behind. Finish this supremely simple meal with a Napolitana torta di pastiera made with sweetened ricotta, candied fruit and boiled wheat berries, paired with Capafresca Spumante Rosato and Acquavite di Albicocche del Vesuvio. Nothing short of an eruption on Mount Vesuvius could possibly affect your bliss.
By then, with a languorous smile of satisfaction on your face, you will be powerless to resist going to the winery room and buying Cantina del Vesuvio's wines, their superb olive oil, and perhaps one of the pretty chicken-shaped pitchers. And, if you wish, you may even take a cooking lesson here.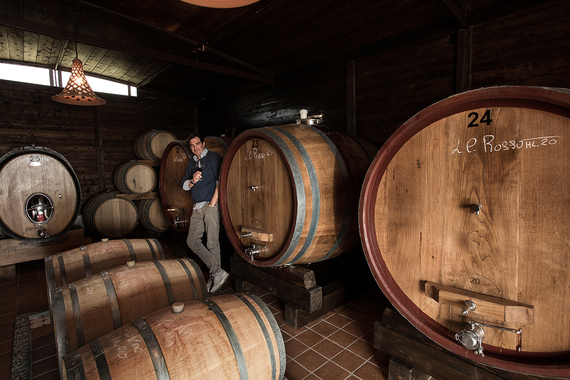 It will have been a rare day, even in a region as beautiful as Campania, and you will feel you've made warm new friends, not just with Esther and Maurizio and their staff--even perhaps with a vineyard dog who ambles about the place--but with the others from all over who shared the experience with you that day.
The shop at Cantina del Vesuvio is open daily (closed Sundays in Jan. & Feb.). Reservations should be made at +39 081 536 90 41 or through info@cantinadelvesuvio.it